Tesla announced that its solar deployments have increased by 25% year-over-year in Q2 to 106 Megawatts. This is Tesla's strongest quarterly result in over four years. And good news for sustainability advocates and overall for Tesla as it continues to focus on its mission.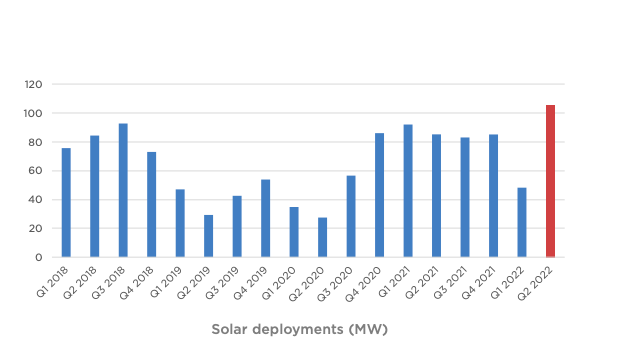 As you can see in the graph above, demand for Tesla Solar has increased. Despite import delays on some solar components, Tesla has expanded its supplier base to enable growth in its solar business.
The delays are, unfortunately, out of Tesla's (and probably anyone's) control. Tesla also added that its solar installation team is continuing to improve installation efficiency. This results in higher volumes and stronger economics.
Energy Storage
Another key component of Tesla's solar business is its energy storage business. Together the two make up Tesla Energy and Tesla had some updates on this as well.
Tesla saw a decrease in the deployments of energy storage–down 11% year-over-year to 1.1GWh. This, Tesla said, is mainly due to the semiconductor challenges. The semiconductor challenge is having a larger impact on Tesla's Energy business than its Automotive business.
The decrease doesn't reflect the demand for Tesla's storage products which Tesla said remains in excess of its ability to supply.
Tesla added that it is in the process of ramping production at its dedicated Megapack factory to address the growing demand.
Tesla Energy's Work With VPPs In CA & TX
Tesla Energy has been making a lot of progress in both California and Texas with virtual power plants (VPPs). In California, Tesla and Pacific Gas and Electric invited 25,000 customers to partake in the VPP program the two launched.
In Texas, things are a little bit different. Texas isn't so VPP friendly and Tesla is working hard to change that with its VPP demos with the Electric Reliability Council of Texas (ERCOT).
The Texas grid isn't connected to any of the national grid networks making it vulnerable to any devastating effects of climate change and natural disasters. Tesla, I think, will help Texas strengthen its grid.
Disclaimer: Johnna is a partial Tesla shareholder with under 1 share currently. She plans on buying more and supports Tesla and its mission. 
If you have a tip, feel free to send them to johnna@teslarati.com.