Toyota's Model Y fighter, the bZ4X, came late to the game, following comparable all-electric crossovers like the Volkswagen ID.4 into the market. But since its launch, the vehicle has been met by notable challenges, the most serious of which is a recall due to the bZ4X's wheels, which may fall off. The result of this recall was evident in the vehicle's sales last month.
According to a press release from Toyota Motor North America, a total of zero bZ4X units were sold in September 2022. As per the Japanese automaker, a total of 232 units of the all-electric crossover have been sold this year to date. This is a very low number, though one has to note that the bZ4X's recall hit before the veteran automaker was able to ramp the deliveries of the all-electric crossover.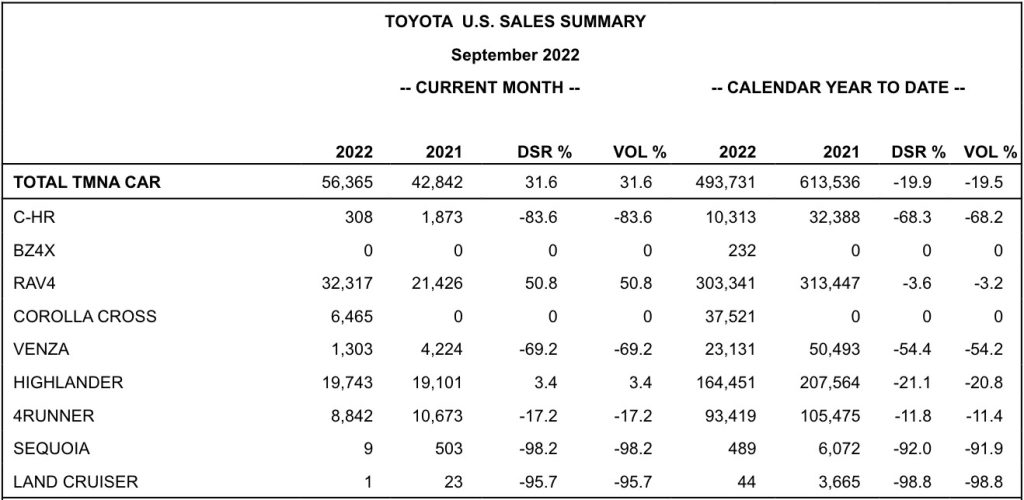 The bZ4X's recall was announced back in June, with Toyota noting that around 2,700 bZ4X units were affected by the loose wheel issue. Among this number, about 2,200 vehicles were in Europe, 280 were in North America, 110 were in Japan, and 60 were in the rest of the Asian region. Fortunately, most of the vehicles that were affected by the recall were reportedly not delivered to customers yet. 
It should be noted that the issue also reportedly affects the Subaru Solterra, the bZ4X's twin model, though deliveries of that vehicle have not started yet.
When the company announced the bZ4X's loose wheel recall, Toyota noted that it was already investigating the cause of the defect, though the automaker advised customers who already took delivery of their Model Y fighter to not drive their vehicles for the time being. By August, however, bZ4X owners shared letters from Toyota which indicated that the automaker was open to repurchasing the all-electric vehicle from customers. 
A Toyota representative recently stated that the veteran Japanese automaker is still actively investigating the bZ4X's loose wheel issue, and thus, all sales of the vehicle have been paused for now. This is definitely a valid reason behind the vehicle's zero sales in September, though it is unfortunate to see considering that the bZ4X was late to market to begin with. The longer it stays off Toyota's showrooms, the longer rivals like the Model Y and the ID.4 can saturate the market with a little less competition. 
Don't hesitate to contact us with news tips. Just send a message to simon@teslarati.com to give us a heads up.