******************
UPDATE: 8/19/14 – After three months of continuous everyday use, both in-car and outdoors (predominantly left on the patio), the Voltaic 10W portable solar system has managed to power a household of two iPhones and one iPad purely on solar energy, and become a welcomed new member of the family.
It took some getting used to at first considering the entire assembly is as tall as a high schoolers backpack and more cumbersome to lug around than some of the smaller portable solar devices that I had a chance to test (Solar Joos, Anker). But despite the larger size, the Voltaic solar panel was hands down the best performing, most reliable and had superior quality over the others. In fact, it's changed my entire perspective on how useful solar energy can actually be to the point I felt dirty just plugging anything into a wall (as ironic as that may sound from an EV family).
The Voltaic System portable solar panel device is certainly not the cheapest and some will argue that the cost for portability far exceeds what you would be paying if using a standard wall outlet, and they are right.
But for some it goes beyond just a cost benefit analysis. If you're that type, then this device is for you. All in all, it's a superb device in every sense and has made me become quite reliant on it. It's hard to imagine adjusting back to using outlets for my mobile and tablet devices when each day brings free energy from the sun.
Read the original review below.
******************
Elon Musk has long touted that solar energy will be the future of electric vehicles so why wasn't it incorporated into the Tesla Model S?
A part of me still wonders why this never happened. Perhaps it was a way to offset the large costs associated with having an automotive-grade lithium ion battery pack capable of 260+ miles of range. Or was it due to the fact that roof-integrated solar cells à la now defunct Fisker is nothing more than a cool factor with no real cost benefit?
Either way, it got me thinking – how can I store some of the sun's energy while embarking on a long distance Tesla road trip? Or better yet, store solar energy while the Model S is at rest during the work week? The energy recouped through the sun need not be channeled back into the car itself, but could still provide usable power for a mobile device or laptop.
This exact thought led us to find three leading makers of portable solar charging technology with the goal of being able to store solar energy implicitly through our Tesla Model S. We'll be conducting a review of each product in a three part series. The first being Voltaic System's Fuse 10W Solar Laptop Charger.
---
Initial Impressions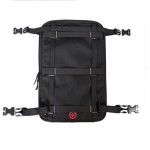 Voltaic's 10W Fuse Solar Charger dominates in its presence. The three large solar panels encased within a beautiful gloss coated metal frame is a tell-tale indicator that this device can pack some serious charging capabilities. At first I was surprised to feel how heavy the entire unit was (3.6 lbs), only to later find out that the bulk of the weight was from the detachable high capacity lithium polymer battery that was stowed inside the zippered clam-shell casing.
Attached to the back of the Fuse Solar Charger unit was a set of straps and clips which, frankly, I had no idea how to use but was eager to learn.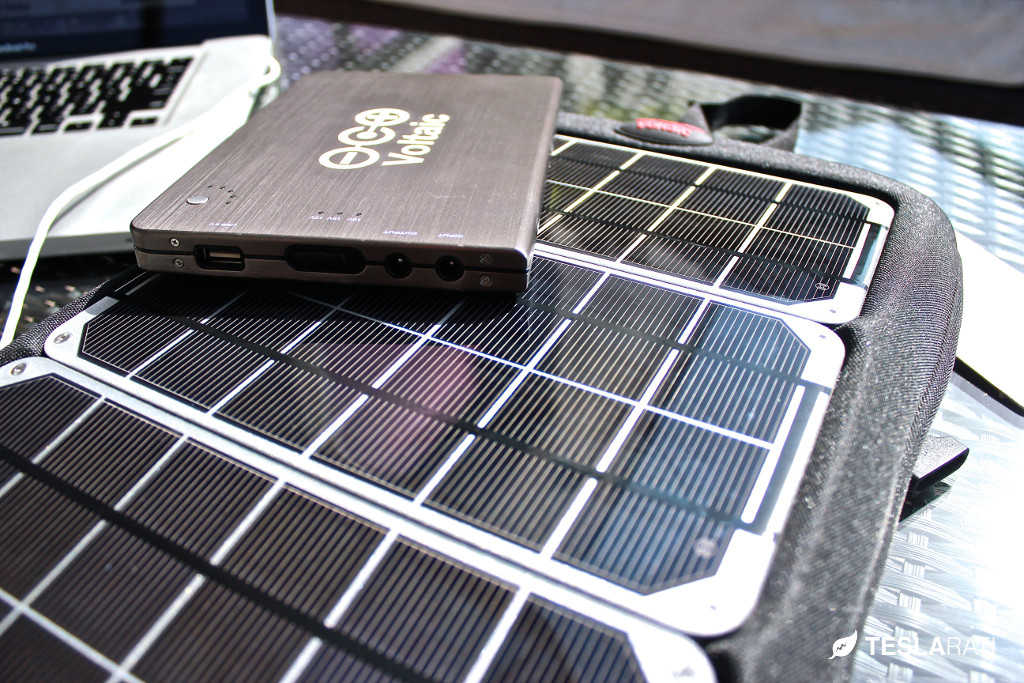 ---
Technical Specifications
The Fuse is capable of generating 10 Watts of power through its three 3.4 Watt solar panels. Configurable voltage settings provide the flexibility to power your most basic low voltage mobile device and tablets, to laptops and digital cameras that can demand up to 18V.
Aside from the obvious good of using renewable solar energy, Voltaic Systems took it to a whole new level of being eco-conscious by mounting the solar panels to a durable and lightweight shell made from recycled plastic soda bottles, otherwise known as PET. The clam shell design allows it to be used as a storage container for the detachable 20,000 mAh, 72 Wh lithium polymer battery and a plethora of device adapters.
NOTE: Amazon's description shows a 16,000 mAh although the one we received directly from Voltaic Systems contained a 20,000 mAh battery
Tablets and small notebooks can easily fit within the casing.
LEDs on the battery indicate the level of charge. Five lit LEDs represents a full 100% state of charge. The battery has a USB out as well as an attachment set that allows you to connect to virtually any type of device.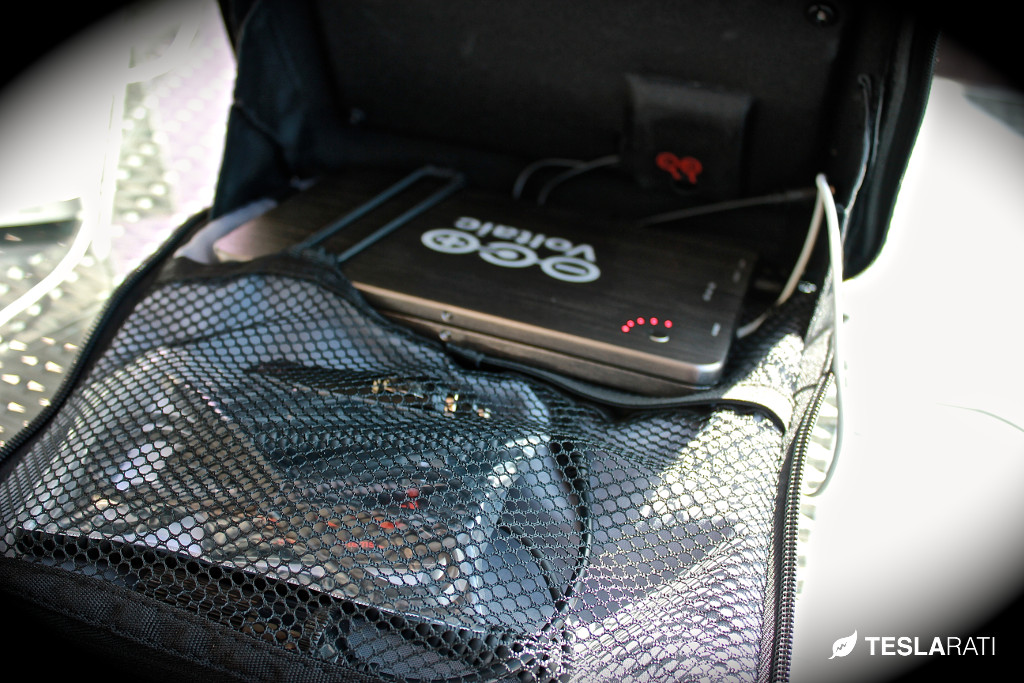 Solar Panels
Solar panels are waterproof and abrasion resistant
Power: 10 Watts total peak output at 6 or 18 Volts
V72 Universal Laptop Battery
20,000 mAh, 72 Wh battery capacity is one of the larger portable batteries I've seen. Capable of replenishing an iPhone ten times and an iPad twice on a single charge.
When not in the sun, the battery can also be charged through the included DC car or AC chargers, making it just as useful on the grid as off.
Charge Time: In direct sun, V72 battery fully charges in 14.5 hours from 10 Watts and in 9 hours from 16.8 Watts of solar panels.
Protection: Short Circuit, Over Charge, Over Discharge, Over Current, Over Temperature
Charge Display: LEDs light sequentially when charging.
Capacity Display: 1 light < 20%, 2 lights < 40%, 3 lights < 60%, 4 lights < 80% full, 5 lights > 95%
---
Solar Charging Tesla Center Console
The
Voltaic Systems Fuse
unit is far too large to be placed onto the dash of the Tesla Model S.
Instead I found a perfect home for the Fuse in the Tesla Model S center channel. Not only does it fit great within that location, it helped conceal any miscellaneous belongings that would normally be left out in the open without a Tesla Center Console unit.
Charging in direct sunlight will clearly achieve the best charging results, but nevertheless I wanted to see how much solar energy I can gather behind the UV protected glass of the Model S.
A red LED towards the top of the "Voltaic" insignia lights up as soon I placed the Fuse solar charger between the two front seats to indicate that solar energy is being collected. Bingo.
Placing the Fuse 10W Portable Solar Charger on the Model S center channel allows it to harnesses the power of the sun and store it for later use.
Even behind glass I was able to capture enough solar energy to charge a mobile phone. However, the most common use case for me was to leave the Fuse in the center channel of the Model S each day while I was at work. It's always an exhilarating feeling to be able to come back to some additional energy at the end of each work day. The energy is stored within the detachable battery making it a useful battery extender for my notebook when I'm on the go or just as a battery backup.
---
Summary
Voltaic System's Fuse 10W Portable Laptop Charger is extremely durable and capable of the most rugged of outdoor adventures. Short of going on a camping excursion where access to electricity maybe limited, it's hard to see the need to carry both laptop and Fuse device simultaneously, although the name of the product may suggest otherwise.
However if you're looking for a world-class portable solar charging device that can mount to practically anything, blends naturally into the Tesla Model S, has a huge industry-leading 20,000 mAh battery capacity with adjustable voltage outputs, and don't mind paying a premium $339 USD, then Voltaic System's portable solar charger just might be for you.