True Tesla Model S curb rash protection with a unique twist.
Finding the right rim protection for your Model S can be a challenge considering the number of options that are available, but do they really get the job done?
I've tested a variety of products designed to protect the Model S wheels from "kissing the curb", and came across Wheel Bands by RimPro-Tec. Many owners within the Tesla community are touting it as a true lifesaver and best wheel protector for the Model S, so naturally I had to give it a try.
---
Wheel Bands
The Wheel Bands arrive in a flat corrugated shipping box affixed with a fairly large label that clearly identifies the brand.
The excitement of unboxing the product will quickly give way to a feeling of just blasé since there's really not much inside the box itself. This won't be an Apple unboxing experience so set aside those expectations before opening your new set of Wheel Bands. Two coiled tracks wrapped together along with a small bag containing a plastic tool and alcohol wet wipes is what awaits you.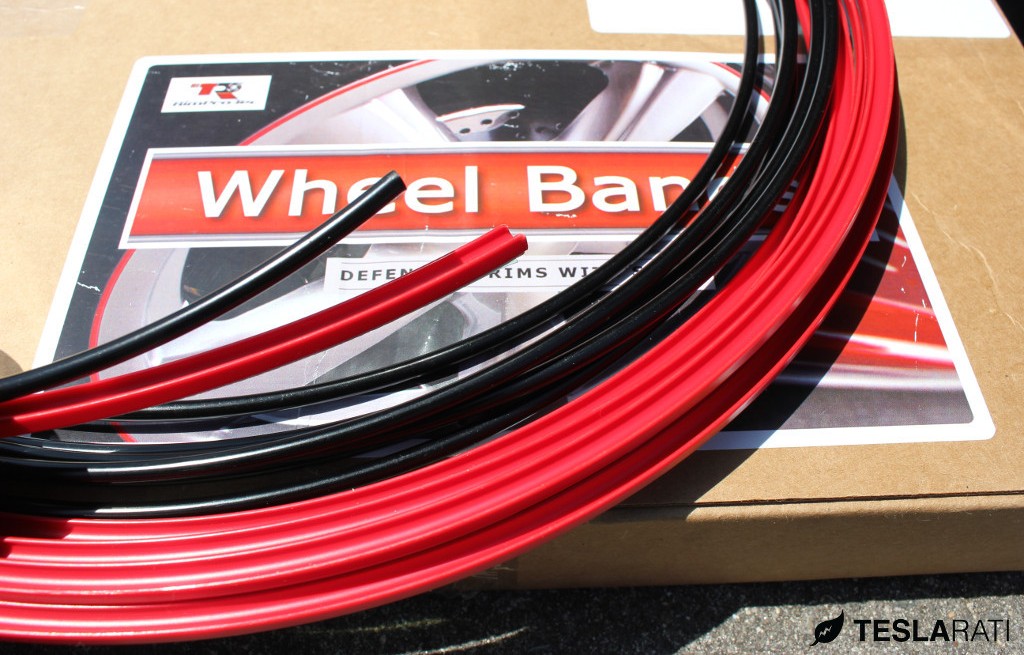 Contents:
1 x Coil of mounting track (enough for 4 x 22″ wheels)
1 x Coil of color insert
1 x Application tool (used for pressing the coil insert into the mounting track)
2 x Surface prep wipes
But I soon found out that my expectation for something that would be more than just wheel protection was spot on. Akin to a high-end case for your iPhone or Android device – even the fanciest of cases feel uninspiring by itself – the Wheel Band really comes to life when mounted on the Tesla Model S wheel. Simply put, it somehow just looks right.
List price: $99.99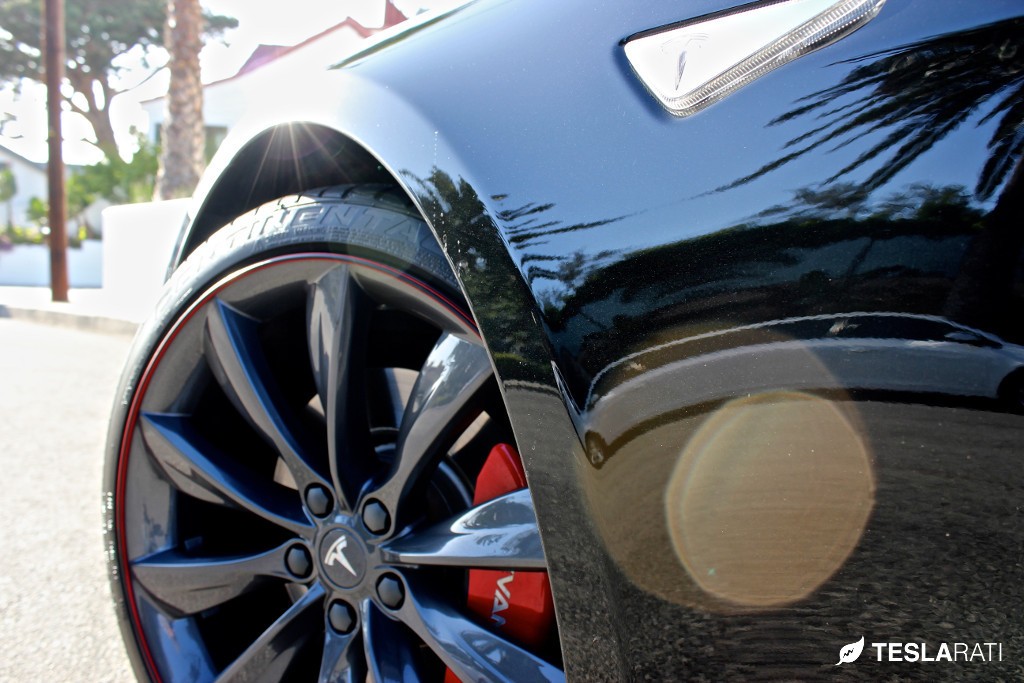 ---
Installation
Having already experienced other wheel protectors in the past, including a review of the "RimBlade", I was already well-versed with applying the adhesive-backed product onto the circumference of the wheel. But that's where the similarities end. Unlike the RimBlade which is a soft and pliable compound that feels similar to the rubbery part of your windshield wiper, the Wheel Band is a very solid and rigid plastic track. There's no question that this thing can take curb abuse and come back for more. It's what wheel protection should be like; durable, solid and instills confidence that your $1,200 wheel is now outfitted with some extra body armor.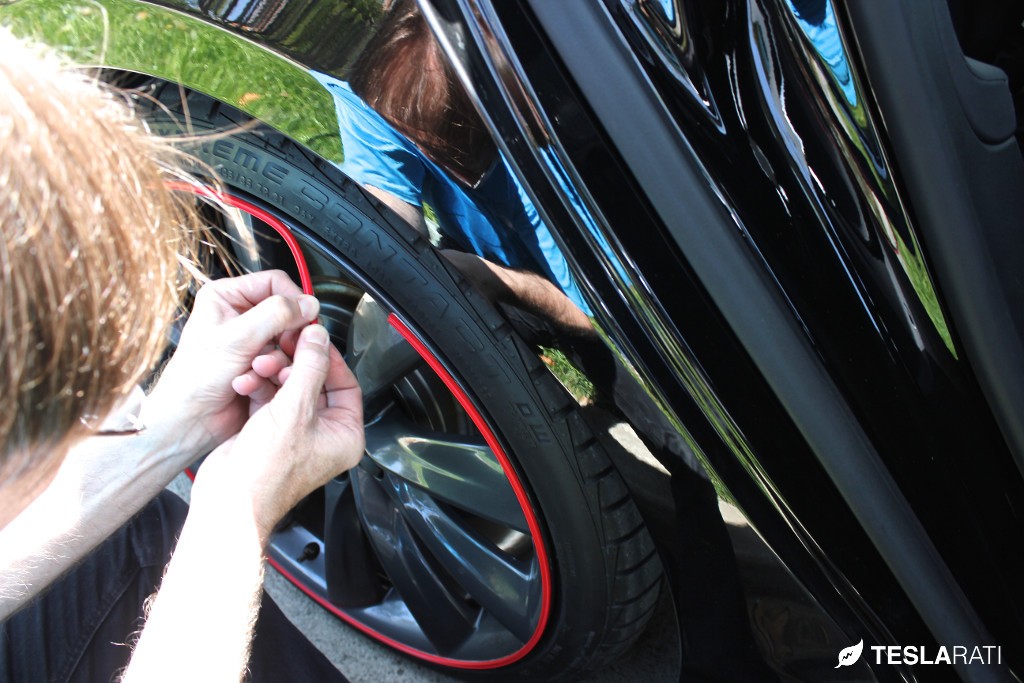 However, the downside with having nearly 8ft (2.4m) of durable and rigid wheel protector track (in a single coil) is the difficulty in which it gets unraveled and spliced together so that it forms a perfect seam where both ends of the track join together.
Wheel protectors that adhere via mounting tape to the wheel's surface require a perfect seam where the two ends come together. This is usually the point of failure with any type of wheel protector as experienced first hand with our previous test of the RimBlade which had to be replaced twice (not to be mistaken with the Wheel Band). Both times the RimBlade came undone at the seam despite our best efforts to ensure a clean and perfect install.
As for installation of the Wheel Band, it's easy. Well, somewhat. If you choose to take the DIY'er route by starting the track from one end and circling back to it, that's simple. But what's less obvious is that you won't get a perfect seam because of the rigidity of the hard plastic track which tends to have a natural curl in it. In other words, by the time you make it all the way back around to the other end, the track would have sagged a little making it near impossible to have them butt up against one another perfectly.
I won't go into too much detail on the installation procedure itself but after speaking with Wheel Bands directly, they mentioned that professional installation shops (ie. Tesla-experienced M&N in SoCal) whom are trained on Wheel Bands use a "bridging method", whereby a short and temporary piece of track is used to prevent the starting end from curling down.
This allows for a perfect seam as seen in the following photos (I decided to re-do the install after learning of the technique):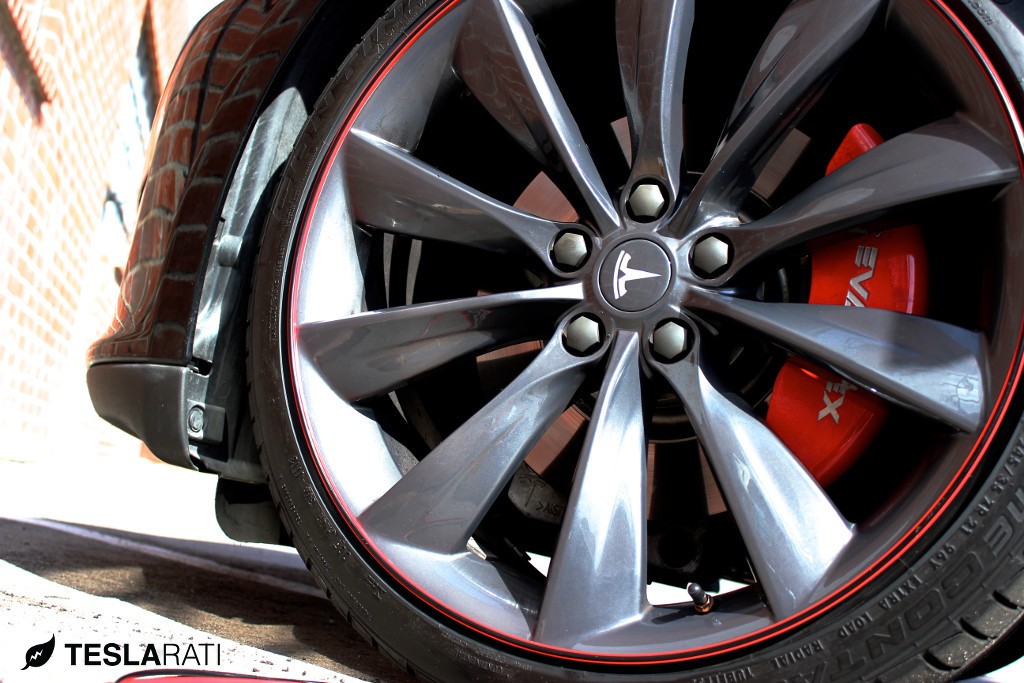 Only time will tell whether the Wheel Bands continue to stay fixed to the wheel, but my initial impression is that the adhesive backing is much more industrial grade than other products I've seen. The compound also has a much larger surface area to attach to since the Wheel Band adheres to the full face of the wheel as opposed to "cupping" the outer rim of the wheel where there's less "meat" to grab onto. Not only does the Wheel Band mounting location do a better job protecting the wheel from curb rash, since it resides in a position where scrapes are more likely to happen, it's also much more secure.
Total installation time: 45 minutes
---
Wheel Bands Unique Differentiator
When I think Tesla Model S curb rash protection, I don't often think about the aesthetic component to it, however having seen the Wheel Bands on the factory 21″ Tesla turbine wheels, I think it looks absolutely amazing. This is largely due to the fact that I can pick and choose the color of the track + insert that I'm in the mood for, each of which comes in varying colors. I chose to go with a more unique RED track with BLACK insert. Why?
For one, I always thought that the more popular red on red or black track with red insert was just too bold of a look for the elegant Model S. I wanted to try something more subtle and less in-your-face and was able to achieve that by using the Wheel Bands red track with black insert.
From a distance, you can see just a subtle hint of red along with the factory wheels. The black insert covers up a majority of the red track thereby leaving only the outer red portion of the track visible. In fact, this set up actually makes the wheel appear .5″ larger in diameter.
Having the ability to mix and match the insert also allows you to color-match the Wheel Band with your seat stitching.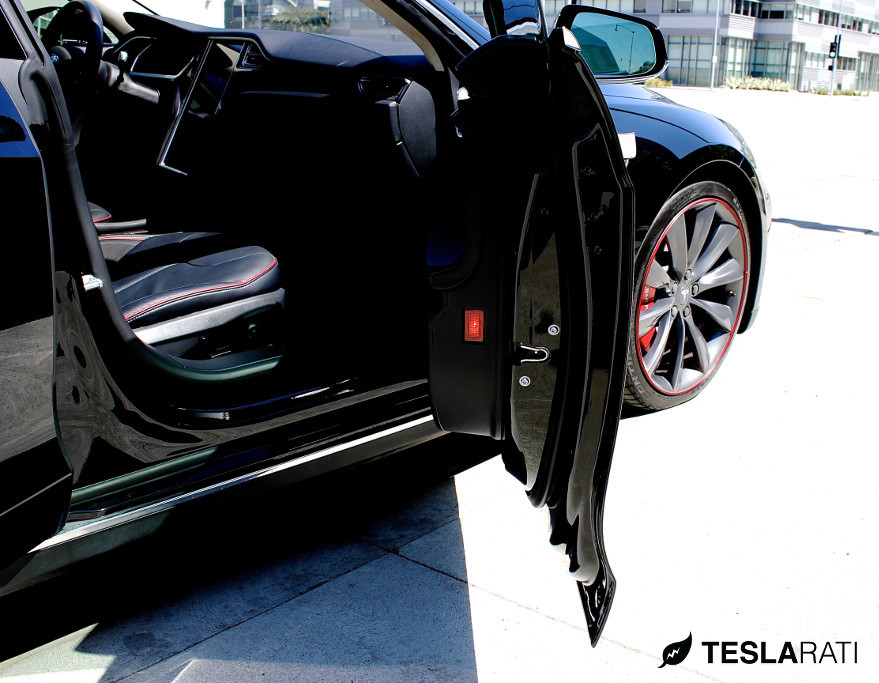 Aside from being able to swap colors by merely popping out the colored insert, the unique lock and channel design of the Wheel Bands track allows one to easily splice in a new piece should a section get damaged. Go figure. Tesla Model S curb rash protection that actually serves as curb rash protection. Excellent!
---
Summary
Unlike other wheel protectors on the market, especially those that are being marketed to Tesla owners, I find Wheel Bands to be the most effective in terms of giving the Tesla Model S true curb rash protection. Some wheel protectors clamp directly onto the wheel itself and require complete deflation and removal of the tire. I find this counterproductive since it not only dangerously interferes with the bead of the tire, but you're essentially marring the wheel by clamping onto it. Other products adhere to the wheel via adhesive tape but are more decorative pieces, due to their soft rubberlike compound, than true rim protection.
At $119, the Wheel Band is priced slightly higher than some competing products, but in my opinion having that peace of mind knowing that it will actually do what it's supposed to do – provide curb rash protection for your precious Model S wheels and look good while doing so; now, that's absolutely priceless.