Turn your electronics on or off from anywhere over wi-fi or 3g/4g.
We found this great gadget and accompanying app from Belkin that really reminded us of the VisibleTesla app, but for home automation.
The Belkin Wemo Switch + Motion Sensor uses your mobile 3g/4g network (or wi-fi) to provide remote and motion control of your home lighting, television, alarm clock, and pretty much any appliance that can be plugged into a traditional 110v outlet; even a space heater!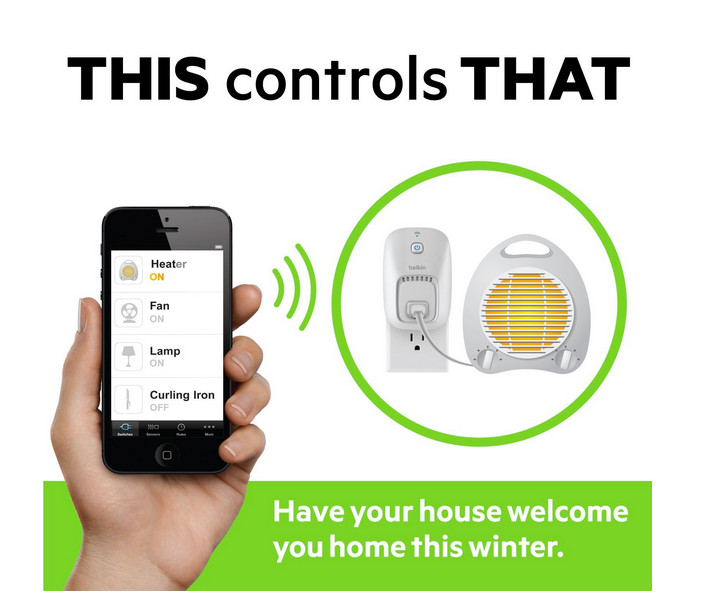 The WeMo unit is about the size of a large air freshener and plugs directly into the wall socket.  Set up is simple – plug the WeMo Switch into a wall outlet and plug any device or appliance into the switch.  Power to the WeMo switch is controlled remotely through your cellular network or home wi-fi, and can be toggled on and off through Belkin's free mobile app (iOS and Android support).  The additional WeMo Motion Sensor will automatically activate the switch once motion is detected.
Being able to remotely control your home electronics/appliances presents an endless amount of use cases which is great, however the really cool part of it all is, the ability to set "rules" and be alerted through IFTTT.com when pre-programmed actions take place.  Rules allow you to schedule activities to occur during specific times of the day.
We've outlined a few scenarios below that the WeMo Switch can be well suited for.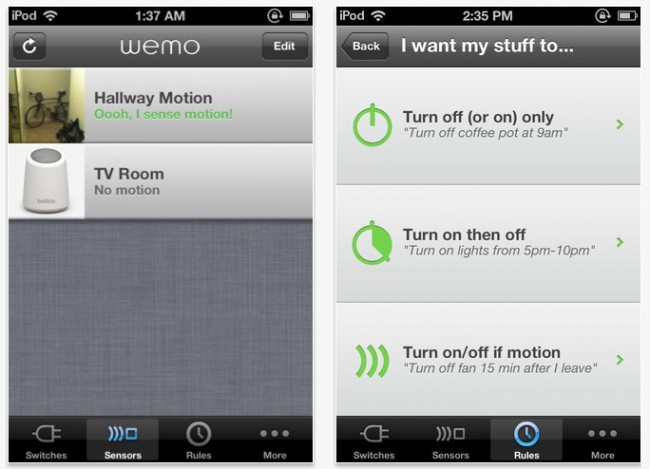 Turn on the kitchen space heater before heading in for breakfast
Motion sensor sends a SMS text message to yourself when the kids come home from school
When you're on vacation or away from home, send an email alert to your neighbor if the front entryway motion sensor is triggered  (powered by the free app, IFTTT.com)

Put your electronic devices on a schedule or have them respond to sunset and sunrise

Turn on the front entryway lights before coming home after work
Have peace of mind that the iron is turned off
At $79.99 the Belkin Wemo Switch +Motion sensor provides basic home automation convenience at a fraction of the cost of in-home systems.
[tabs slidertype="images"] [imagetab width="" height=""]http://www.teslarati.com/wp-content/uploads/2014/01/Belkin-Wemo-Switch-Motion-4.jpg[/imagetab] [imagetab]http://www.teslarati.com/wp-content/uploads/2014/01/Belkin-Wemo-Switch-Motion-2.jpg[/imagetab][/tabs]
---
Belkin's Marketing Video