The high demand for electric vehicles is accelerating the growth of the global lithium market and is projected to continue to do so for some time.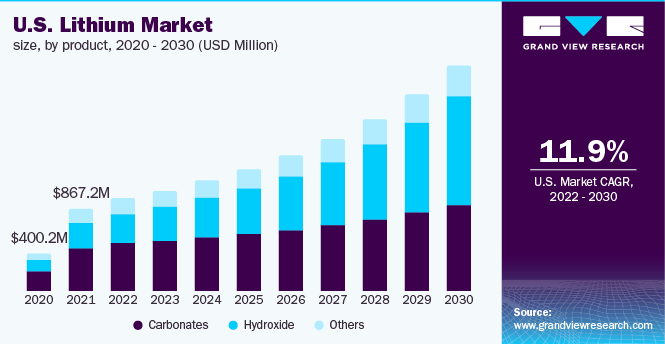 According to a new report by Grand View Research, the lithium market has already doubled in size compared with 2020.  In 2021 the global lithium market was valued at $6.83 billion.
And the lithium market is projected to grow at a compound annual growth rate (CAGR) of 12% from 2022 to 2030.
Demand for EVs in 2022
This year has been a remarkable year for EV growth. June was a record-breaking month for EV sales despite several global markets entering a recession.
Rivian recently reported that it had around 98,000 R1 net preorders for the first half of 2022 and noted that it was fully ramping up to meet the strong demand for its products.
Ford reported an EV sales growth of over 168% in July. Deliveries of the Ford F150 Lightning began in late May 2022. Ford is also cutting 8,000 jobs from its internal combustion engine productions to focus on EVs.
Tesla delivered 254,695 vehicles in the second quarter of 2022 despite the challenges affecting the supply chain and the factory shutdowns in China.
EVs accelerating the growth of the global lithium market
According to the report, the electrification of vehicles is projected to boost the volume of lithium-ion batteries which will accelerate the market growth. In particular, the automotive sector is at the center of growth during the forecast period.
The driving force is the stringent regulations for legacy automakers imposed by governments to reduce the carbon dioxide emissions from their vehicles; encouraging them to focus more on EVs. In addition, government subsidies for EVs and investments in the EV space will also boost the growth of the market.
The U.S. is a top consumer of lithium and has a lot of reserves. The U.S. Geological Survey noted that lithium resources from brines and minerals account for 7.9 million tons in the U.S. Despite having such a high amount of lithium, the U.S. only mines around 1% of the total demand in the world.
You can read the key points from the report here.
Disclaimer: Johnna is long Tesla. 
I'd love to hear from you! If you have any comments, concerns, or see a typo, you can email me at johnna@teslarati.com. You can also reach me on Twitter @JohnnaCrider1