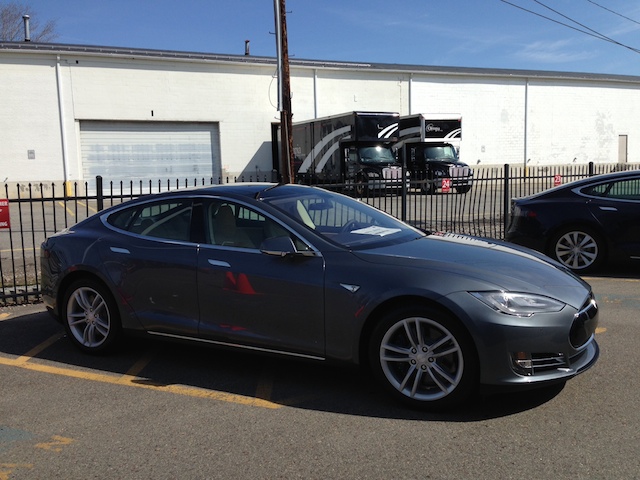 On Monday, April 21 2014 amongst the celebrations of Earth Day, the Boston Marathon and Patriot's day, another big event was happening, the delivery and first drive of my very own Tesla Model S.
As I eagerly pulled out of the Tesla Delivery Center in Watertown, MA a billion things were crossing my mind and near the top were the following:
This is a normal car, not a SUV, am I going to bottom out pulling out of the inclined lot? I didn't.
I need to get out of here, meet my family, and its my first time with the GPS – will I be able to reach where I'm headed to? Fortunately we had pre-programmed my work location as a 'favorite' during my delivery walkthrough.
I just missed that turn and now I have to cross 3 lanes and turn around, is the turning radius tight enough? It was.
Will I get in a lot of trouble if I give my mother-in-law whiplash on her first ride with me? I avoided any sort of whiplash by showing great restraint.
Can I resist fiddling with the screens and focus on the road?
Can I avoid the Boston Marathon route and high congestion areas? I did.
For each area of concern I had the Model S delighted and amazed me with answers.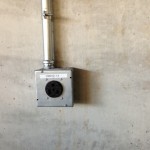 On the way home from the delivery center is Natick Mall Tesla Store which has five public charging stations so I figured I'd give it a try and juice up while I have lunch with the family.  The two HPWCs that they had were already in use so I carefully backed the car, with my eyes focused on the parking sensors, into one of the other spots that were outfitted with a charge outlet.
I grabbed my Universal Mobile Connector (UMC) kit which we practiced using during my delivery walkthrough and prepared myself for the first electric car challenge that lay before me. The outlet that I backed into was not a style I had an adapter for which turned out to be a NEMA 6-50. The UMC did not have an adapter that would fit that type of outlet so rather than blocking the outlet for someone else who may be better equipped, I moved the car and parked away from it. A Tesla employee was just arriving for work so I cornered him and confronted him with the issue. He was very friendly and said he'd look into it.
Also see: Should You Leave Your Tesla Charger (UMC) Plugged In?
I dropped by the Tesla store after lunch to follow up on the issue and they mentioned that the NEMA 6-50 was not a common plug therefore the adapter was not intended to be included with the UMC kit. They offered to lend me an adapter for the time being or move one of the test drive cars from the HPWC so that I can use it. Since I didn't really need a charge, having taken the car with 219 mile of range, and my intention was only to test the charging capabilities, they told me I could just order the extra adapter from the Tesla Motors online storefront.
That led to my second electric car challenge. I tried to buy the NEMA 6-50 adapter later that day from the online store as advised but the adapter was listed as "Out of stock". I immediately contacted sales but was told I had to be put me on a waiting list for the part. If you look at the site now the adapter isn't even listed and there are rumors that they've told others they won't be selling them any more. Unfortunately no other site that I know of sells a NEMA 6-50 Tesla adapter. I was later told that Tesla Motors will be swapping out the NEMA 6-50's for NEMA 14-50's which is the recommended outlet type and that every UMC will be outfitted with this adapter.
After lunch I got a different passenger for the ride home, my daughter. I told her there was a mandatory stop for a photo shoot. I had been thinking about where to get a good picture for a while and I think it turned out great!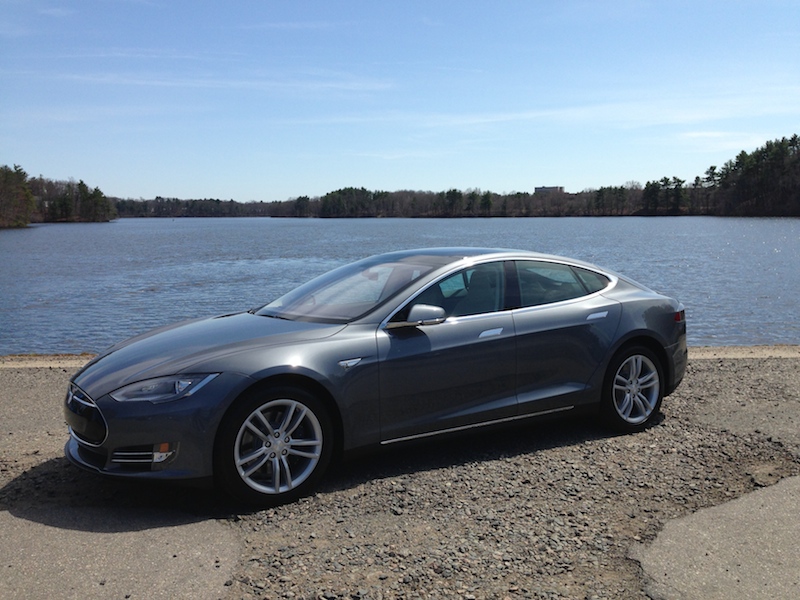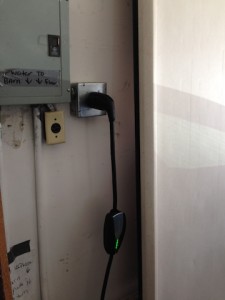 The ride home was uneventful but fun. On my bumpy street the Tesla handled the potholes, frost heaves and other standard New England type road conditions perfectly. Once I got home I practiced pulling in and out of my garage and tested my NEMA 14-50 for the first time. The outlet and charger worked great and I got a full 40A (at the delivery center we had charged at 80A proving my dual chargers were there too).
I spent some time installing the extra frunk and trunk mats that I had ordered online prior to delivery and moved a few things from my old car to my new Model S.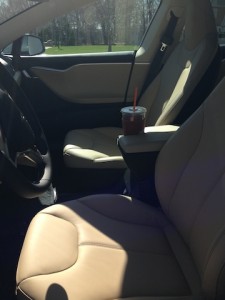 My compact umbrella fits great in the glove box and the little shelf under the 17″ touchscreen was the perfect spot for my sunglasses and the screen cleaning wipe that they provide you with.
Also see: Tesla Model S Screen Cleaning Kit Review
Perhaps the most important test for me was finding out whether my large Dunkin' Donuts Ice Coffee would fit within the armrest cup holder – I live in New England after all. I'm very pleased to say it fit without a hitch. It would have been a shame to have to return the car after all this waiting!
My wife wanted to go for a test drive so I took her for a spin and then let her drive it. She has a Mercedes ML-350 so the controls were very familiar to her since Tesla uses the same parts around the steering wheel. We drove around, capitalized on many photo opportunities and took the highway back to our house. At one point I looked over at the dash and realized she was driving over 95 MPH. It's effortless to get moving and moving very quickly for that matter, despite it feeling like you're only traveling at 40 mph.
I mounted my EZ-pass tag in the black area of the windshield and to the right of the rear view mirror and it worked perfectly. On my Acura I had it positioned near the rear view mirror that was hidden from sight, but that's not an option in the Tesla due to the special coating they have on the windshield which interferes with signal transmission.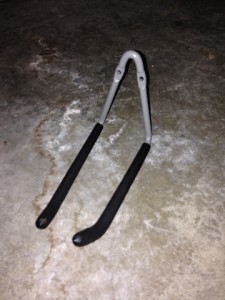 The next trip was to a hardware store where I would try to find something that would prevent the weight of the UMC and charging cable from pulling on the NEMA 14-50 outlet. I found a simple hook at Lowe's that can take the weight off the outlet and hold the entire cable.
A friend later called and told me that he was stranded at Boston Logan thanks to the Boston Marathon and needed a ride. That led to my third electric vehicle moment — did I have enough juice to go get him? I didn't want to fight Boston traffic on my first day with the car so I had him take a bus to the Natick Tesla store (50 miles away) where I would pick him up. At this point I had 150 miles in range left from the 219 that I started with and had a 100 mile round trip ahead of me. I picked him up and we made it home with 45 miles to spare. Even though the car indicated that we would make it with range to spare, I nevertheless experienced range anxiety.
In summary, that first day I put 155 miles on my new Tesla and enjoyed every second of it. It was a pure dream to drive.
By the end of the day I was exhausted from my lack of sleep the night before, all the driving and the exciting new learning experience. I got my first good night's sleep in the 6 weeks since pressing 'Confirm Order'.