After nearly two years of waiting after putting down my deposit on the day of Model 3 Mania, I finally took delivery of my Model 3 on February 12th, 2018.
I actually don't need Tesla's Long Range Model 3 for my short daily commute, but realizing that on a range per dollar basis the vehicle's 310-mile range works out to be an amazing deal, I succumbed to the temptation and ordered Tesla's "first production" Model 3 just so I can get the car sooner.
Tesla indicated a 4-week delivery window at the time I placed my Model 3 order, which admittedly I was skeptical of. Especially as 2 weeks after I configured, I still did not have a VIN assigned. I'm happy to report, however, that all the way out here on the East Coast, I did, in fact, take delivery 2 days shy of 4 weeks from configuration. The delivery team was top notch: from my inside sales adviser, to the local delivery specialist, to the two product specialists who introduced me to the car, the Tesla team is simply spectacular. This doesn't come as a surprise to me, as everyone I've ever dealt with at Tesla since my very first Model S test drive nearly 4 years ago has been a pleasure to interact with.
What do I think of the Tesla Model 3?
Without further delay, let me jump right into the car. The most important thing to talk about is how the car drives and I'm pleased to say that it immediately met my very high expectations. I'll be the first to tell you that the Model S is the best car money can buy but it is bigger and heavier than I prefer. Yes, an incredible fangirl will admit that she does not prefer a full sized sedan.
The Model 3 is lighter and smaller and by default feels agile. The Model S, as big as it is, was plenty agile when a deer ran out in front of me and my inexperienced, city-living-self swerved to avoid it. The steering wheel feels as thick and luxurious as the Model S, but is smaller and reminds me of a race car. I changed the steering setting to Sport mode before I even left the delivery bay and find it to be perfect for my preferences.
Tesla's Model 3 also stops more easily due to its overall lighter weight than the Model S. I wouldn't think much about that except for the fact that it is winter where I live and regenerative braking is limited much of the time due to weather conditions.
What about the interior? For one, I adore the instrument cluster in the Model S where I have an at-a-glance-view of my energy consumption and current trip stats. Being able to see a zoomed-in view of your navigation route directly in front of you is also something I've gotten used to that the instrument cluster-less Model 3 doesn't have. Also, major indicators like speed and Autopilot information are front and center where it feels like it should be located.
While I knew I could most likely get used to Model 3's single center-mounted touchscreen, I wasn't sure how long that would take. I can say that after driving the Model 3 for a few days, viewing data on the left side of the landscape-oriented screen became second nature.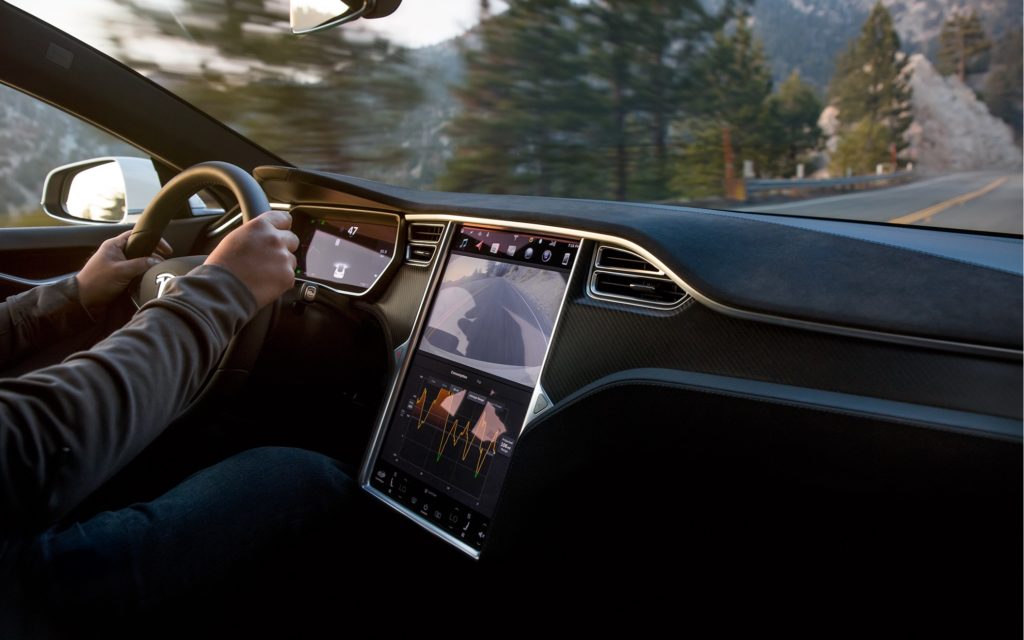 Even my mother, who drives a 2004 Chevy Trailblazer that she says, while crossing her fingers, will live forever, got used to Model 3's display 5 minutes into her drive. She has never been behind the wheel of our Model S, or any car even close to being this technologically advanced, yet had no problem adjusting. She has, however, been behind the wheel of many older, performance-minded cars with both manual and automatic transmissions but immediately gushed over our Model 3's zippiness.
And for the much talked about Model 3 headliner: I love it! Our Model S has the standard textile headliner in tan, which I find a little odd when matched with a black leather interior. The light gray headliner in the Model 3 looks great and knowing that the same durable textile material in our S is also in our 3, I'm confident that it'll hold up after nearly 60,000 miles.
Model 3's horizontal HVAC vent that has airflow that can be split in two via touchscreen is simply genius. It is stunning, clean and effective. Mark my words this will be copied by other automakers.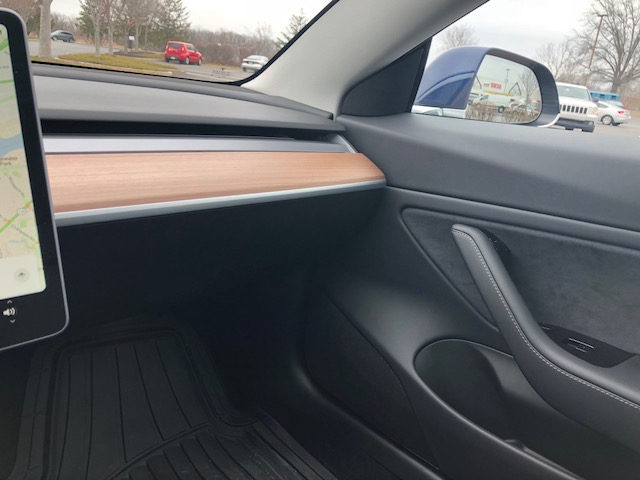 Tesla Model 3 can be improved
So what don't I like about the Model 3? It turns out that there are plenty of things that can be changed, but I realize that nearly any other car you buy will be the best it can be the day you drive it off the lot. It will never get better and certainly not at your home, for free, over the air. A Tesla is the opposite.
If and when Tesla receives enough feedback from owners, they can make a change and beam it over to you. It's a huge paradigm shift and one I'm happy to be a part of.
That being said, here is a list of my own observations of things I would like to see changed in the Tesla Model 3:
The turn signal stalk is a bit funky. A light tap gives 3 blinks and a harder press engages it fully. It will disengage itself when you turn but the stalk itself does not change position, which means there is no physical sound of the stalk going back into place. That being said, you have to actually check to see if it turned off by listening for the blink sounds or looking at the screen if you've engaged the signal fully to do something that wouldn't be forceful enough to disengage such as changing lanes or making a slight turn. My ideal solution would be to make the light tap 6 blinks so that it's more appropriate for lane changes. Then you don't have to worry about disengaging yourself, which is a stalk tap the opposite direction. I turned on my high beams inadvertently a couple of times in the first 3 days of driving the car. You only notice that error by looking at the screen.
Climate controls require two touches to turn on and off. I'd prefer that if you tap the fan icon, that means on and off rather than a pop-up menu where you have to press on or off. That menu would ideally pop up with a touch and hold.
The banner that tells you when regen is limited is too tall and poorly placed. The black banner is about 3 times as tall as the text itself and actually touches the image of the car in the main indicator area, blocking the color-coded arcs that tell you how near you are to obstructions in the rear of the car. This is a simple change that I hope comes quickly.
The lack of energy information on the main screen is a bit of a letdown if you're used to seeing it. I understand that regen is limited (as that banner shouts) but how limited? On the Model S, you can see a rounded graphic that looks like a gauge and the regen limited tick marks give an idea of how much or how little you have. In the Model 3, there is just a single horizontal line that signifies energy usage (to the right of center) and regen (to the left.) It's elegant and simple but I thirst for more info.
The small box that Tesla calls "cards" can be swiped to show several types of information. The trip meter (trip A, B, current and since the last charge) is the one I like to have visible at all times. Specifically, current drive/since the last charge. Every time I get into the car I have to swipe to see it and I'd prefer the car remember which screen I viewed last time and keep it until changed.
The Autopilot info display can also use some improvement. (Bonus points for the steering wheel nag being substantial enough to get your attention without requiring subverted eyes.) On the main display when in AP mode, you can change the speed but not following distance. The speed is in the center with a plus or minus on either side. There is enough room, in my opinion, for there to be a vertically stacked plus and minus on either side of center where one is for speed and one is for the following distance. I like to be able to change following distance as conditions change. Going into the screen menus is not very practical in my opinion, so I'm stuck with whatever I had set before, if I even remember what that is. While we're at it, I'd like them to give the ability to change your speed via the stalk or scroll wheel. I'm fairly certain they'll either do that or implement voice control ability, as I think this will be a common request.
Traffic conditions on the navigation screen did not update twice in 2 days. I found it odd that my route to work looked yellow instead of dark red but after hearing the traffic report, I decided to toggle off traffic and back on. There it was – dark red all the way. Traffic conditions need to update themselves without being turned off and back on.
Unlock upon walk up with an enabled phone in hand/pocket/bag did not work every time. I had an unfortunate situation in a public parking lot where I had to pull out my wallet to open the door (not a problem) and place it near the cup holders to turn the car on (again, not a problem) – but then I had to do the second step all over again when I got out of the car to reach a horribly-positioned ticket machine. It was a little unnerving to worry that the car would not turn on quickly enough to escape before the exit gate came back down onto my brand new car.
A bigger problem than the car not unlocking right away is the nagging fear that the car was not locked at all. Somehow my husband got into the passenger's side of the car while I was waiting for the mirror to unfold, which is my visual cue to get in. The car wouldn't start until I placed the card by the cup holders so how did he get in? Was it not locked? He did have his phone (also enabled) on him but I can't see only one side of the car unlocking. Similarly, he went back into my car to grab something, walked back into the house and saw from the app it was unlocked. He locked it via the app and saw the lights flash and mirrors fold from inside the house. In the absence of electronic door handles that are visibly locked (flush) or unlocked (popped out) like the Model S, I need some reassurance or feedback that my car is locked. I'm used to just assuming it is but am fairly certain that last night, it wasn't until it was manually locked with the app.
My first morning with the car I was able to connect via app and pre-heat the cabin as expected. One day 2, no such luck. Several failed attempts over 10 minutes and it was time to walk out and (gasp!) drive a car with a slight chill inside. I've had this problem with the Model S as well so I think both can stand to improve.
Other observations:
After being parked outside overnight with temps in the mid-20s, I did not get back full regen during my 46 minute, low speed drive. It didn't feel completely gone so I suspect it was only slightly limited, but as noted earlier, I just can't tell because that information is not displayed. I'm not knocking the limited regen, as this is a known behavior of an electric car, but worth reminding those of you for whom the Model 3 will be your first. Especially true if you get your car in the warmer weather and your first cold snap shocks you.
Baby boy's first snow, and the wild colors of the glass roof when wet and sunny. #Model3 pic.twitter.com/m7SSPO06Wt

— Jen (@ElectricJen) February 18, 2018
The car charges more quickly on the same NEMA 14-50 outlet with the same universal mobile connector as my Model S. I routinely see 29 miles of rated range being added per hour of charge on the S, but saw up to 38 miles of rated range being added per hour on the Long Range Model 3.
In closing, let me just say that the one day of the week I used to drive our Model S was always my favorite. Today I drove the Model S so my husband could take a turn with our new 3 and, well, I miss it.