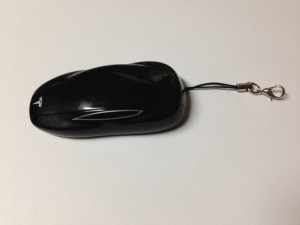 Prior to taking delivery of my Model S, I had concerns about attaching the Tesla key fob to my keychain since I heard that earlier deliveries only included the key fob but with no keychain loop.
Recognizing this need Tesla decided to include a string-based keychain loop for both of my key fobs when I picked up my Model S.
The clip at the end of the string is a simple metal loop that actually bent and disconnected from the string on the very first day I got it. Luckily I didn't have my keychain clipped on or else I probably would have lost the key fob.
The string and loop approach also leaves quite a distance between the key fob and keychain making it far from ideal when using either of them.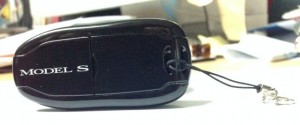 As you can see there isn't much space on the key fob for a regular keychain, hence the string loop works. However I ended up disconnecting the loop and just left the key fob on its own in my pocket.
Also see: Deluxe FobPocket Review: Tesla Model S Key Fob Cover
Tesla did a great job designing the key fob. It's in the shape of the car and clicking on each area of the fob will open/close its respective area on the vehicle. Several people have reported that the Hold operation no longer functions with the latest firmware upgrade as a way to prevent accidental opening of the windows while the key fob is squished in one's pocket.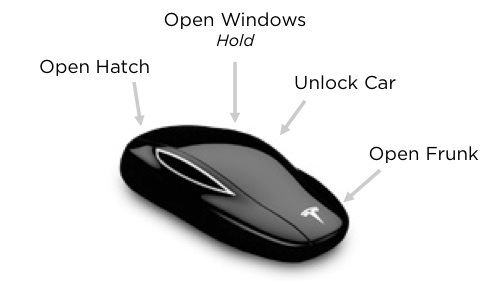 I find the Open Frunk feature the most useful for me, but other than that I never use the other functions since the Model S unlocks and presents its door handles to me as I walk up to it. The hatch also has a button above the rear license plate that allows one to open it manually if needed.
Image source: ModelSCoil.com