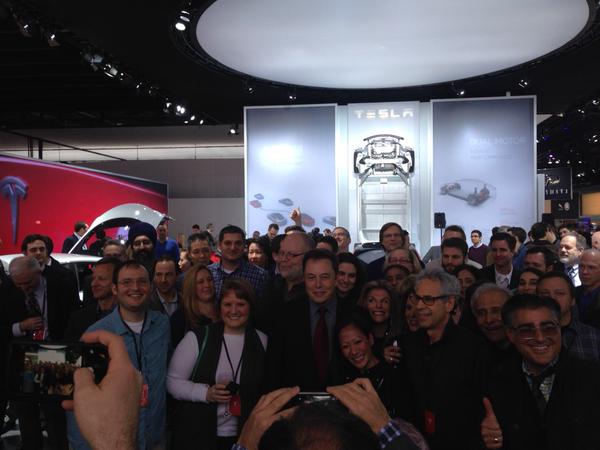 In a recent poll of 700 tech company founders conducted by First Round Capital, 23% of respondents named Elon Musk as the the person they admire the most followed by Amazon's Jeff Bezos (10%) and Facebook founder and CEO Mark Zuckerberg (6%). The late Steve Jobs rounded out the Top 4 capturing 5% of the votes.
First Round writes, "We launched State of Startups to capture what it means to be an entrepreneur. We asked the leaders of venture-backed companies about everything from the fundraising environment to their working relationships with their co-founders to their office's price per square foot."Adding, "Once again, we asked founders to write in which current tech leader they admire the most and we tallied 125 names. The Tesla and SpaceX leader held firm at the top spot (23%)," ranking Musk as most admired leader.
While the survey did not ask respondents to explain their choice, it is safe to assume that Elon's propensity for setting lofty and visionary goals, and then being able to execute on them, is one trait admired most by tech founders. Most recently, Musk moved his prediction about when Tesla would be manufacturing 500,000 cars a year forward by a full two years.
Tesla also recently celebrated a record-setting third quarter and has been moving aggressively to close the second half of this year with 50,000 cars delivered. The company has announced a series of sweeteners to motivate people to order and take delivery of new vehicles before the end of the year. Unlimited Supercharger access for long distance travel and a, then, upcoming price hike on its entry level Model S 60, announced by the Palo Alto-based electric car maker and energy company, were incentives to stimulate sales.
With plans to increase annual vehicle production by a factor of ten to twenty-fold by the end of the decade, send humans to mars and transform the energy sector, Musk's innovative solutions to rewrite humanity as we know it joins an elite rank held by few genius inventors and industrialists who have gone on to change the world.