Dashboard cameras or simply known as dash cams have become increasingly popular over the last year in the US especially amongst Tesla owners who are looking to gain a bit of extra confidence and security for their beloved S. It's also a great way to capture recreational fun as owners rip into the tarmac in one of the fastest sedans in the world.
Drivers in Russia are best known for their extensive use of dash cams since video footage is widely used as documented proof of accidents and crime for court systems and insurance companies. However this doesn't hold true in all countries as some have actually made dash cams illegal because of privacy concerns. The usage of  dash cams in the US, for the purpose of recording video footage, is legal as long as the device is not obstructing your view. Recording audio on the other hand is governed by a separate law that makes recording someone's voice without their consent illegal. In most cases, sound that is picked up through the dash cam is background music and road noise, but either way it's good to check with your local laws before recoding someone's voice.
What is a Dash Cam?
A dash cam is simply an onboard camera for your vehicle that faces outwards and records video. Many professional drivers such as truckers, limousine services, Motorsport enthusiasts, etc. are starting to install dash cams as a way to document and protect themselves from mishaps.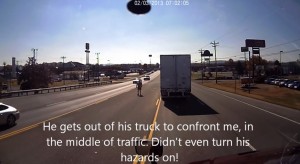 I first learned of dash cams through my brother-in-law who drives trucks for a living. A recent incident in which he caught a fellow trucker road raging convinced me that I also needed a dash cam as a way to capture the more, let's say, interesting moments that come with daily driving.
We did a Tesla how-to review last year on a single channel, front facing DIY Dash Cam Installation which really inspired me to take a deeper look at the variety of dash cams on the market.
Single Channel vs Dual Channel Dash Cams
Dash cams come in two basic flavors – single channel and dual channel. Single channel dash cams are forward facing cameras that record forward facing events that take place in front of the car. Dual channel dash cams on the other hand can capture video from the front of the car as well as what's behind it. There's also the option of recording the inside of the car (yourself and passengers) through the second channel as opposed to using the second channel for capturing rear facing video.
RELATED: Life with a Tesla Model S dash cam
You'll need to think about what you intend to capture with the dash cam before committing to a purchase. Below are three common reasons for getting a dash cam:
Recreation: To capture footage of your drive for recreational purposes. After all, you never know when you'll come face to face with a meteor.
Proof of Accident: Documenting video footage of accidents that you're involved in. In this case you'll definitely want to invest in a dual channel dash cam for both front and rear coverage.
Nightime Watch:  Prevent theft and damage by recording activity surrounding the car when not in use. This type of set up will require a constant always-on 12V power source for the camera so that it can continue to record while the car is left unattended.
If you're simply looking for recreational footage of your driving escapades, then a single channel front facing dash cam will suffice. Our coverage of the DIY Dash Cam Install documents the process to install a quality single channel dash cam but at a very affordable price.
On the other hand, if you're looking for a super premium dash cam that provides high definition on front and rear video coverage, you'll likely turn to the popular BlackVue DR650GW-2CH.
Tesla Dual Channel Dash Cam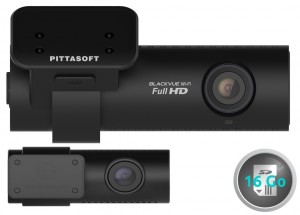 Having a dash cam that's not only compact in size but also feature rich was extremely important to me. I wanted something that can record continuously while I was away from my Model S but also small enough that it can remain hidden from view.
I came across several dash cams during my search but one that continued to jump out at me was the BlackVue DR650GW-2CH. Reasons why I picked this dash cam for my Model S over others are as follows:
Very small cameras which do not have LCD displays. Having a LCD display makes the camera larger and more distracting because of the lit screen.
It's 100% black in color which blends in nicely with the rear view mirror. (The previous generation DR550GW had a silver ring on it)
It's dual channels (2 cameras – front and rear)
The BlackVue has software that can be installed on your computer and smartphone which will entitle you to a built-in GPS, G-sensor, internal short term power, built in wifi, voice responses, LED controls and more.
It is regarded as one of the best and most popular dash cams amongst Tesla Model S owners.
Being the best also means that it comes with a larger price tag. I'll be following up this post with a detailed How-to that will outline the procedure for installing the dual channel BlackVue DR650GW-2CH into the Tesla Model S.
UPDATED: Here's my detailed step-by-step guide on how to install the BlackVue HD Front + Rear camera onto the Tesla Model S.