In this final review of Tesla Firmware 6.1, I'll be taking a closer look at the improvements around the key fob, calendaring and media features.
Music Shuffle and Repeat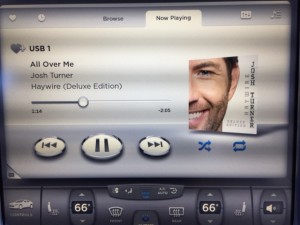 My biggest gripe about the Model S USB music player is the lack of shuffle which, as silly as it may sound, has been a major deterrent for me to use the player.
I'm happy to report that shuffle is now supported in Firmware 6.1! You now have the ability to launch your playlist and select a shuffle icon which will queue up a random song from your list.
The repeat function repeats all songs in your playlist (sequentially or randomly depending on the shuffle option).
Music shuffle was a very requested feature by Model S owners. Adding this feature not only appeases owners but it's also a very smart move by Tesla since this will shift listening from bandwidth consuming internet radio to an owner's own USB-based playlist.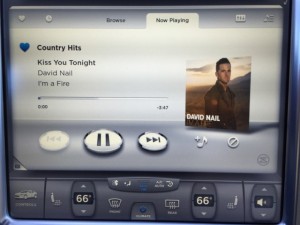 Slacker (and Rdio for international owners) will now show a progress indicator while the music buffers. It wont' change the way music will be played but it's definitely a nice visual improvement that any streaming service should have.
Podcasts on TuneIn also received improvements in the form of a media scrubber (the control that allows you to drag and move back or forward in the soundtrack being played) and the ability to remember where you last left off when listening to a podcast.
Calendar Improvements
The Calendar app. also received several nice improvements in Firmware 6.1 such as event notes and the ability to call numbers included within. Clicking a URL that's embedded within the notes will launch that page within the Model S web browser. This is a great way to send URLs from your computer or phone to the Model S. Gone are the days of having to painfully type in long URLs of cool sites into the Model S browser. Just add them to a calendar event and send it to the car.
SEE MORE: Tesla Model S Tips, Tricks and Tidbits
Being able to interact between apps is exciting to see since it could be the beginning of many more features to come. One example would be the ability to click on a song name and retrieve the lyrics to the song via the Model S web browser.
Key FOB Update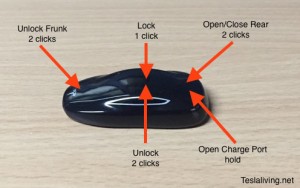 And finally, Firmware 6.1 brings new functionality to the sleek Model S key fob. Pressing and holding the rear hatch section on the key fob will give owners the ability to open the charge port latch. Something so simple may not seem like a big addition but it surely is. This is especially true during times when the Supercharger handle doesn't open your charge port or when using a public J1772 charger. You'll have the convenience of not having to go back into the car and unlatch the charge port via the touchscreen control by using the key fob directly.
Summary
Overall Firmware 6.1 represents one of the best updates to date with its Traffic-aware cruise control to the back up camera guidelines. And with the addition of the key fob, calendar and media improvements, this will be a firmware release tough to beat.
There are additional improvements which I haven't covered such as a simplified right steering wheel control, a factory reset option and a smart conditioning feature that's designed to learn ones daily path of travel.