Long road trips are one of the biggest sources of enjoyment a Tesla can bring. This coming from a former road trip hater who just wanted to get to whatever big city or beach she was traveling to quickly and at 39,000 feet. Really. I once flew from Philly to Pittsburgh. So why then, did I just knowingly and happily embark on 2,100 mile trip? Because road tripping in a Tesla is amazing.
I now much prefer Tesla road trips over flying. Veterans and new Tesla owners alike are well aware of the joys of the Supercharger network. Once you've mastered managing your battery range and using Superchargers, all that's left is to enjoy the ride. I'd like to share with you some ways that I made the most of my recent trip. Each one greatly enhanced the experience.
Pack a water cooler
I have this 2-gallon jug and it has honestly revolutionized road travel. When most folks reach for coffee, I reach for cold water. Keeping hydrated has a myriad of benefits and only one downfall: needing facilities. Fortunately, you're stopping every 2 hours or so to charge anyway so drink away. Pair this with one reusable water bottle per traveler and you'll not only save money refilling, but reduce waste as well. This jug, filled generously with ice and water from home stayed cold from 6:30am on Day 1 until we finished it the evening of Day 2. We filled up or topped off our individual bottles for every meal, as well as before check in to get us through one night at a hotel without having to buy bottled water.
Make use of the frunk
While we're talking about packing, go ahead and make use of the frunk. Our S85 has the larger variety, so we were able to put a small, empty duffel bag in there to store clothes as they had become dirty and thus lessen the load carried in our suit cases each day. We also had plenty of room for a cooler full of booze. More on that later. A few days into the trip, I also realized that the empty "microwave" space on rear wheel drive cars holds several pairs of shoes neatly in place.
BYOB
Okay, so this is a tip to save money on any road trip but hello! Enjoy a cocktail at your destination before or after (or both) going out to dinner. Why double the cost of the meal when buying a bottle at home costs a fraction of what it does at a restaurant.
Immerse yourself
This is another tip applicable to any means of transportation but check out websites like AirBnB or HomeAway to find digs right in the midst of your destination. Depending on our trip, you can make use of the ever-growing network of Superchargers and not even  have to think about destination charging. We used exactly zero destination chargers on this trip.
Stop at more chargers for shorter periods of time
Some people would rather take the long way home and keep moving than take the most direct highway and sit in traffic. Moving just feels better. The same logic applies here. If your route gives you the option to skip chargers, consider not doing so. Consider stopping at every charger along your route, for a shorter amount of time at each stop to minimize sitting and waiting. In addition to being fun to "collect" Supercharger visits, this speaks to the aforementioned hydration peril. Charge rates are slower at the high and low ends of the battery anyway, so this may save time. It also speaks to one of the best parts of choosing to road trip over flying. That is…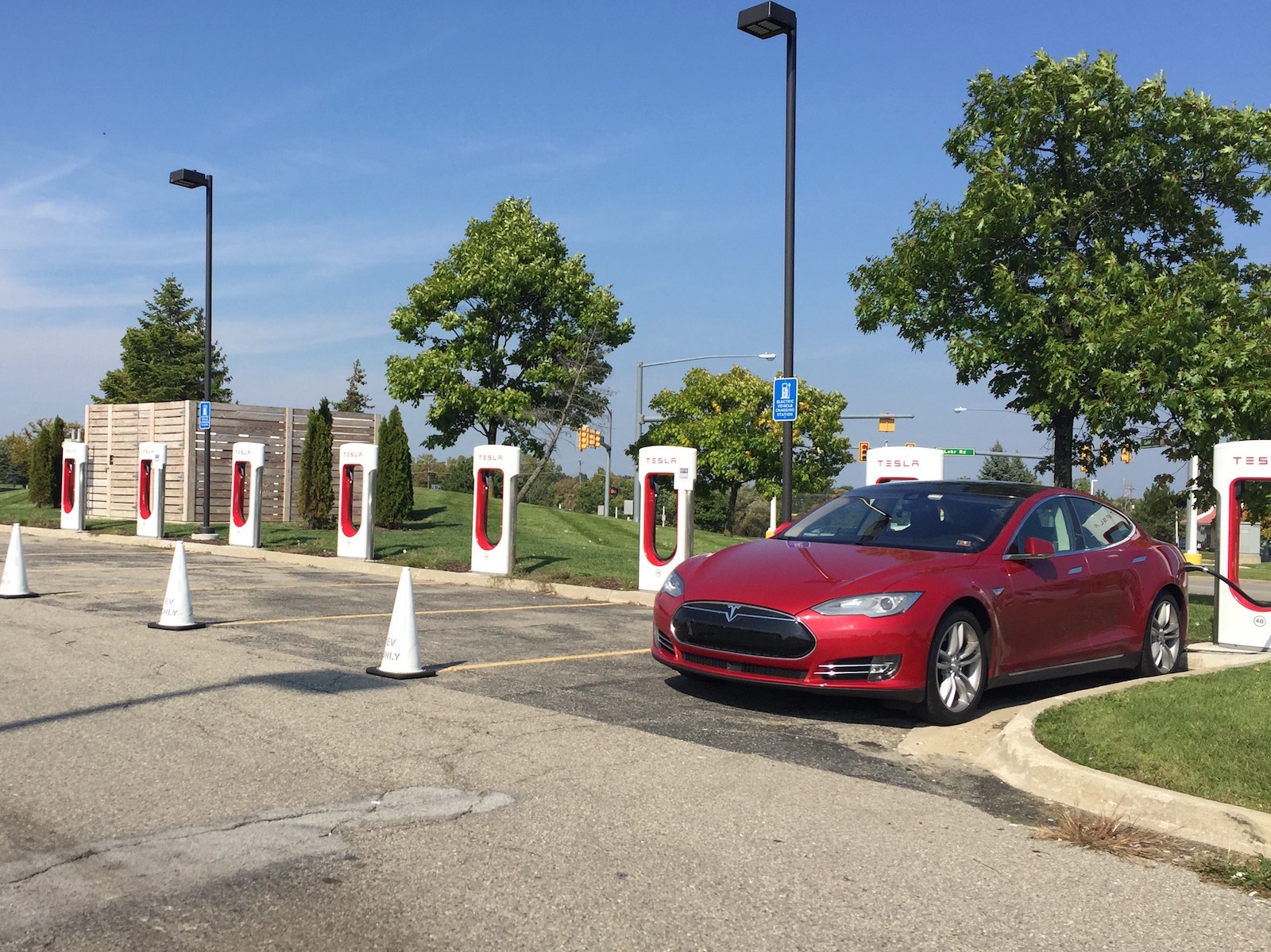 See things along the way
I've always wanted to go to Chicago. It was the last of the top 5 (by population) cities in the US I hadn't been to. I always assumed I'd fly there. If I had, I would not have had the great pleasure of seeing Touchdown Jesus and the gold dome at the University of Notre Dame. It was only a few miles away from a charger and well worth a short detour. The same goes for The Big House, the University of Michigan's football stadium. That one was right along the way to eating lunch in Ann Arbor, a town I had wanted to see but probably would have never visited on its own.
Meet people along the way
Much in the same way that some of this trip's best memories were stopping near or on the way to chargers, a great highlight was meeting a fellow owner at a charger. On purpose. If you use Twitter, Facebook, any Tesla forums, Reddit or other virtual communities, mention your travels to other users. You may be invited to meet up at one of your charge stops and be blessed with good company. Actually, there may be good company at any charge stop so after your visited your 100th restroom, say hello to fellow owners. One might just be the reason that particular location exists. (I'm talking to you Meijer logistics guy!)
Plan a multi-destination trip
Since you're driving anyway, and your Tesla can fit lots of luggage, make it a multi-destination trip. Check out the Supercharger maps and trip planning tools then draw a line from home to an intended destination. See which other places are accessible. Make a big, grand loop. While I don't recommend trying to experience Florence, Rome and Venice in 3 just days total – speaking from experience – you can certainly enjoy many small American cities or national parks in just one day.
Plan ahead for charging
Even if it's informal, jot down the chargers you plan to hit. Tesla's trip planning software may or may not take you the way you wish to go. And it may skip chargers. A little planning ahead and looking at a map will give you a better sense of your travel time, intended chargers to hit and potential sightseeing detours.
Share driving responsibilities
This is a biggie. If there is more than one healthy, licensed driver in the vehicle, give up the fob! I'll never understand why some people insist on being the primary drivers in a family, but now's not the time. At every charge stop switch. You'll both feel more relaxed physically and mentally. For all of you couples out there, you already know that vacationing together can be stressful. Why not stack the deck in favor of taking some of the fatigue and stress of the equation? You're getting out to plug in, stretch, use the facilities and possibly eat. When you get back in, pick another seat. Simple as that.
Document
Tesla owners make one heck of a great community, and are a wealth of knowledge. Download Teslarati's app (iOS | Android) and see what others are recommending at each charge location. You may find useful information such as discounted restaurants, or be able to add your own tips to share with others. It's also great to be able to share your stats later. Below you will see the final stats for my trip:
Days: 8
Distance: 2,143 miles
Superchargers visited: 21
Destination cities (sleep over): 5 (Pittsburg, Chicago, Kenosha, Detroit, Toronto)
Destination cities/towns (non-sleeping): 3 (South Bend, Ann Arbor, Wilkes-Barre)
Average energy use: 289 Wh/mi
Level of enjoyment: Where can we go next?