Initial demand for a dual motor Tesla Model 3 was high, with over 70% of Model3Tracker.info survey respondents noting that they were planning to order the AWD version of the affordable electric sedan. However, a notable change in the poll data occurred after Tesla CEO Elon Musk revealed that only rear wheel drive versions of Model 3 would be produced first, followed by the more sought after dual motor variant "6 to 9 months" after.
The team behind Model3Tracker saw a spike in configuration adjustments shortly after Musk's reveal which indicated that some Model 3 reservation holders were willing to do whatever it takes to become a first recipient of Tesla's upcoming self-driving Model 3. The graph below shows the number of respondents making a change from all wheel drive to real wheel drive following Musk's announcement.
However, it's important to note that the shift in sentiment only represents a very small fraction of nearly 7,000 respondents, and counting. The large majority of Model 3 reservation holders want the dual motor configuration and willing to wait for it.
Model3Tracker has continued to provide valuable insight into the thought process of the Model 3 reservation holder ever since the vehicle's debut one year ago. Visibility that 93% of respondents were planning to upgrade from the base model, at the very least, reinforces Musk's estimate that the average sales price of the Model 3 will be closer to $42k versus the $35k base price.
"The large majority of Model 3 reservation holders want the dual motor configuration and willing to wait for it."
"As it stands now, 29% are wanting Rear Wheel Drive. From the year end report, it stood at approximately 25%." notes Paul Carter of Model3Tracker.
New data from the reservation tracking site shows the strong preference for an all wheel drive dual motor Model configuration from both first time Tesla buyers and existing owners.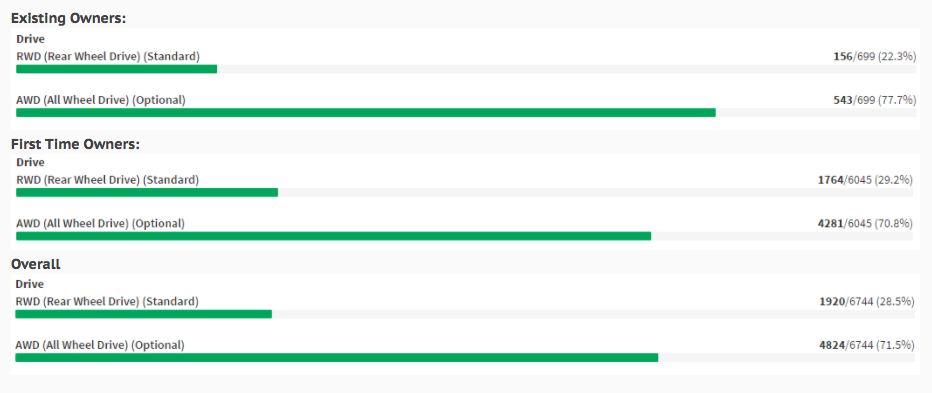 Model 3 reservation holders are clearly excited about the upcoming Model 3 launch event and anxious to find out what the final specifications will be for the highly anticipated mass market sedan.
Just yesterday, a black Model 3 release candidate version with two additional sensors was spotted testing outside of Tesla's Silicon Valley-based headquarters. With three months remaining before Model 3 is expected to go into low volume production, we expect to see very minor updates being made to the release candidate.
If you're a Model 3 reservation holder, be sure to help the community by logging your choice of Model 3 configurations in Model3Tracker.info.
Also, if you think you spotted a Model 3, send us a tip with photo directly from your iOS or Android phone!