New Tesla buyers are known to solicit feedback from members of the forum community on whether their proposed configuration is the right choice. I find this rather amusing considering there's really no right choice and it's purely subjective. What would be more valuable, and more interesting to say the least, is to see what configuration Tesla Model S owners are likely to walk away with.
Luckily some folks from the TeslaMotorsClub have already compiled a google doc that may give us an idea of what Model S options people are actually ordering. Let it be known that the results are based on a very small sample size that represents only a small fraction of the actual sales figures.
Tesla Model S Delivery by Country
It's no surprise that 93% of orders are being delivered to owners within the US with the rest coming from Canada and Europe.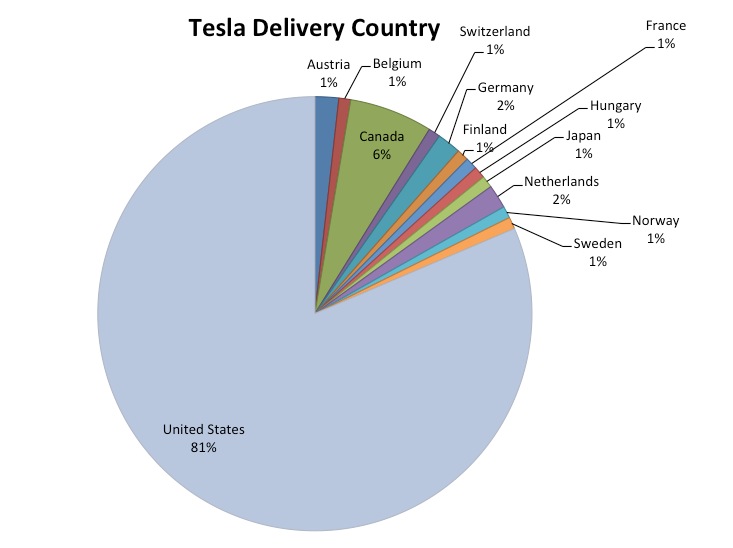 Within the US, California leads the pack at 37% while North Carolina comes ranks in second place followed by Massachusetts, Maryland, and Georgia.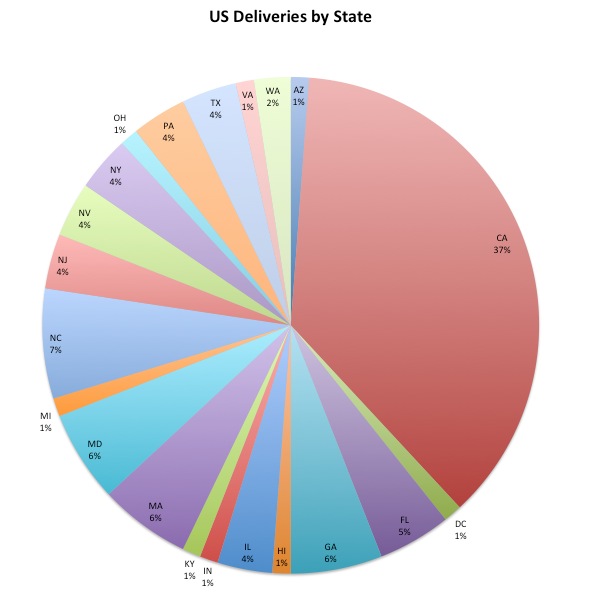 Model S Battery Choice
93% of Model S buyers are ordering the largest battery offering (85 kWh) while only 32% of people with the 85 kWh battery choose the Performance (P85) model. There's a further upgrade on top of the performance model known as the Performance Plus or "P+" which brings larger tires and an upgraded suspension. Of those choosing the P85 only 33% chose to upgrade to the P85+ plus model. So the next time you see a Tesla P85+ on the road, know that you're staring at a rare model which may represent only 10% of total sales.
Most Popular Color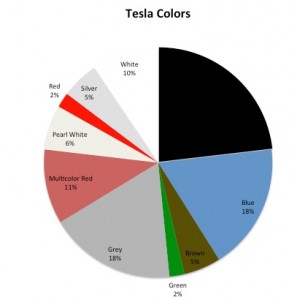 Black leads the pack at 23% of Model S owners choosing that as their color of choice with blue and grey a tie for second at 18%.
76% of buyers are upgrading to leather. The choice of color in the leather is pretty evenly split between all 3 color offerings. "Piano Black" stands out as the most popular interior trim with 51% of buyers selecting that offering. The remaining trim options are split evenly.
Only a mere 2% of buyers select Tesla's paint armor option.
Another interesting data point is that 39% of P85 customers select the red brake calliper option despite it being a free upgrade with the P85. The spoiler ranks higher in popularity with 52% of P85 customers selecting it.
Roof Selection
The Tesla panoramic roof is one of the coolest selling points of the car and as expected 69% of buyers choose it when configuring their Model S. If you don't select the panoramic roof you have the option to choose a roof that's painted in the color of the body or in black. 28% of buyers chose the body colored roof.
Technology Package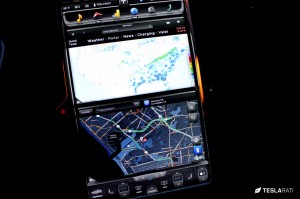 Likely to no ones surprise 85% of buyers chose the technology package which includes turn by turn routing, powered lift gate and many other fantastic features right on the 17" touchscreen. Without the Tech Package, some features of the vehicle are inaccessible. 80% of the people that picked the technology package opted for parking sensors but only 37% of them choose fog lights.
The Subzero weather package is not too popular at 26% but may grow over time as Tesla gains sales strength in colder regions such as the Northeast US and in Europe. I was surprised that 41% of buyers are choosing the premium sound option as it is a very pricy option that also requires a subscription for XM use.
Also see: The Sound in the Tesla Model S
45% of people who opted for the technology package also choose to add the smart air suspension
I thought was crazy when I added the premium interior lighting package for an extra $1,000, but 81% of buyers are doing the same thing. That makes me feel a lot better about my decision!
Model S owners also seemed to really like the parcel shelf with 81% of buyers choosing it.
Single vs Dual Charger
Only 37% of buyers are choosing dual chargers which I personally believe is a necessity. Hopefully with better education buyers will opt for the dual charger option and save themselves from incurring a costly post-upgrade charge.
Also see: Every New Tesla Owner's Dilemma: Dual Chargers vs High Power Wall Connector (HPWC)
Tesla Model S by the Numbers
Summarizing the most popular options you'd end up buying a black non-performance 85 kWh Tesla with panoramic sunroof and Piano Black decor, tech package, parking sensors and the parcel shelf.  This configuration goes for approximately $83,070 after Federal and state incentives.
Ultimately the options you pick for your Tesla Model S is your choice and owners will tell you that you can't buy a bad Tesla.