It's no lie that the Tesla Model S just gets better with age. I took delivery of my Model S at the end of April of this year and have been loving all of the new feature additions through their periodic Firmware updates. And now, just four months after taking delivery, I'm reading that additional updates to the Model S are being rolled off the Fremont plant.
Color Update
One of our writers reported that Tesla was spotted testing new color palettes at the Tesla Hawthorne Design Center not too long ago and it looks like this is now coming to fruition.
I chose the "Grey Metallic Paint" color for my Model S and absolutely love it. Some people call this "Dolphin Grey" but apparently Tesla has changed the paint composition to a grey that's much darker in color. I haven't seen one in person yet and would love to line mine up next to the new color, but from what I've seen on the internet, I think I like the original lighter grey better.
Below is the best picture I could find comparing the original grey (left) to the new and very dark, almost black, grey on the right.
Model S Interior Changes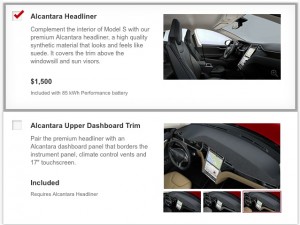 The Tesla Motors website now shows a new option on the order page that separates the Alcantara headliner from the Alcantara upper dashboard trim. The second option is new and is available when selecting the $1,500 Alcantara headliner upgrade.
I wasn't interested in the headliner, especially at that price, but I find it fascinating that Tesla thought it was desirable enough to break out as its own individual option.
The parcel shelf (covers contents within the trunk) which was originally an optional component for $250 is now included for free.
I think it would be a nice gesture if Tesla could offer this parcel shelf to current owners as a free upgrade when performing their annual service. Right now it remains a $250 purchase post-delivery at the Shop Tesla storefront which I just find silly.
Feature Addition
Some Model S owners from the Tesla Motors Club forum are reporting a new feature that's available on new deliveries - an Ionizer.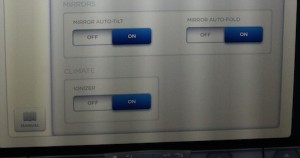 Ionizers reportedly clean up particles that enter the cabin through open windows and doors. The ionizer emits positive and negative ions that attach to airborne bacteria, viruses and molds, theoretically neutralizing them. Toyota and Volvo among others offer this in their higher end cars.
New owners with firmware version 5.12 are seeing this new feature appear within the touchscreen controls. New Model S supposedly have extra hardware in the car to support the ionizer which means existing owners like myself will likely not get the ionizer feature even after upgrading to 5.12.
Luckily ionizers can be easily added to any car through the addition of a portable 12v automobile friendly ionizer.
Summary
Tesla continues to quietly evolve the options and configurations available for the Model S. I wish Tesla had an owners newsletter to keep us informed of the available changes and whether they affect existing owners. It will be interesting to monitor the features and price changes that take place over time and watch the Model S grows up. While some of the changes above would have been nice to have, nevertheless I'm an extremely satisfied owner with zero regrets.