A recent letter by Tesla suggests that the official Model 3 unveiling event will take place on the evening of March 31st in Los Angeles, presumably at the Hawthorne Design Center – site for previously hosted events such as the Model S unveil, the battery swap demonstration, and the infamous 'D event'.
A copy of the invitation letter was posted to the Tesla Motors Club forum by Reeler showing the company's acknowledgement that he has won two tickets to attend the upcoming Model 3 unveiling event. The invitation to attend the Model 3 event was offered as a prize in Tesla's second Referral Program. Each owner that made 10 or more qualifying Model S referral sales by the end of 2015 would receive an invitation for two to attend the highly anticipated Model 3 unveiling event.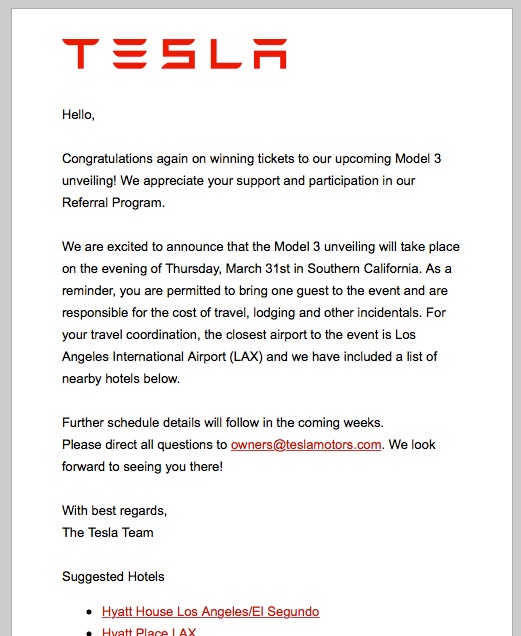 Tesla Model 3 unveiling event on March 31st. Reprinted with permission from the owner.
As far as what to expect from the event is anyone's guess but what we do know, based on Elon Musk's remarks from a special Tesla event held in France, the company won't be unveiling all of the details of the Model 3 from the onset. According to Musk, "The first pictures of the Model 3 will be end of March [and] we are not gonna show everything about the Model 3 until a lot closer to production time.".
Previous Tesla events held at the Design Center in Hawthorne, CA
So what does this say about the March 31st evening event in Southern California? Will attendees of the Model 3 unveiling event see a functional prototype of Tesla's affordable mass-market vehicle with 'next generation Tesla technology' or will it turn out to be an extension of the reservation event that will be taking place earlier in the day across Tesla stores?
There's been a frenzied excitement in the air ever since Musk first announced that Model 3 reservations would require a $1,000 deposit and begin in stores on March 31st, and online the day after. Model 3 hopefuls have even gone as far as speculating on how Tesla will prioritize reservations given the differences in time zones across Tesla stores.
Though finer details of the Model 3 won't emerge until the official unveiling event, we know that the vehicle will be similar in size as the Audi A4, have over 200 miles of range, and cost $35,000 before incentives.
More Tesla Model 3 News