PlugShare has topped five million check-ins worldwide,  and has 50% more EV charging stations.
The company explained that check-ins are how EV owners review their charging experience on the app.
The check-ins help inform the EV community about the charging stations. Today, there are over 600,000 EV charging stations listed on the PlugShare platform.
PlugShare now has 2.5 million users.
PlugShare's announcement comes just after the company reached another milestone. The company's recent user base has grown to over 2 million registered users globally.
Thanks to the rapid growth, the app increased the number of charging stations by 50% over the last year.
Growth over the past year.
As the increase in DC fast-charging stations has grown globally, so has PlugShare which has added almost as many DC fast-charging station locations in the first half of this year as it did in all of 2021.
The total number of the platform's global charging locations increased by 21.9%. The total number of chargers increased by 25% making it the platform's largest quarterly increase in its history.
The platform has over 100,000 DC fast-charging stations worldwide which represents a 50% increase from 2021.
The value of interactive feedback.
According to Cathy Zoi, CEO of EVgo, the platform's interactive feedback are essential for any EV trip and the growing community made it easier for people to charge.
"PlugShare's interactive feedback features and planning tools are an essential part of any EV trip, and this rapidly growing community makes it easier to incorporate charging into daily routines than ever before."
"With over five million check-ins to date, EV drivers are relying on PlugShare for essential, real-time information on directions to chargers, pricing, and reviews from fellow drivers – mitigating concerns from would-be and first-time EV drivers and further powering the mass transition to electric."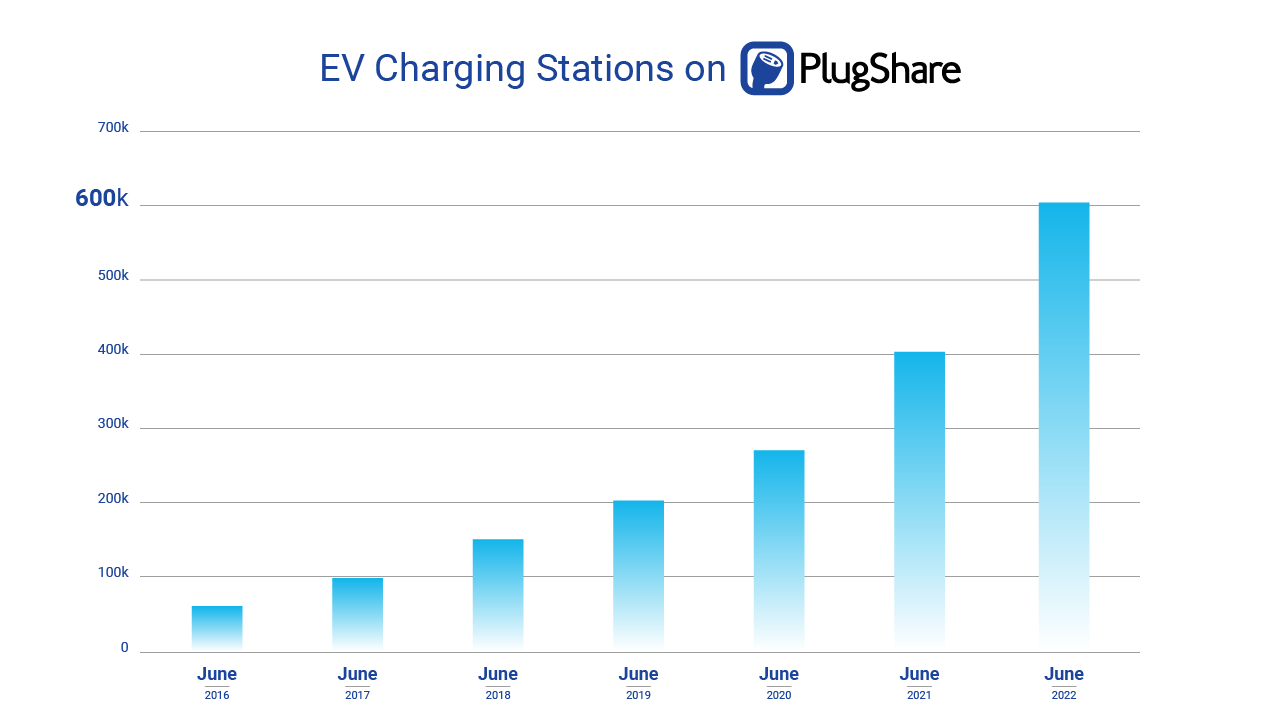 PlugShare's Digital Marketing Director, Dan Wheeler, added that giving these valuable tools to help enhance the average EV driver's experience is a key part of the business.
"Providing valuable data and tools to help enhance the everyday EV driver's charging experience is essential to our business, no matter where they're charging."
"Our growth in overall users and engagement directly demonstrates how drivers increasingly utilize digital tools to make real-time charging decisions, and we are thrilled to see this influx in user contributions as we help to support the growth of EV adoption worldwide."
The features include easily locating and navigating to chargers, the ability to filter chargers by their preferred network, speed, or connector type (think Tesla or CCS), and sharing real-time charging station reviews.
I'd love to hear from you! If you have any comments, or concerns, or see a typo, you can email me at johnna@teslarati.com. You can also reach me on Twitter @JohnnaCrider1