The Track
Spring Mountain Raceway is located in the city of Pahrump NV, an hour west of Las Vegas. It's a technical track supporting a unique set of configurations that we have not seen elsewhere. There's both high and low speed turns along with several straightaways that allowed us to accelerate to 100 mph+. The track is well maintained and has smooth surfaces all the way around. The track configuration we ran was 2.8 miles as seen in this track map: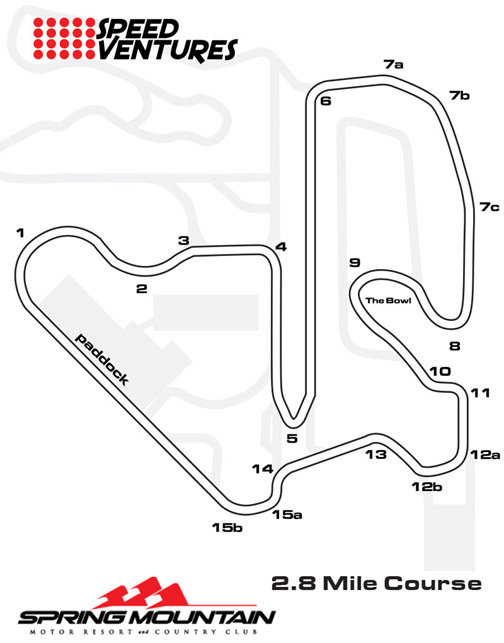 The Tesla Model S
An interesting phenomenon occurred while racing on this track. For the first time in our racing history, our "48 Tesla" Model S was able to pull consistent lap times and did not experience significant power limitation despite the 100 degree weather. In fact, we registered our best lap times on lap 2 and lap 6.
Power limitation did not go below 160kw even after staying on the track for 6+ laps. We have no explanation for this and was pleasantly surprised to say the least. Did Tesla Motors retune the power limiting feature?
Also see: The full Tesla Racing Series
Out best lap time was 2:15. Top speed on the front straightaway was 112 mph. Max lateral G was 1.2. The Model S tops out at 1 G in most turns, but occasionally you can push it to get 1.1 or 1.2 out of it. Anything more and you run the risk of losing control. We ran in the open passing Green group this time with Speed Ventures in a class with much higher powered cars than the Model S. Even with power limitation, we were able to keep up with a pack of Corvettes for awhile.
Charging and Power Consumption
This track does not have a 220 V outlet. Similar to Chuckwalla that did not have electricity at all, we had to make arrangements for charging outside of the track. There is a very nice RV Park situated 3 miles away by the name of Wine Ridge RV Resort. They have very nice accommodations along with a reliable 50 amp power source. We were able to recharge in between sessions and last for 3 full racing sessions. The Las Vegas Supercharger is located 60 miles away.
Power consumption on the track was 1100 wh/mile, which translated into 4 miles of range used per 1 actual mile of travel, or about 12 rated miles used per lap.
Travel
As we learned in our last journey out of Las Vegas Speedway, traveling through the desert in a Model S requires some careful planning and driving discipline.
The road leading from Barstow to Pahrump is a small highway that crosses the desert (highway 127 then 178). There is no cellular reception for most of the journey, and no human settlements or restrooms for miles on end. Very few cars travel this road so it's definitely wise to maximize your charge, drive slow and account for any weather conditions before embarking on this journey. You could be in some serious danger if you ended up stranded here.