These days, everyone seems to have a portable Bluetooth speaker at home. Since Christmas, my father-in-law has been one of those people. It sits nicely on top of the wooden and glass enclosure for the 30+ year old stereo system he will never part with. Considering that we purchased it for him to pair with the iPad we forced upon he and mom last Christmas, my husband and I started to wonder why we didn't have one ourselves. We already own a not-so-portable computer speaker set that we lug back and forth outside during pool season and a cute but poor quality floating speaker from Brookstone, which is nearly unusable in our pool. Those things in mind, I debated the need for another speaker but was really drawn to the ease of use and quality of the speaker we purchased for Dad. It is made by Best Buy's own Insignia brand and was purchased on sale for $25. It is easy enough for my self-proclaimed tech unsavvy in-laws to use.
Decisions, Decisions 
As is the modern world we live in, both my husband and I started comparison shopping online. The options were staggering. You can spend $15 on a small clip or $400 on a big name device. Then came the features. Some can charge your mobile device while others can be linked to a partner speaker for surround sound. Some are water proof, others shock and drop proof. Ideally, you should know which features you desire before you dive into comparing the dizzying amount of options. The Insignia speaker we had purchased for dad came with the ability to act as a power bank to charge a mobile device. Ultimately, we decided that was nifty but not a requirement. Similarly, have a price range in mind. Not having one is what made our choice so hard, since it didn't narrow down anything. We had been willing to pay more if something really impressed us.
After some back and forth we thought hard about where and how we would use this speaker. For general use in the house, almost any option would do so we set out to our local Best Buy to have a listen. This small $40 jam plus speaker packed in generous volume. Bose and Beats options both proved to have unsurprising and undeniable sound quality, but we got the feeling early on that a good portion of their high price tag was related to the brand name. The Harman Kardon Esquire Mini was practically a fashion statement in its metallic casing, as were the various Kate Spade speakers that come with their own purse-like carrying case. The UE Boom 2 seemed like the speaker to beat for what ultimately ended up as our preference: A medium sized, portable but loud speaker with a price point somewhere in the middle of the pack. Something about the look of this speaker bothered me, so I was noncommittal. My husband already knew he wanted to hear the JBL Flip 3 but was disappointed to find that Best Buy did not have it on display. That being said, our mission to listen to all possible options to buy the speaker that offered the best combination of price and sound hadn't been a full success. We walked out of Best Buy empty handed but knowing at least that we ruled out some speakers on the highest and lowest end of the price spectrum.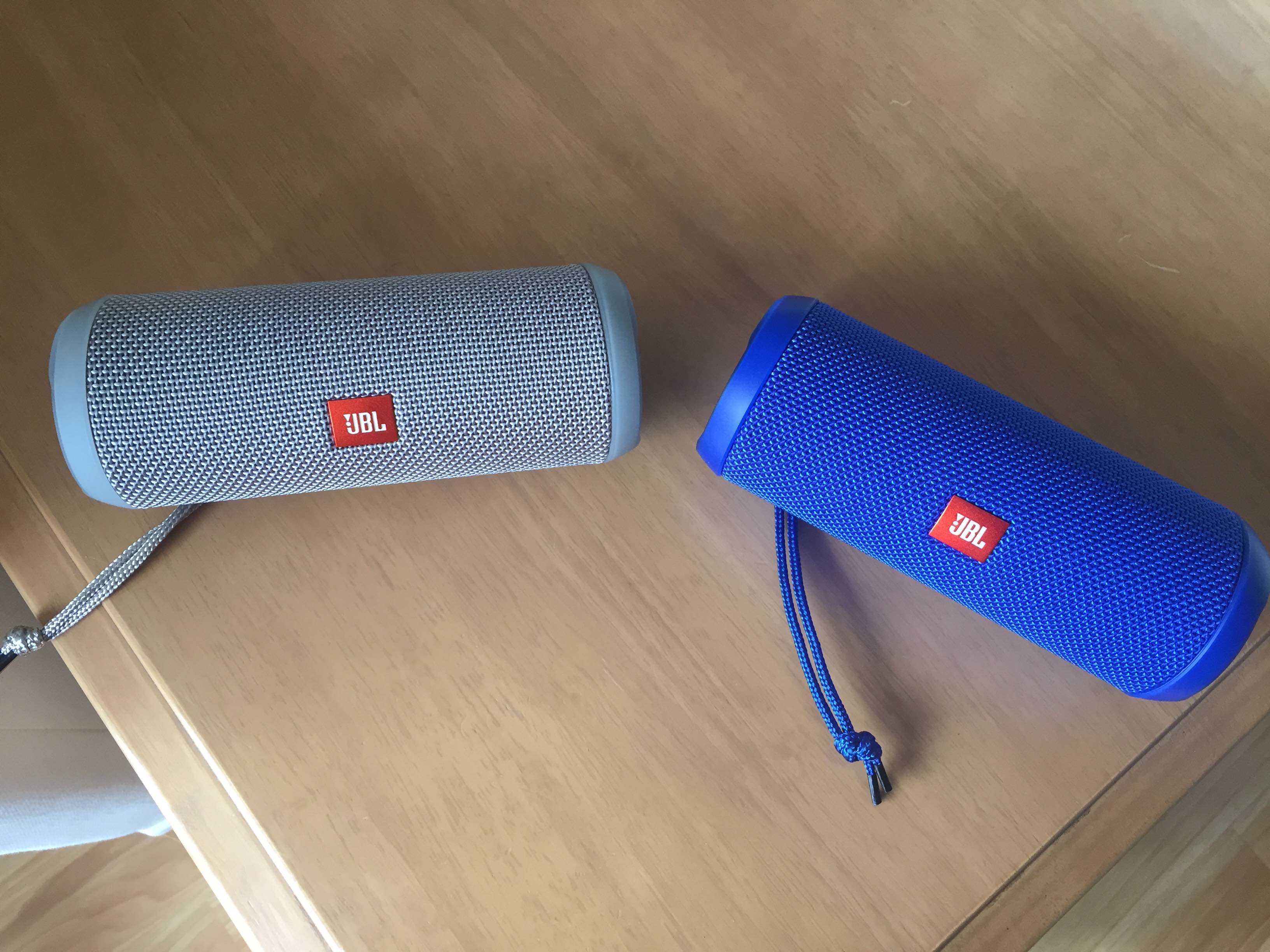 Just Do It
Indecision gets old quickly, especially when you're seeking to buy a new gadget to play with. After pouring over more reviews and comparisons, it came down to the JBL Flip 3 and the UE Boom. The latter option costs nearly double but is water, dirt and shock proof. It clams a 15 hour battery life compared to the Flip 3's 10 hour life. Again I went back to the look of the thing (how the buttons make what looks like a cross) and how much this speaker was worth to me. We both decided that for $100 cheaper, the JBL Flip 3 was our winner. We purchased it on Amazon, sound unheard, and hoped for the best.
Double Time
Long story short, it only took a matter of days for us to order a second speaker. The JBL Up 3 sounded great and offered the ability to connect two speakers to one source, providing multi-room or surround sound use. Since we were to be having a party soon that we knew would bring guests to both the main floor and basement, the decision was quick.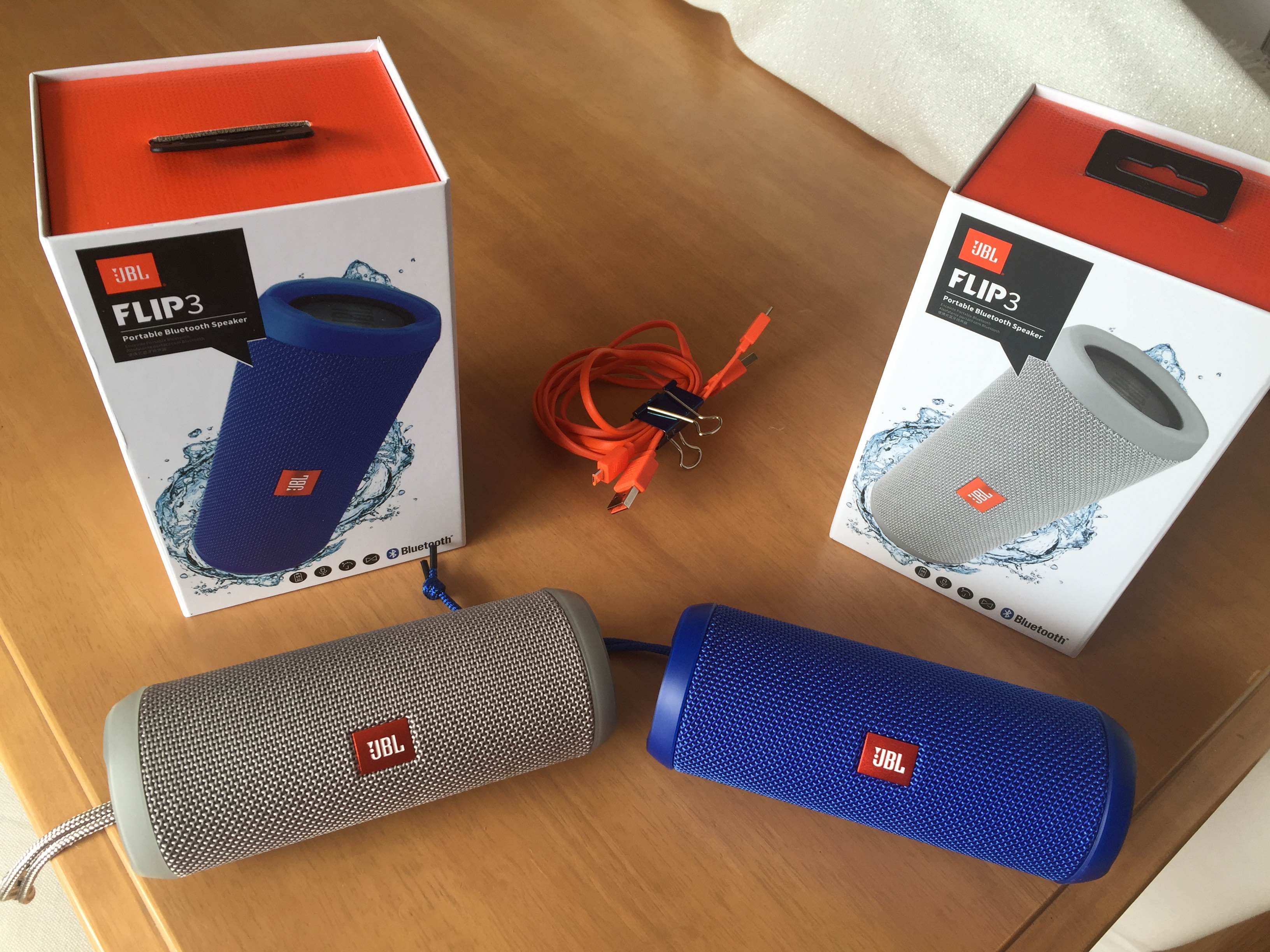 Set up and Use
Like most other bluetooth devices on the market, pairing the speaker to an iPhone or iPad was easy and only took a few moments. I did not need to read any instructions. Simply turn on the speaker and navigate to your device's Bluetooth screen. Press the bluetooth button on the speaker (noted by its symbol) to make it discoverable and watch it pop up on your screen. Press it and within 15 seconds, you'll hear a pleasant chime on the speaker to let you know it worked. The speaker comes with a generously long charge cable and a series of 5 small lights show you your charge level, so you should be able to start use right out of the box or after a very short charge.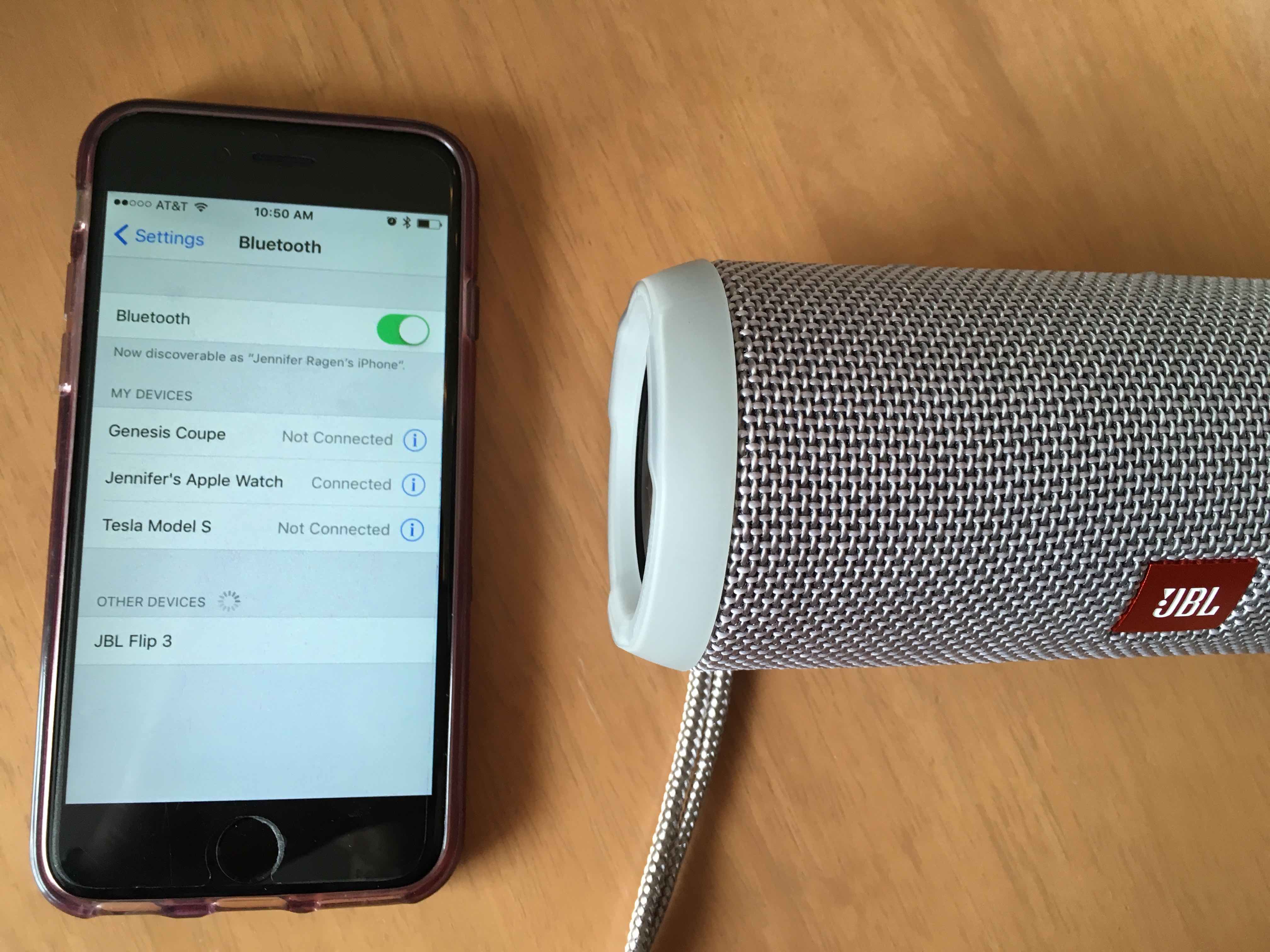 Features
This speaker has some of the common features we saw when comparison shopping. It can be used as microphone for calls, can be paired with another speaker and is splash proof. Using it for calls sounded appealing for the thought of my husband taking a conference call on the rare days he works from home but it wasn't a required feature. A note of caution for phone pairing – the speaker will play your other sounds. I quickly learned that listening to music from my iPhone meant interruptions for the sound of my typing clicks or unlock sound. I also inadvertently hijacked the sound with a quick social media scroll that led me to a video. Being at least splash proof was important to us. We plan on using it outside near our pool and while we don't run much a risk of the speaker being submerged, we envision using the controls with wet hands or walking near it with wet legs.
Sound
One part of this speaker that I like it its funky sounds it makes to let you know it's turned on or off.
But that's not what's important. What you really need to know is how it sounds. Keep in mind our ears probably hear it better than the iPhone I used to take this video and the air in our home transmits better than whatever you are using to listen right now. That being said, I'm still pretty impressed at even the sound in this video.
I've found the sound to be clear and generously loud no matter what type of music is playing. I'm no pro and those out there who are may beg to differ but for a $100 portable bluetooth speaker for casual in-home use, the JBL Flip 3 is a winner.
Verdict
This is a recommended buy for a solid portable Bluetooth speaker with a moderate price. It is missing a few features compared to competitors but provides an excellent overall value.