EVChargeKing outfits Type 2 charging cables with built-in Tesla Model S chargeport opener
On January 24, 2013 the European Commission in Brussels agreed to make a common standard for charging EVs in the European Union. From that date the Mennekes "Type 2" Mode 3 should be the standard and used in all EVs and public charging stations within the Union.
At the same time the European Commission made a prediction saying that in the year 2020, France should have 97,000 public charging stations, Germany should get 150,000, Italy 125,000, and the UK 122,000. All with Type 2 connectors.
Type 2 supports up to 22kw charging rate – 32 Amp / 400V.
As this agreement in the European Commission was made in the beginning of 2013 and the first Teslas were delivered to Norway, Switzerland and Netherlands in August 2013, Tesla made a good choice by delivering all European Tesla Model S with Type 2 Connectors and also equipping the new Tesla Superchargers with Type 2 connectors only.
Besides being a smart choice for the European market, it also means that importing a Model S from US to Europe is going to be quite a hassle as you are not going to be able to charge at any public charging stations and/or Tesla Superchargers.
Even though there is a common standard for charging stations, there are no regulations stating if the charging station should have a type 2 cable or not. Therefore if you are traveling in the European Union and you are getting away from the Supercharger network you will need to bring your own Type 2 cable.
Besides public stations you can also get home chargers that use Type 2 cables, mostly used if you wanna charge with more than the Tesla UMC can handle (>16A/400V).
Type 2 cables can be brought at your local Tesla Service Center and a priced around 200 Euro or $220 USD for a 7.5 meter (25′) cable. However, the Type 2 cables have one big disadvantage compared to the Tesla Universal Mobile Connector, there is no chargeport opener built-in, until now.
EVChargeKing have made a new Type 2 charging cable with built-in charge port opener that addresses this inconvenience.
EVChargeKing Type 2 Charging Cable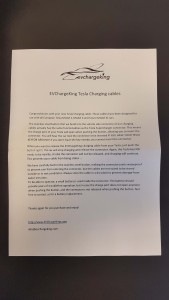 The cables comes only in one version – Type 2 Mode 3, 6 meter 32 Amp. 3-phase, and available in your choice of orange or black cable. A look on EVChargeKing's site also shows that they also have a Tesla charging installation kit that allows them to build in the automatic charge port opener into their existing charging station or home unit. But for the purpose of this review, I'll be looking at just the Type 2 charging cable.
The cable comes well packed and is well protected against transport injuries. The box contains the charging cable and a welcome sheet with some basic instructions.
This particular set was priced at 375.00 Euro incl. Tax. and was sent from Belgium. The charge port opener in both cable and kit is battery operated. Battery is built-in and requires dissembling for replacement.
The cable used for it is a good quality rubber 5G6.0mm2 suitable for up to 38 Amp in a working temperature up to 60 degrees Celsius. However, other cables that I've used, such as the one I have from Tesla, have an outer plastic protection layer that may protect the cable better.
The length of the cable is 6 meters, enough to maneuver past a smaller ICE car if they happen to occupy the parking space in front of the charging station. In some situations, the length of the cable is enough to go the length of the car which allows for nose-in parking.
The Chargeport opener
The charge port opener button is located on top of the handle that plugs into the car. The button is nicely crafted in stainless steel, convex and with a thick bezel. Only the middle portion of the button can be depressed. While this looks nice and appears to be durable, it may be a challenge for those that have big thumbs, like me, to depress the button. Because of the design, the button almost lays flat against the bezel thus requiring you to really use the tips of your thumbs to depress the button.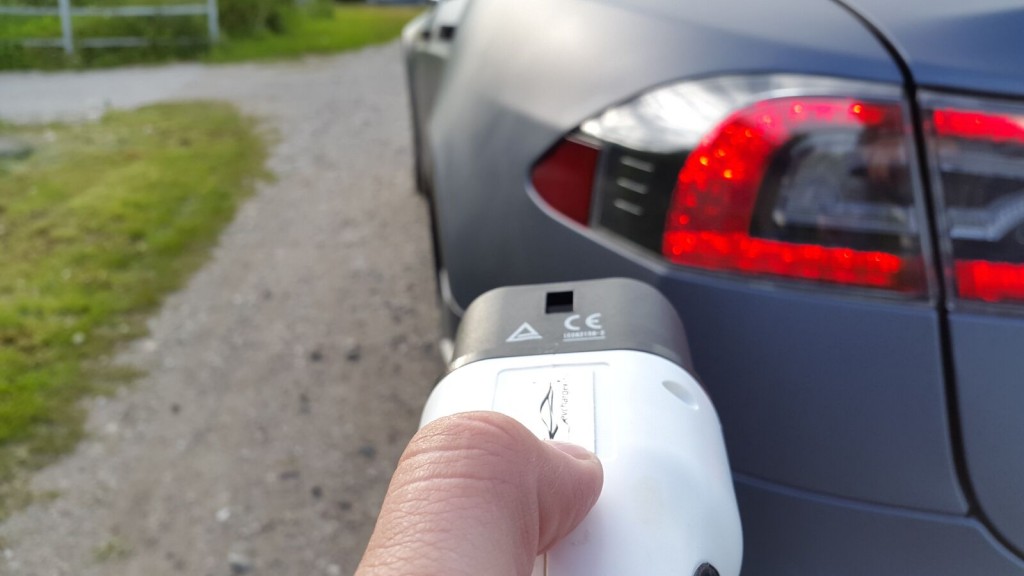 It took me a couple of tries before I got it working, but once I did, it was smooth sailing. Again, this might be because of my big thumbs or because the button was new.
Range on the automatic charge port opener
The EVChargeKing cable was compared against the Tesla UMC and I can confirm that both have very similar ranges when it comes to being able to open the charge port door from a distance. The figure above indicates the area where the charge port opener was the most effective.
Range is illustrated as the area between the dotted green line and the car. It works great and there's no chance of opening charge ports on nearby vehicles. However, if you want even better range, the Stegen chargeport opener might be a better choice.
Charging Cable
A charge port opener is no use if the cable cannot be used for charging – right?
In Denmark, where I live, there a 2 major charging station companies, Clever and E-on, both requires charging cards and prices are 0.74 Euro or 0.81 USD per kWh. That's 77.7 Euro or $85.05 USD for a full charge! Better rates are possible if you charge often.
I tested the Type 2 charging cable on on both 16A (3-ph) and 32A (3-ph). With both, it worked like a charm providing a full 16A and 32A, close to 50 km/h or 100 km/h of typical range. As voltage may vary between chargers the charge speed will also vary slightly.
The cable is durable enough to support high power rates, and at 6 meters long, it is quite heavy and requires some struggling when rolling out/in. Personally some sort of cable management would be appreciated, but that's really mean to call-out vendors and let them know that there's a need for some sort of portable cable management system.
Summary
The EVChargeking Type-2 charging cable gives you up to 22 kw charging option, a good length of 6 meters and a very convenient charge port opener button. At 375.00 Euro, the price is on the high side, but if you have the extra money then this is the perfect cable to bring along.