SpaceX is set to become the only company in history to launch the same commercial space capsule to orbit three times, a milestone of orbital spacecraft reuse in an otherwise 'routine' Cargo Dragon mission to the International Space Station (ISS).

Known as CRS-18, the mission will (hopefully) see Cargo Dragon capsule C108 and a fresh trunk deliver several tons of cargo to the ISS, SpaceX's second of three such launches planned for 2019. Beyond Cargo Dragon's third trip to orbit, building upon SpaceX's inaugural commercial spacecraft reuse back in June 2017, Falcon 9 B1056.1 will become the first flight-proven Block 5 booster to launch a NASA mission, potentially setting the particular core up for many more NASA reuses to come. CRS-18 is scheduled to launch no earlier than (NET) 6:24 pm EDT (21:24 UTC), July 24th.
SpaceX reused one of its Cargo Dragon (Dragon 1) capsules for the first time in June 2017, becoming the first company in history to recover and reuse an orbital-class spacecraft, much like the company is about to become the first to reuse a commercial spacecraft twice. Speaking at the ISSR&D 2017 conference, SpaceX CEO Elon Musk noted that – despite the fact that it was the first time a commercial entity (including SpaceX) had reused an orbital spacecraft – the cost of refurbishing Cargo Dragon C106 was no less than 50% cheaper than building a new capsule.

The cost-effectiveness of Cargo Dragon reuse has likely only improved in the two years since that historic first, meaning that SpaceX's ISS resupply runs likely feature some extremely healthy margins for the company. According to an exhaustive 2017 analysis of CRS costs, the total cost of a single Cargo Dragon resupply mission is likely ~$175M (FY19). (Zapata, 2017)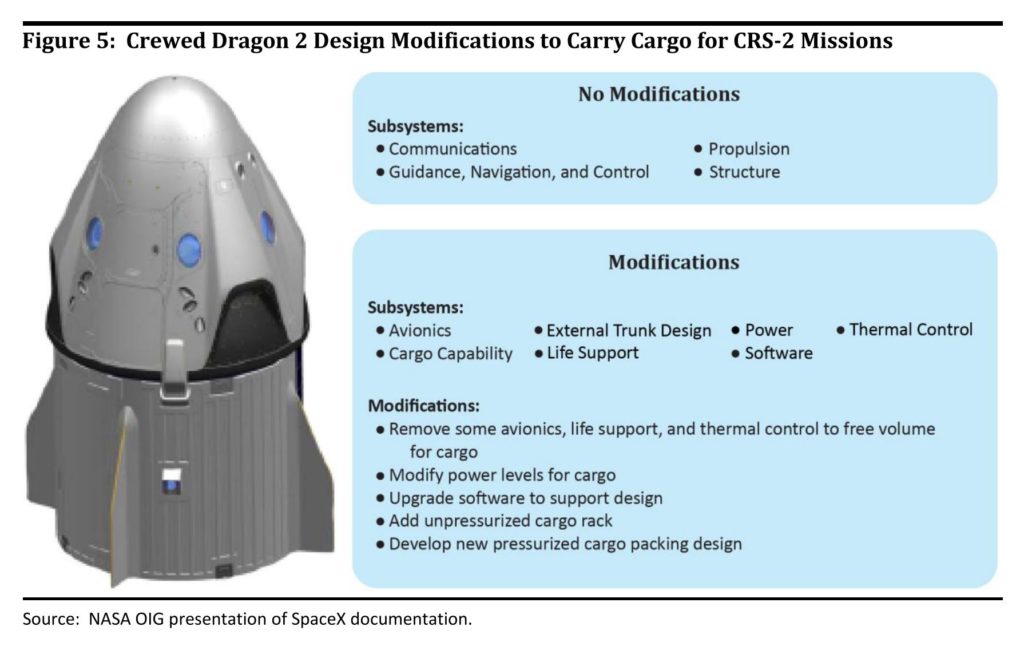 Aside from CRS-18, SpaceX has two Dragon 1 launches remaining in its original CRS1 contract with NASA. Both will also necessarily make use of twice-flown capsules like CRS-18, leaving SpaceX with a retired fleet of no fewer than three thrice-flown and three twice-flown orbital spacecraft as Dragon 2 (Crew Dragon) takes the reins. Current schedules show SpaceX's final CRS1 launch – CRS-20 – following CRS-19 (NET December 2019) in March 2020. Cargo Dragon 2's launch debut is currently scheduled no earlier than August 2020 and – as all Cargo Dragon 2 launches – will reuse a lightly-modified, orbit-proven Crew Dragon capsule.
CRS-18: bad weather in spades
CRS-18 will likely face some of the worst weather SpaceX has ever experienced during an attempted Falcon 9 launch, with July 24th and the July 25th backup window carrying probabilities of violation (i.e. a scrub) of 70% and 80%, respectively. In other words, there is a measly 30% and 20% chance that Falcon 9 will be able to launch CRS-18 this Wednesday or Thursday.
Supporting the Cargo Dragon launch is Falcon 9 booster B1056.2, likely to set the second-fastest Falcon 9 turnaround time with just 80 days between its May 4th launch debut and CRS-18. SpaceX's turnaround record currently stands at 74 days – a three-way tie between boosters B1048, B1052, and B1053. Additionally, B1056's second launch will also mark the first time that NASA has reused a Block 5 booster, an important indication that the space agency is extremely comfortable with SpaceX's latest Falcon 9 variant and its associated reuse procedures.

Stay tuned as Falcon 9 prepares to go vertical at Cape Canaveral Launch Complex 40 (LC-40) and the Air Force Station's final T-24h launch day weather forecasts begin to roll in
Check out Teslarati's newsletters for prompt updates, on-the-ground perspectives, and unique glimpses of SpaceX's rocket launch and recovery processes.