According to SpaceX CEO Elon Musk, the company's next major Starhopper flight test is still awaiting FAA approval due to a need for more hazard analysis, presumably required because Starhopper will be traveling much higher than before.

On August 9th, SpaceX completed a routine wet dress rehearsal (WDR) with Starhopper, loading the vehicle with propellant and fluids and replicating a launch countdown up to the point of Raptor ignition. Starhopper remains untethered in a sign that SpaceX doesn't have plans for a static fire test before the low-fidelity rocket prototype's next flight milestone. Originally scheduled for August 12th, that milestone – a 200m (650 ft) hop test – has been indefinitely delayed as SpaceX awaits an updated permit from the Federal Aviation Administration (FAA).
The oddity of the apparent difficulty SpaceX is having with the FAA's experimental permit process is deepened by the fact that Starhopper is already permitted by the FAA and demonstrated its first successful flight just a few weeks ago, on July 25th. On top of the fact that the local Boca Chica and Brownsville, Texas airspace tends to be extremely quiet, it's unclear what exactly is holding up SpaceX, the FAA, or both in what should otherwise be a relatively streamlined process.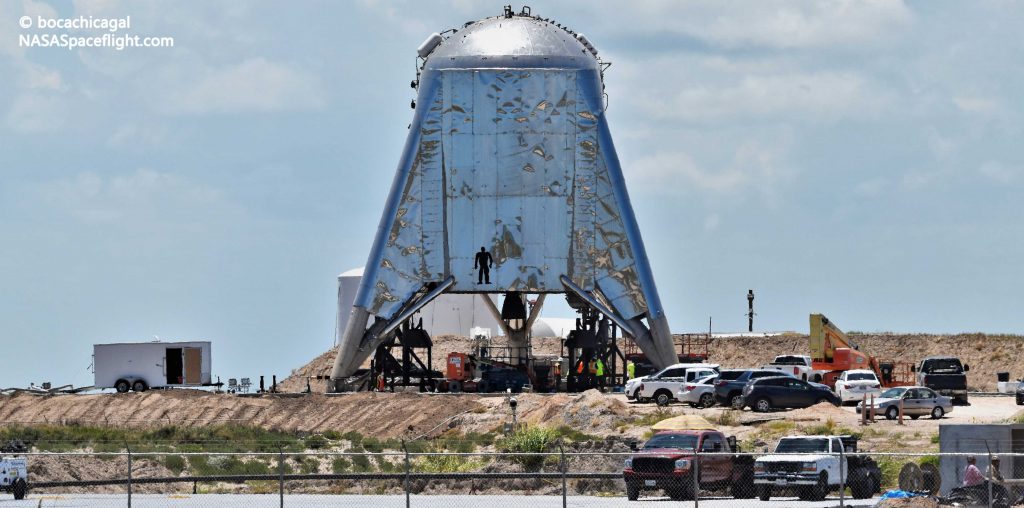 A few weeks ago, after one false start on July 24th, Starhopper performed its first untethered flight ever on July 25th, successfully demonstrating its integrated steel propellant tanks, avionics, software, and Raptor propulsion over the course of 20 or so seconds of flight. Starhopper's inaugural flight was delayed at least several weeks by a major bug with SpaceX's next-gen Raptor engine, described by Elon Musk as a problem with a certain frequency of vibration (i.e. mechanical resonance).
According to Musk, said resonance failure mode was effectively solved with unspecified modifications made to the sixth Raptor engine produce (Raptor SN06). That engine became the first to successfully pass SpaceX's regime of pre-hop static fires in McGregor, Texas around July 10th and was shipped south to Boca Chica and installed on Starhopper scarcely 24 hours later.

Assuming those vibration issues have been completely quashed, Musk has also stated that SpaceX is aiming to produce as many as two Raptor engines per day by the end of 2019. It's believed that all engines preceding SN06 (SN01-05) were either damaged or destroyed during testing, be that a result of intentional testing-to-destruction or anomalous behavior during certain test regimes. It should be noted that full-scale Raptor is still undoubtedly in development and hardware failure during developmental testing is more predictable and valuable than it might seem. As long as the program can handle it, 'hardware-rich' development (i.e. moving fast and breaking things) can be equally – if not more – valuable than an extremely cautious get-it-right-the-first-time approach.
Regardless, once SpaceX's propulsion engineering team is confident that the more major bugs that plagued early Raptor engines have been alleviated, they will likely give the go-ahead for the engine manufacturing team to begin ramping production rates. Musk believes that SpaceX could be ready for the first test flights of either or both of the company's orbital Mk1 and Mk1 Starship prototypes as early as mid-September, milestones that will eventually require three sea-level Raptor engines and up to three vacuum Raptor engines per rocket.

Meanwhile, although SpaceX has yet to begin assembling the first Super Heavy booster(s), said boosters will require dozens of Raptor engines each for their first flights. Musk says that SpaceX will start out with something like 20 Raptor engines per booster to minimize losses and disruption in the event of a catastrophic failure, eventually expanding to as many as 35 engines per booster as confidence grows.

For now, Starhopper's next flight test was scheduled from August 16th through the 18th but has since been tentatively rescheduled to Aug. 19-21. Starhopper will remain grounded until the FAA is satisfied with SpaceX's updated hazard analyses for the rocket's 200m flight test.
Check out Teslarati's newsletters for prompt updates, on-the-ground perspectives, and unique glimpses of SpaceX's rocket launch and recovery processes.