SpaceX Starlink standard kits are now available at select Home Depot stores.
Many potential customers have weighed in on Starlink's availability at Home Depot. The majority of consumers SpaceX bringing Starlink's standard $599 kit would make the tech more accessible and, hopefully, significantly decrease delivery estimates.
"Starlink will be huge for [Home Depot]. They should be sponsoring this," commented Redditor AdviseGiver. "With Starlink, millennials can move out onto cheap land and build their own homes piecemeal with materials from [Home Depot]."
"I've thought about it. Right now, the whole younger generation buys almost nothing from [Home Depot] because they can't afford more than half an apartment," said the Redditor.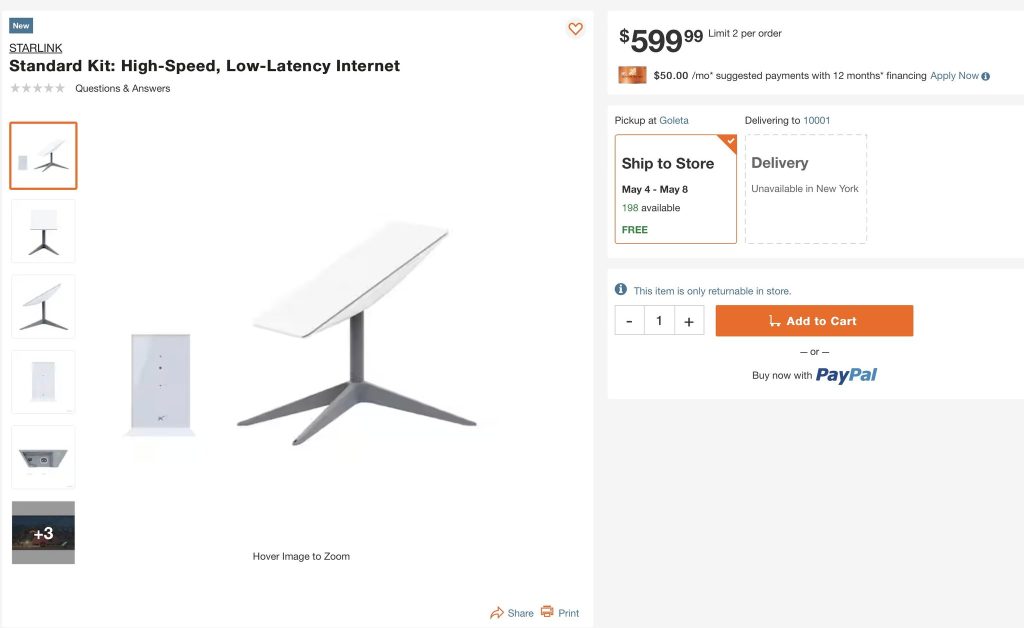 Starlink's Home Depot order page reveals that customers have two options when ordering the $599 standard kit. First, customers can have the Starlink kit sent to the Home Depot store. The second choice is to deliver the Starlink kit directly to the customer's home. Home Depot offers 12-month financing for the standard Starlink kit at $50.00 monthly.
Home Depot appears to be selling the Starlink kit only. Customers will still need to pay for the service to use the equipment. Starlink service is not widely available in the United States at the moment. As a result, only select Home Depot stores offer Starlink kits.
SpaceX's official order page for Starlink shows more details about the kit. Shipping and handling for the standard and high-performance kit cost $50.000. Starlink service is $120.00 per month. The standard equipment costs $599, whether purchased at Home Depot or directly from SpaceX. The high-performance kit costs $2,500.
The Teslarati team would appreciate hearing from you. If you have any tips, contact me at maria@teslarati.com or via Twitter @Writer_01001101.