Tesla has launched a trip planning tool that gives existing owners and prospective buyers insight into the number of charging stops and charging time needed, when traveling longer distances in a Model S, X or Model 3.
The EV trip planner is accessible from the company's website and an extension to the trip planning tool that's integrated into a Tesla vehicle's navigation system.
Similar to Tesla's existing Supercharger map, the trip planning tool overlays Supercharger stations as well as Destination Chargers onto Google Maps, while adding form fields for users of the web-based utility to input their desired starting and destination address. Depending on the type of vehicle selected, including its battery size, Tesla's trip planner will highlight a route that factors in the most optimal charging locations to stop at, along with the amount of time needed to charge at each location, albeit a bit optimistic.
Using Tesla's trip planner to create a hypothetical journey from SpaceX's headquarters in Hawthorne, California to the company's Fremont factory, one can see that the tool suggests Model X 75D  drivers to make three Supercharger pitstops along the 365-mile road trip.
In addition to outlining the times needed to charge at each location, the tool also gives an estimated gas savings incurred by the all-electric road trip in a Model S, X or Model 3. Tesla assumes that drivers of a gasoline car will achieve 21 MPG and pay $2.73 per gallon. The electric carmaker also assumes free Supercharging for Model S and Model X drivers that purchased through Tesla's referral program. Model 3 drivers are assumed to pay a Supercharger fee of $0.20 per kilowatt hour.
Users of Tesla's EV trip planning tool can also select from a listing of nearby destination charging locations, generally consisting of hotels and restaurants.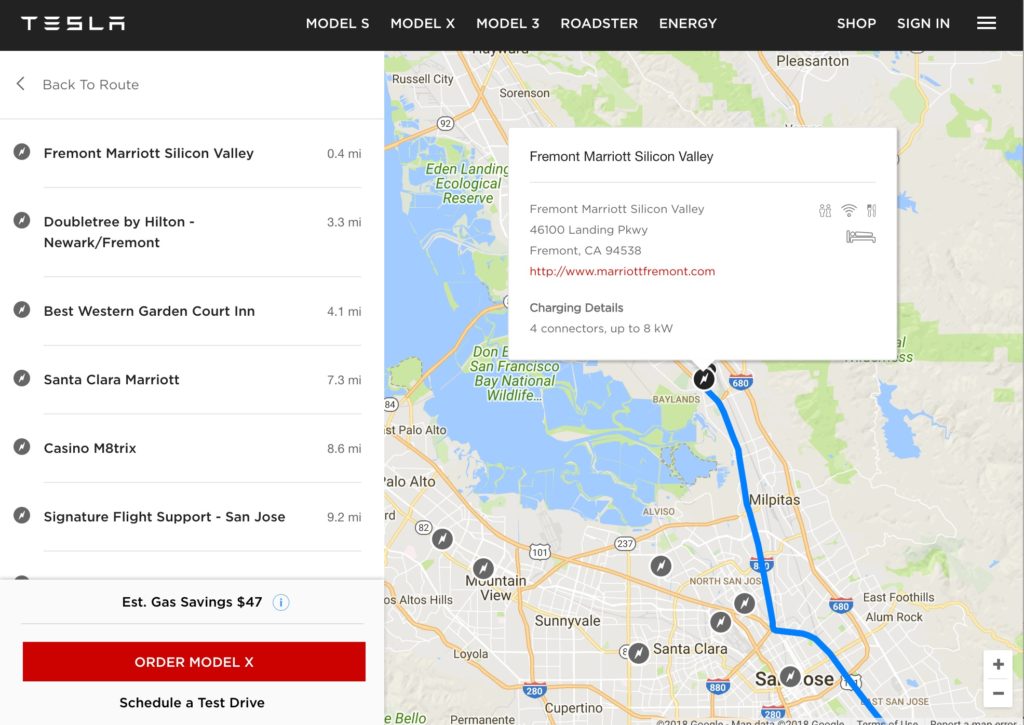 Though the trip planning tool can be seen as a very welcomed addition for existing Tesla drivers, make no mistake that it's as much a utility as it is a sales tool for the company.
A large "Order" button in Tesla's ubiquitous red is prominently displayed on the tool. And for those not yet ready to order a Model S, Model X or Model 3, Tesla has conveniently added a "Schedule a Test Drive" link for curious onlookers that might be swayed to book an appointment with their local Tesla sales associate.
Teslarati provides access to all Tesla locations, including Superchargers, Destinations Chargers, Tesla Stores and Service Centers in its online map, also available on iOS and Android devices. Browse over 15,000 crowd soured recommendations for each location from actual Tesla owners worldwide!