Tesla's Long Range Model 3 in rear-wheel drive, single motor configuration currently comes equipped with standard 18-inch Aero Wheels that can also be upgraded to 19-inch Sport Wheels for an additional $1,500. However, a recent tweet made by CEO Elon Musk suggests that a 20-inch wheel could eventually be making its way to the Model 3 Design Studio as a third option.
Though sightings of early production Model 3 were believed to have 20-inch wheels equipped, to date, the only confirmed 20-inch wheel seen mounted on the car was on the day of the vehicle's unveiling in March 2016. A red Model 3 prototype took center stage as Musk debuted Tesla's affordable mass market electric sedan to the world. The vehicle featured a unique wheel design that appeared to be part turbine style and part aero wheel, as seen in a U.S. Design Patent filed by the company.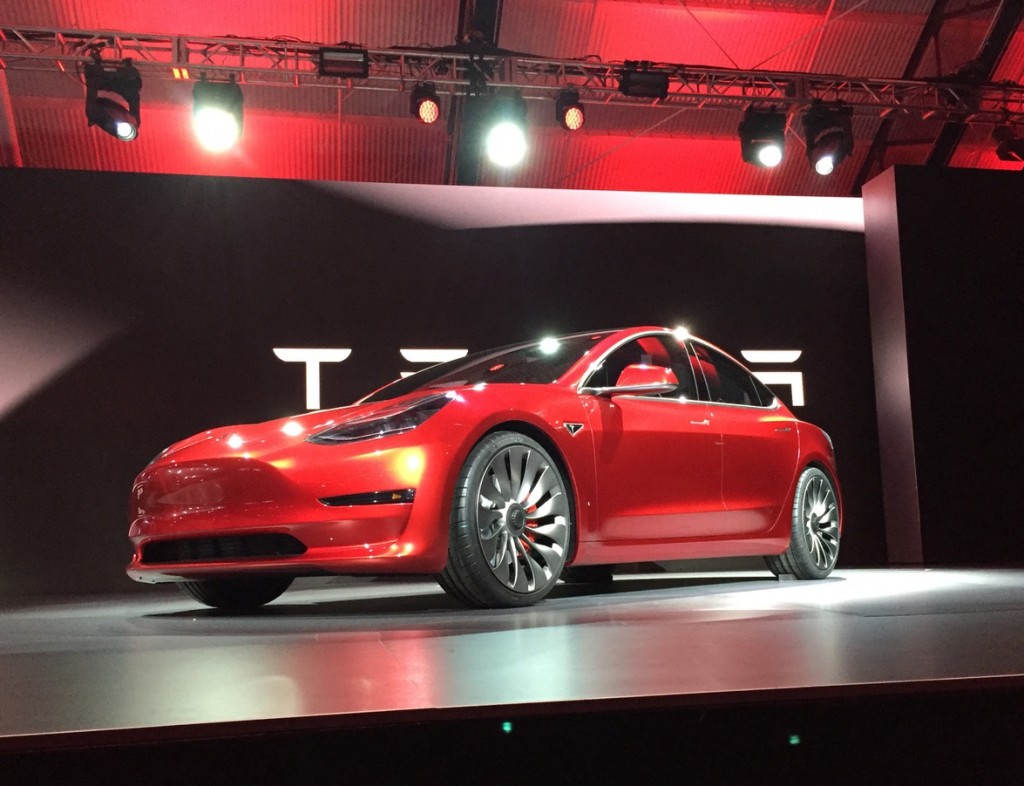 Upon closer inspection of the wheel and tire combination on the prototype, one can see that the vehicle was equipped with Michelin tires in the size 235/35/ZR20. This could further validate Tesla's intention to produce a larger diameter 20-inch wheel for the Model 3, likely for the dual motor and performance variant that's expected to arrive in the second half of 2018.
Similar to Tesla's flagship Model S and Model X vehicles, Model 3 in dual motor configuration will also have a Smart Air Suspension option.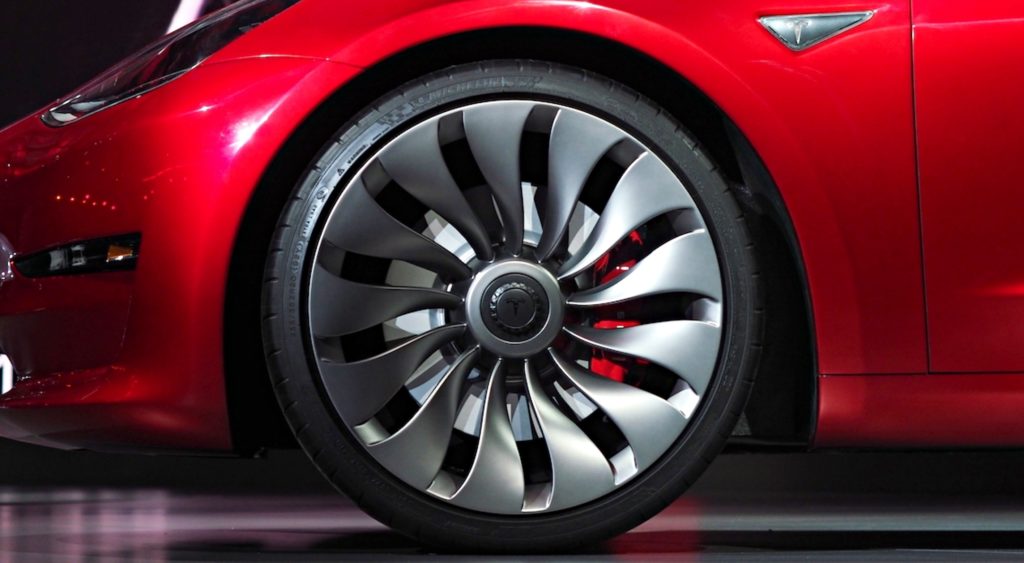 Tesla Model 3 devout and host to Ride the Lightning: Unofficial Tesla Podcast, Ryan McCaffrey, was able to connect with Musk over a tweet about the potential of having 20-inch Sport wheels on the Model 3.
"Elon, are 20-inch Sport wheels coming for Model 3? They've been spotted on a couple of Tesla-owned Model 3s, and a set was just sold on eBay. Seems imminent, but would love confirmation! 20s fill out the wheel wells on Model 3 so much better than 19s!" asked McCaffrey.
Musk initially replied to the tweet with an "I agree", only to delete the reply a few hours later.
It's not clear why Musk would delete the tweet, but one can presume that he didn't want to cannibalize sales of the existing 19″ Sport Wheel. As a $1,500 upgrade for Model 3 buyers, the price point isn't by any stretch of the imagination cheap. And being able to up-sell on an item that generally carries a healthy profit margin can only be a good thing for the company.
Tesla is expected to produce a dual motor Model 3 as early as Spring 2018. The company aims to reach volume production of single motor units by the end of the first quarter and produce 5,000 cars per week.
@elonmusk Elon, are 20-inch Sport wheels coming for Model 3? They've been spotted on a couple of Tesla-owned Model 3s, and a set was just sold on eBay. Seems imminent, but would love confirmation! 20s fill out the wheel wells on Model 3 so much better than 19s!

— Ryan McCaffrey (@DMC_Ryan) December 11, 2017