Model S owners have reported hearing brake squeak for the first several thousand miles of driving, but why?
The Tesla Model S is equipped with massive Brembo four-piston calipers clamped around equally massive 14″ ventilated front rotors.  This high performance braking system is designed to stop any vehicle on a dime (especially one that weighs over 4,600 lbs),  but the irony in having this on an electric vehicle is that you rarely get to use it.
ALSO SEE: Tesla Model S Weight Distribution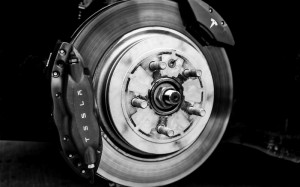 Letting go of the throttle on the Model S engages regenerative braking which slows the vehicle through a reversal of the electric motor. This reversal converts the vehicle's kinetic energy into chemical energy which gets transferred back into the battery.
Because of regenerative braking, Model S owners rarely need to utilize the brakes for slowing of the vehicle.  The brake pads and rotors are never fully seated until approximately 6,000 miles of driving. The end result is a squeaky noise that can be heard whenever the brakes are applied.
Tesla Model S Brake Squeak Prevention
A Tesla Service Center representative that we spoke with mentioned that squeaky brakes are perfectly normal in the beginning and can be remedied through basic use of the brakes.  Other tips that owners have found useful are as follows:
Set the regenerative braking mode to 'Low' for the first several thousand miles of ownership
Perform long and gradual stops – applying brake pressure until the vehicle is at a complete stop
Perform a few firm stops
MUST SEE: Tesla Model S Hidden Features, Tips, Tricks & Tidbits