Hanging your dry cleaning couldn't be any easier with removable aftermarket Tesla Model S coat hooks.
Like many other Model S owners I found it an oddity that Tesla decided to omit coat hooks from the interior of the car. I've searched high and low, only to find a handful of creative DIY solutions ranging from double sided tape, felt hooks and various odd approaches. But none seemed like a viable option until I came across the EVannex 'HookUp' Tesla Model S coat hooks solution.
Initial Impressions
Packaging was simple with instructions, the two hooks and a EVannex brochure delivered in an envelope. The hooks look to be very well made and built specifically for their advertised purpose – hanging things in the Tesla Model S.
Installation
Installation can't get any simpler than this. No tools or even skill is required to install these Tesla Model S coat hooks. Even a young child can probably figure out how to install these on their own.
The hooks are not permanent and can be easily added or removed as you see fit. Simply place them within your glovebox or center console when not in use, and retrieve them when needed.
ALSO SEE: Tesla Model S Center Console Insert (CCI) Review
The coat hooks slide in-between the roof and the headliner and lock into place with a light twist and pull. Before installing these I had never really looked at this headliner gap but it's the perfect place for adding an aftermarket Tesla Model S coat hook.
Here are some before and after pictures of the installation:
Functionality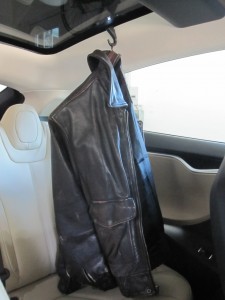 I tried hanging a few different types of garments on the EVannex Model S coat hooks, both with coat hangers and without. I tried my normal sports jacket, one of my wife's dresses, and then a really heavy leather bomber jacket.
One of the things Evannex cautions on is to not exceed 4 pounds per hook. There's no metal or any reinforcement along that Tesla Model S headliner ridge to provide strong support so you don't want to pull down too hard on these coat hooks and stress the headliner. A few business jackets per hook, or a single leather bomber per hook is risk-free territory. Anything more and you may end up stressing the mounting point and risk creasing or damaging the headliner.
That being said, the hook easily handled my heavy leather jacket. Due to the weight of the jacket it doesn't hang well on a coat hanger so I decided to just hang it by the loop within the jacket. The hook can hang coat hangers or anything that has a loop on it. Hanging my suit jacket from a hangar would leave the lower portion touching the seat. While securing it by the loop within the jacket lifted it from touching the seat, but this is no different than any other car with a coat hook.
Conclusion
Frankly it's hard to imagine EVannex doing much better with this. These aftermarket Tesla Model S coat hooks are reasonably priced at $8.95 for a set of two. They work well, are simple to install, easily removable and can support up to 4 pounds of hanging strength. What's not to love about that?
NOTE: The HookUp coat hooks are only available for models that have the panoramic roof option.