Tesla Model S Firmware 5.0 Update
v5.0 (1.35.96)
With this release, Model S owners will be able to use Wi-Fi for connected features and software updates and to choose either a "heading-up" or "north-up" orientation to view their map. There are also a variety of other map improvements that make it more versatile and easier to use. In addition, there are new features and performance enhancements to improve power management, driving experience, and car maintenance.
New Features
Wi-Fi & Tethering
Tow Mode
Screen Cleaning Mode
Radio Presets Access via Steering Wheel Controls
Enhancments
Maps Improvements
Improved Power Management When Not In Use
Additions to Driver Profiles
Improved Creep Performance
Wi-Fi & Tethering
Wi-Fi is available as an alternative data connect on method with this release.  You can take advantage of a Wi-Fi network at home or work (e.g., useful for enabling the Tesla mobile app or downloading software updates in low-connectivity areas).  You can also use a mobile hotspot or your phone's Internet connection via Wi-Fi tethering.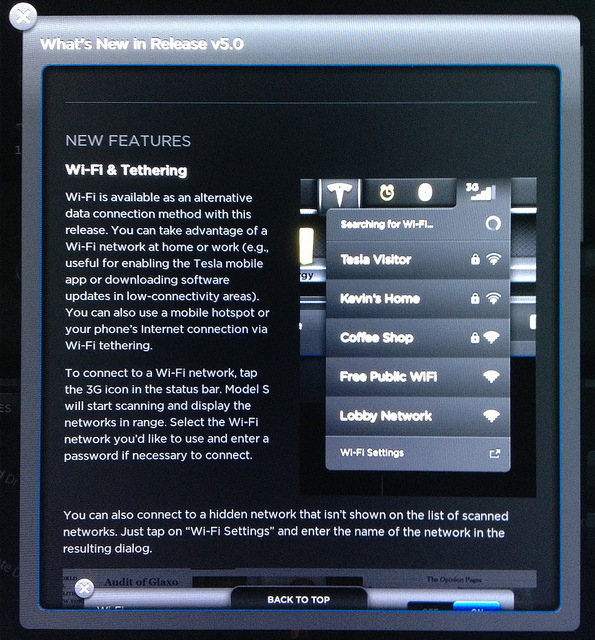 To connect to a Wi-Fi network, tap the 3G icon in the status bar. Model S will start scanning and display the networks in range. Select the Wi-Fi network you'd like to use and enter a password if necessary to connect.
You can also connect to a hidden network that isn't shown on the list of scanned networks. Just tap on "Wi-Fi Settings" and enter the name of the network in the
resulting dialog.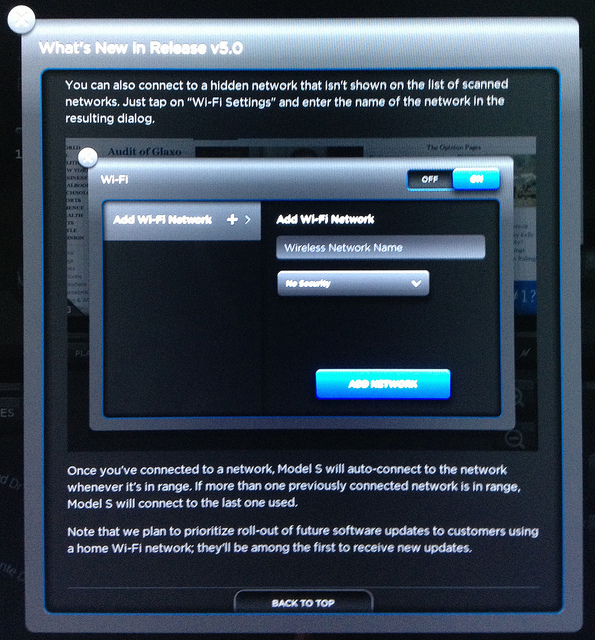 Once you've connected to a network, Model S will auto-connect to the network whenever it's in range. If more than one previously connected network is in range,
Model S will connect to the last one used.
Note that we plan to prioritize roll-out of future software updates to customers using a home Wi-Fi network; they'll be among the first to receive new updates.
Tow Mode
If your Model S needs to be towed, you can engage Tow Mode. Tow Mode will keep the parking brake disengaged and the car in Neutral.  Note that the car must be in Park with
the brake pedal pressed before Tow Mode can be engaged. To engage Tow Mode, go to the Controls>E-Brake & Power Of.  To exit Tow Mode, you can either press the Tow Mode button again or shift to Park.
Screen Cleaning Mode
To facilitate touchscreen cleaning, there is now a "Screen Cleaning Mode" which will block any touch interactions from inadvertently activating buttons and charging settings during cleaning and will darken the screen so it's easier to see any dust or smudges on the screen.   To use this go to Controls>Displays.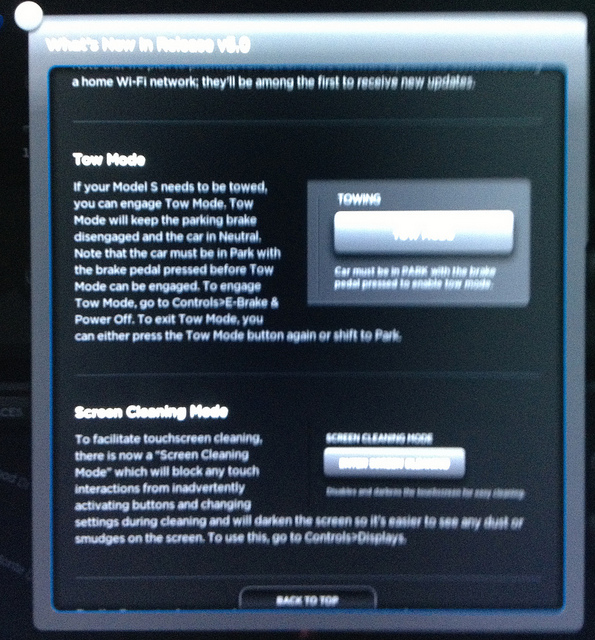 Radio Presets Access via Steering Wheel Controls
You can now cycle through your AM/FM/XM radio presents via the left (prev/next) steering wheel buttons when there are two or more presets. If you have fewer than two presets, the steering wheel controls will seek the previous/next station instead.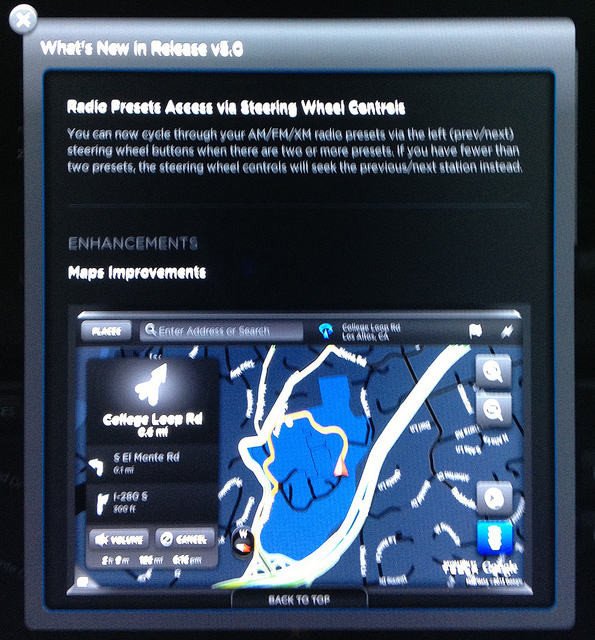 ENHANCEMENTS
Maps Improvements
Maps Orientation
You now have the option to orient the map in the direction of travel. You can switch between the "heading-up" mode–where the map is oriented in the direction of travel–and the "north-up" mode by tapping the control in the center of the Maps control bar:
Heading-up tracking mode:
Map is oriented in the direction of travel. Note that the map labels will not adjust as the map rotates so they will be upside down when you are driving south.
North-up tracking mode:
Map is oriented north.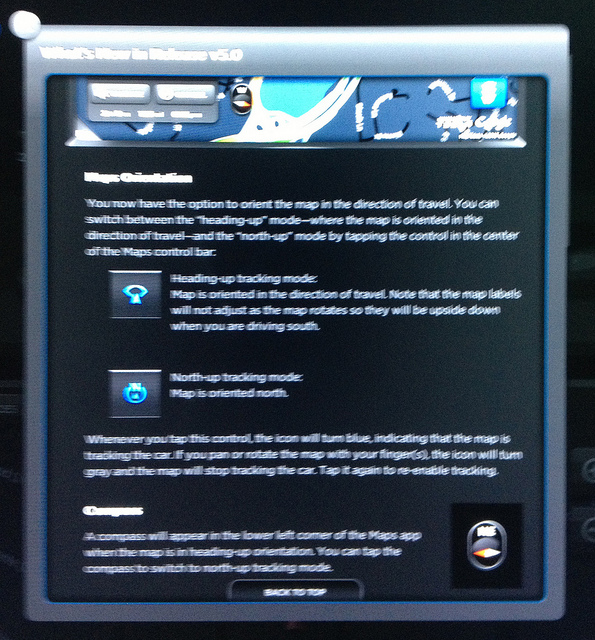 Whenever you tap this control, the icon will turn blue, indicating that the map is tracking the car.  If you pan or rotate the map with your finger(s) the icon will turn gray and the map will stop tracking the car.  Tap it again to re-enable tracking.
Compass
A compass will appear in the lower left corner of the Maps app when the map is in heading-up orientation.  You can tap the compass to switch to north-up tracking mode.
Other Improvements
You can now also rotate the map manually with a two-finger rotation motion. Remeber that any manual interaction with the map will turn tracking off.
Performance improvements have been made so the map should be faster and smoother, and any interaction with the map (e.g., rotatin, pinch & zoom, etc.) should be smoother and more responsive.
Navigation route line and traffic display have been improved so the route line no longer fully blocks traffic.
Satellite and traffic buttons now have icons instead of text labels.
Satellite mode now turns off when the car switches to night mode. Tap the satellite button if you'd like to view satellite images at night. Note that the satellite mode settings is preserved for day mode.
Search results for "chain" searches (e.g., Starbucks) have been improved. The nearest location should now always show up first.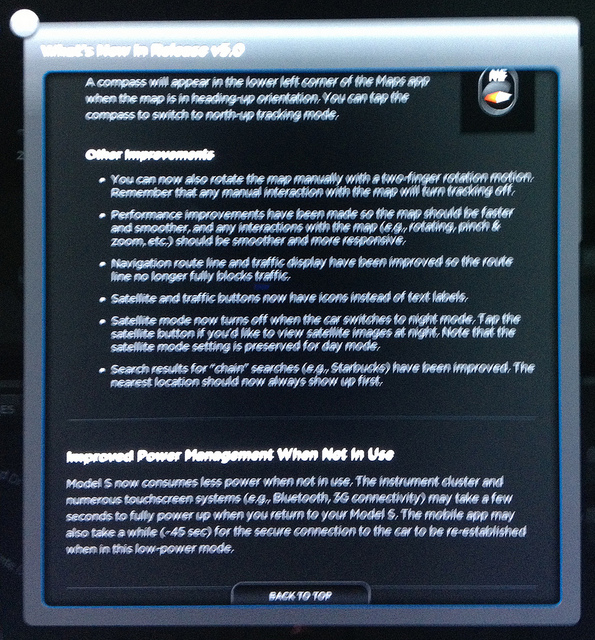 Improved Power Management When Not In Use
Model S now consumes less power when not in use. The instrument cluster and numerous touchscreen systems (e.g., Bluetooth, 3G connectivity) may take a few seconds to fully power up when you return to your Model S.  The mobile app may also take a while (~45 sec) for the secure connection to the car to be re-established when in this low-power mode.
Additions to Driver Profiles
Front seat heaters' settings are now included in Driver Profiles.
Improved Creep Performance
Creep performance has been tuned so that creep torque is smoother at low speed (< 5 MPH).