I went back and forth on whether I should purchase the $1,000 Model S premium lighting package before ultimately committing to it.
One of the challenges with making a purchasing decision on the Tesla Model S premium lighting option is that it's difficult to see during the day, and it's also hard to come by since a lot of test drive vehicles do not come equipped with this option.
Tesla does a great job to accurately describe the feature on their website. Each of the four doors has a strip of ambient lighting that lights up whenever the headlights are on which adds a nice visual touch to the interior and helps offset the brightness from the large 17″ touch screen.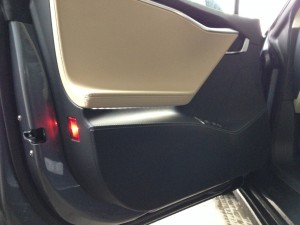 The lighting package also adds puddle lights to the underside of the front and rear interior door handles. I really like the additional ambience this brings. This feature came standard on earlier versions of the Model S which Tesla later removed and made into an optional "upgrade".
A strip of lights illuminate the lower section of the front row seats to provide footwell visibility as you enter and exit the car. Without them, you're left with only the four push LEDs that recess into the headliner which provides a far more glaring light than ambient.
Initial Impressions
When I first took delivery of my Model S I thought Tesla had forgotten the premium lighting option which I ordered. Not because it wasn't actually there but because it blends so seamlessly into the car that it's hardly noticeable. Passengers have commented on the ambient lights that light up the door handles, but none have paid much attention or even noticed the extra puddle and rear foot-well lights.
Summary
I think the premium lighting option should come standard in all Model S' because it's overpriced at  $1,000 USD.
There's no doubt that the Model S is an expensive car so consider other options before committing to the Tesla Model S Premium Lighting package, especially if you're making a stretch. This is the only feature that I felt I splurged on but nonetheless it's a cool addition to the car, and I've learned to appreciate the elegance it adds each and every day when driving the car.