The Tesla Model S Whispbar Roof Rack System is hands down the most technological and elegant roof rack system on the planet, period.
The designers and scientists behind Whispbar, a brand now under the Yakima umbrella, have long been known for designing the world's quietest roof rack system through relentless pursuit of engineering perfection. We had a chance to review the new Whispbar Tesla Model S Roof Rack System over the last 500+ miles and came up with some findings that may surprise you.
Tesla Model S Roof Rack System by Whispbar
Initial Impression
The Whispbar Tesla Model S Roof Rack System is comprised of two individually packaged components – a universal Whispbar Flush Bar and a Tesla Model S specific mounting kit that secures the Flush Bar to four fixed-point mounts on the roof of the vehicle. Packaging is near Apple caliber and all around superb, with full color printed boxes psychologically gesturing that an amazing road adventure awaits. It worked. Before we knew it, the Whispbar components were unboxed, installed and off on an epic journey.
Features
Aerodynamic design reduces wind drag and noise up to 70%
Low drag results in negligible impact on EV battery range
Low profile and tapered-wing shape makes for an ultra-quiet ride
Super-lightweight and corrosion resistant aluminum construction

Quick disconnect and built-in channel technology lets you mount a variety of carriers and accessories onto the Flush Bar

Innovative SmartFoot towers ensure quick and easy installation on your roof

Patented Yakima Same Key System (SKS) technology uses lock cores that lock and unlock with the same key, eliminating the hassle of multiple keys.
Ultra-sleek design blends into the curves of the Tesla Model S and hardly noticeable
---
Whispbar Technology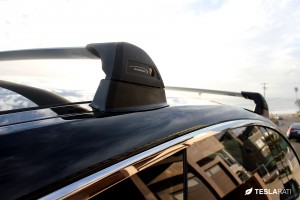 Design and Aerodynamics: The unique wing shape of the Whispbar Flush Bar is what really makes this roof rack system stand apart form its competitors. We've never seen anything like this before, both from a design perspective and aesthetic point of view.
The beautifully sculpted shape, said to reduce noise and wind drag by 70% over other crossbars, is an art piece in itself, and frankly made us instinctively handle the component as if it were a piece of fine jewelry. We found ourselves constantly wiping our fingerprints off of the polished aluminum finish in order to keep it as pristine and elegant as it naturally is. But don't let the gorgeous looks fool you. The Whispbar Tesla Model S Rook Rack System is as rugged and durable as they come – capable of carrying cargo and withstand up to 165 lbs (75 kg) of load.
---
Installation
Having installed several roof rack systems before, we were armed with our usual Phillips screwdriver, Torx drivers and our folding hex key set, all which turned out to be valueless. Whispbar comes prepackaged with everything you'll need for the installation which consists of a single T-handle hex key and some basic instructions.
Installation was fairly simple after we figured out how to mount the first of four mounting points, however documentation could have been a bit clearer especially when describing the procedure of replacing the Flush Bar slide-out plastic mounting blocks with those from the Tesla Model S SmartFoot kit (#K704W). We spent a good 15 minutes trying to figure out this portion of the installation process, presumably because we received one of the earlier versions of the documentation right as it was about to hit market, or we have a much lower brain cell count than the average human (most likely). We'll let you figure that one out.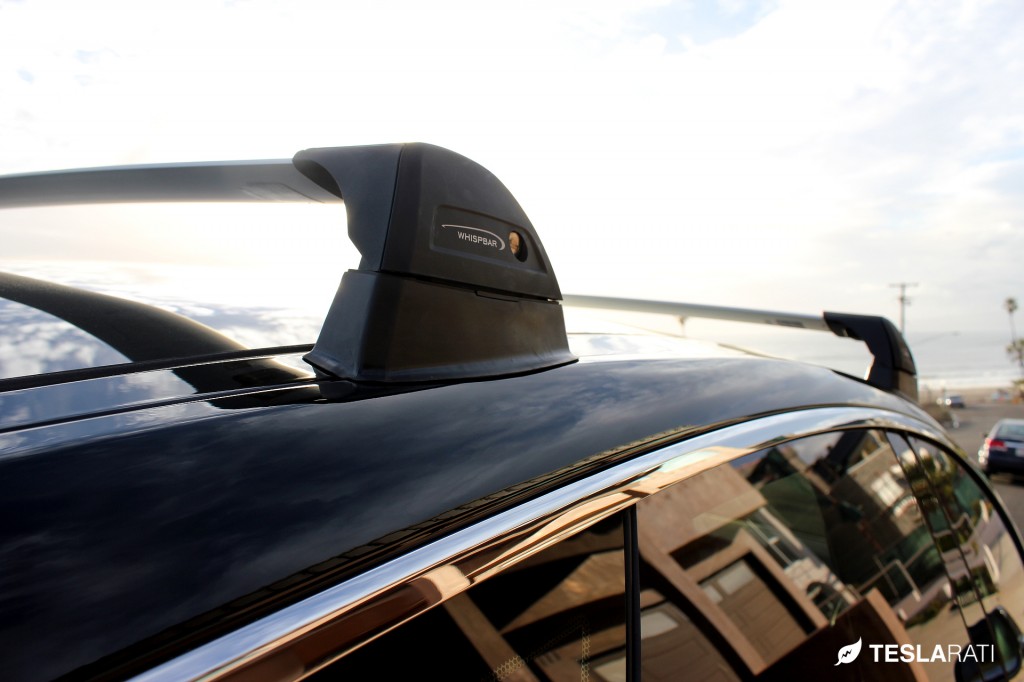 Installation Summary
Flip up factory mounting-point covers
Attach stainless hardware to mounting-points
Fit weather-proof Tesla Model S specific mounting pad and block over stainless clamps
Hand-tighten plastic knob and secure Flush Bar to the vehicle
Installation video provided by Tesla Motors.
---
Ultra-Quiet, Low Drag, Battery Efficient
Sound: The low profile mount and wing shape design of the Whispbar Tesla Model S Roof Rack System creates an amazingly quiet driving experience. At speeds below 40 mph (64 km/h) we barely noticed any noise at all, contrary to what we've experienced with other roof rack systems on the market. The Whispbar system exhibits some audible wind noise as expected during highway speeds, but the sound is much more soothing, and almost melodic in a way. It's much softer, quieter and not the usual turbulent wind noise that's often associated with round or square style crossbars.
The unique shape and design of the Whispbar is the result of extensive wind tunnel testing as seen in the video below.
Wind Drag Effect on Battery Range: This one surprised us the most. After 500 miles of testing with the Flush Bar mounted we noticed a negligible increase in energy consumption when compared against the vehicle's lifetime average energy usage.
Energy usage lifetime avg (10,180 miles):


318 Wh/mi

ROAD TEST 1 with Tesla Model S Roof Rack System (~ 500 miles): 


322 Wh/mi
ROAD TEST 2 with Tesla Model S Rook Rack System + Ski/Snow attachment + 2 snowboards:


328 Wh/mi

(leave us a comment below if you're interested in having us perform any special tests)
We concluded that the 1.26% increase in energy over the vehicle's lifetime average is negligible and therefore it's inconclusive that the change is a result of wind drag from the Tesla Model S roof rack system. Although we drove the same path over the course of the 500 mile sample, there's not a large enough disparity for us to make a correlation. This is a remarkable testament to Whispbar's pursuit of engineering excellence. We think they succeeded.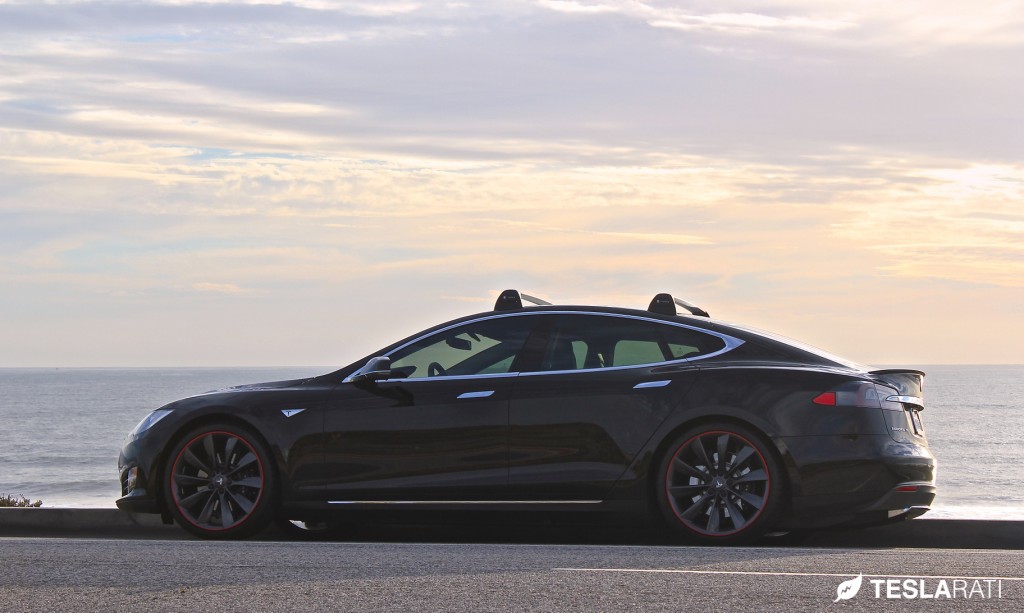 ---
No Tools Required, Quick and Easy Attachments
One of the great features of the Whispbar QuickDock System is that it can quickly attach and detach accessories without the use of tools. Removing attachments (ski, snowboard, cargo, bike ..etc when not in use maximizes the aerodynamics and maintains the clean look of the Whispbar Flush Bar.
Below are pictures of the optional Whispbar SnowMount (#WB300) attachment mounted to our Whispbar Tesla Model S roof rack system. We loved the large integrated push lever, which was extremely easy to open, even while wearing heavy gloves.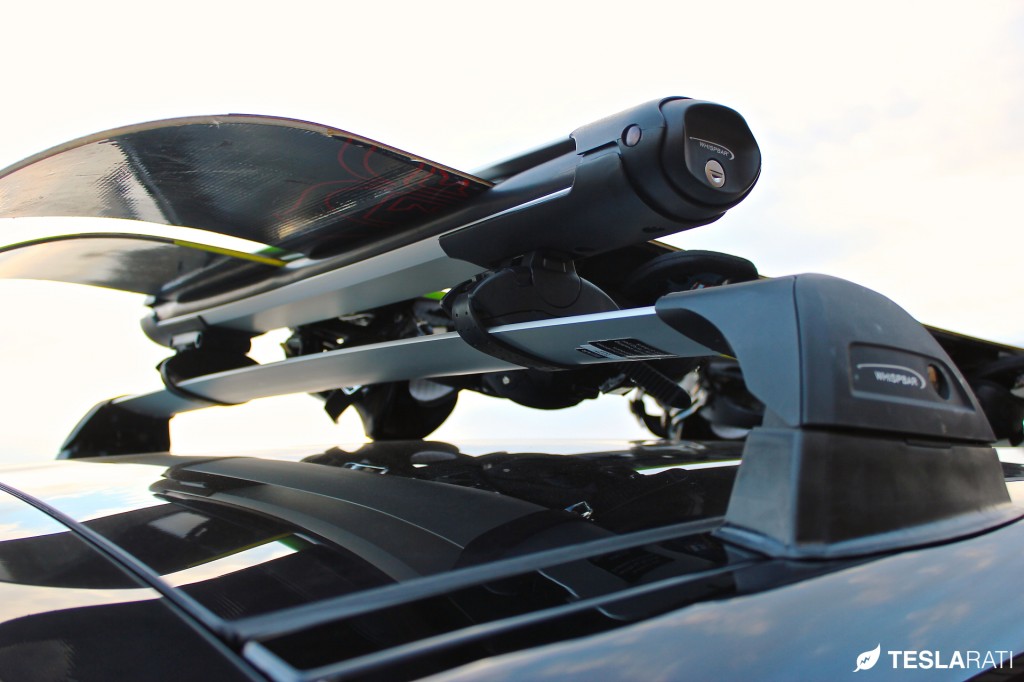 ---
Conclusion
The aerodynamic Whispbar roof rack system brings innovative design and technology to deliver the quietest crossbar on the market.
To our knowledge, Whispbar is currently the only manufacturer that offers the Tesla Model S roof rack system. We know that there will eventually be plenty of roof rack systems out on the market for the Tesla community, but when compromise is not an option and you're seeking unparalleled perfection, then the Whispbar Roof Rack System is the obvious choice.
Tesla Model S Whispbar Roof Rack System
Note: Use the vehicle selection dropdowns from the Flush Bar page.
Whispbar Snow Mount Attachment
NOTE: The Whispbar Tesla Model S Roof Rack System is only available for models that have the panoramic roof option.