Techies have dreamed of the day when their cars would be as advanced as their personal computing and smartphone devices. Daily use of technology has shifted beyond being the norm to being a necessity. It's evolved into a digital lifestyle that has extended into vehicular use.
With the launch of the Model S in 2012, Tesla set the benchmark for what the connected car could be. Besides being an amazing, all-electric vehicle with outstanding performance, utility, and good looks, it also incorporates internet technology into the vehicle, cabin and driving experience like never before. A Tesla Model S or Model X provides drivers with the 'potential' to carry their digital lifestyle into the vehicle.
Follow along in our upcoming series that will explore the evolving connected car industry and its future possibilities. We'll cover topics such as how these next generation vehicles might incorporate our digital lifestyles, what the cyber security implications are, how our city's infrastructure may evolve in response, and how autonomous vehicles will change our society.
So what is a Connected Car?
Because this is an evolving industry, there really isn't a clear, universal definition for the "connected car." Technological innovation is happening so quickly, there seems to be no limit on what it could be. Some automotive manufacturers are selling 'connected cars' that are simply connected to the internet on their own cellular connection. But internet enabled features are limited. While this may be technically accurate, a connected car needs to be more than just a WiFi hotspot.
At its most basic level, a connected car should have the following attributes:
It must be connected to the internet at all times
It must be able to function as a participant in our digital lifestyle similar to an internet of things (IoT) or smart home device
It must allow the user to interact with their digital lifestyle in a functional and usable way
How automakers are trying to build the Connected Car
Connected car technology is currently being implemented using one of two emerging approaches. The first is simply to project smartphone apps onto a screen in the dashboard. This solution works by running the app on your smartphone but displaying the interface on your vehicle dashboard. The app cannot function without the smartphone and typically has limited or no access to vehicle information. While projected apps can work for things like text messaging and streaming audio apps, they don't work without the presence of the smartphone and therefore limit the vehicle's ability to be a full participant in the Internet of Things. Additionally, these apps are generally not designed well for use in a vehicle.
The second is to have embedded apps, or apps that run in the vehicle itself. This solution works by having apps installed or running in the vehicle, similar to tablet or smartphone apps. The advantage is that the apps run independently of a smartphone, can securely access vehicle data, and in special cases can even perform vehicle functions remotely such as closing the sunroof. These advantages mean that the vehicle has the potential to be a full participant in the Internet of Things. Additionally, these apps are designed specifically for in-vehicle use, with display and user interfaces (ie. buttons, colours, text size, etc.) optimized for in-car use.
A third approach worth considering is a hybrid of these two, where the in-vehicle experience can function independently from a smartphone, but can also incorporate data from and interact with a smartphone. This would allow functionality such as text messaging and email to work off the smartphone, while embedded apps could perform more advanced, vehicle specific and independent functionality. Another advantage of a hybrid solution is that it could maintain a unified interface experience that is appropriate to in-vehicle use and look like it was designed for the specific vehicle — as opposed to an iPad stapled to the dashboard.
"we think a Tesla is the coolest mobile device, ever! (almost)"
This leads us to why we think a Tesla is the coolest mobile device, ever! (almost)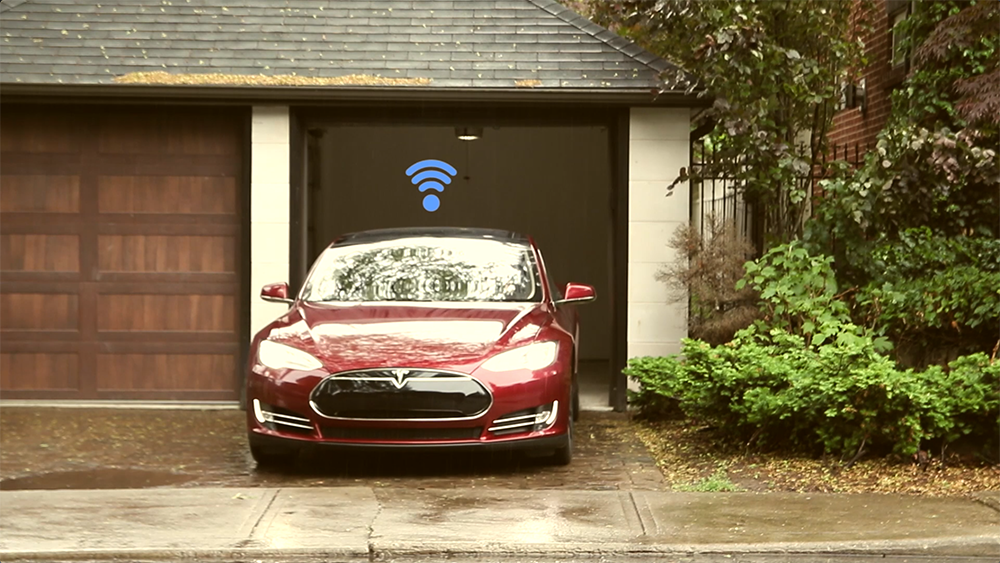 My Tesla has the potential to do so much more
Because of its independent internet connectivity, the Tesla Model S and X offer opportunities to control the vehicle from other internet connected devices. Tesla offers a smartphone app that allows you to control some of the vehicle functions such as charging, air conditioning, and now even parking and summon (on vehicles with Autopilot). And Tesla vehicles receive regular software updates over the air, adding and improving functionality over time. In-vehicle software includes Internet radio, Google Maps (with navigation), and limited integration with your personal calendar that will display your next couple of appointments.
Still, there is much more that can be done with the technology. At least that's how I felt when I took delivery of my Model S in 2012. At that time there was a lot of talk about in-vehicle apps becoming available, and there was even an app icon in the centre console interface. Unfortunately we are still waiting for Tesla to release an SDK. That being said, Tesla is pretty busy with their Gigafactory, Model 3, Autopilot, and generally steering the whole automotive industry toward electrification.
Although Tesla hasn't released an SDK or third party app development, and new Tesla-developed apps have been limited, Tesla did include a Web browser as a key feature to their large centre console dash. And that web browser has opened up a host of possibilities for connected car features and interface development. It was the inspiration for my team at Evolved Vehicle Environments to create EVE for Tesla, a growing connected car platform that already incorporates many of the features you might expect in a connected car.
EVE for Tesla for the Model S, Model X
Finally, you can have access to your calendar, email, social media, news, and more in your car – provided that car is a Tesla! And with EVEConnect, a feature available to paid members, your Tesla has officially become a full participant in the Internet of Things. It can receive messages, trigger events, and even talk to your home. And with the recently released EVE for Tesla IFTTT channel, you can now connect your Tesla to over 300 products and services.
In our next post, we will explore the development of the Internet of Things, the connected home market, and connected car/connected home integration. If you have any questions you'd like us to address, please drop us a comment below.
-Jason Taylor