Jan. 28th, 2015 – YouTube user Juan del Real was enjoying a regular day at a skatepark near the Alameda Naval Air Station (3o miles north of Tesla's Fremont factory) when he caught a glimpse of what appeared to be a space age looking SUV performing a high speed skid-pad test across an open runway. Little did he know that he just witnessed what's presumably the world's first test sighting of the Tesla Model X spied in action.
The minute and a half long video was captured on Juan del Real's iPhone 5 in full digital zoom so resolution isn't all that great. It's hard to make out the details of the Model X but that's largely because much of the X's look, as we know it, has been disguised.
SEE MORE OF THE TESLA MODEL X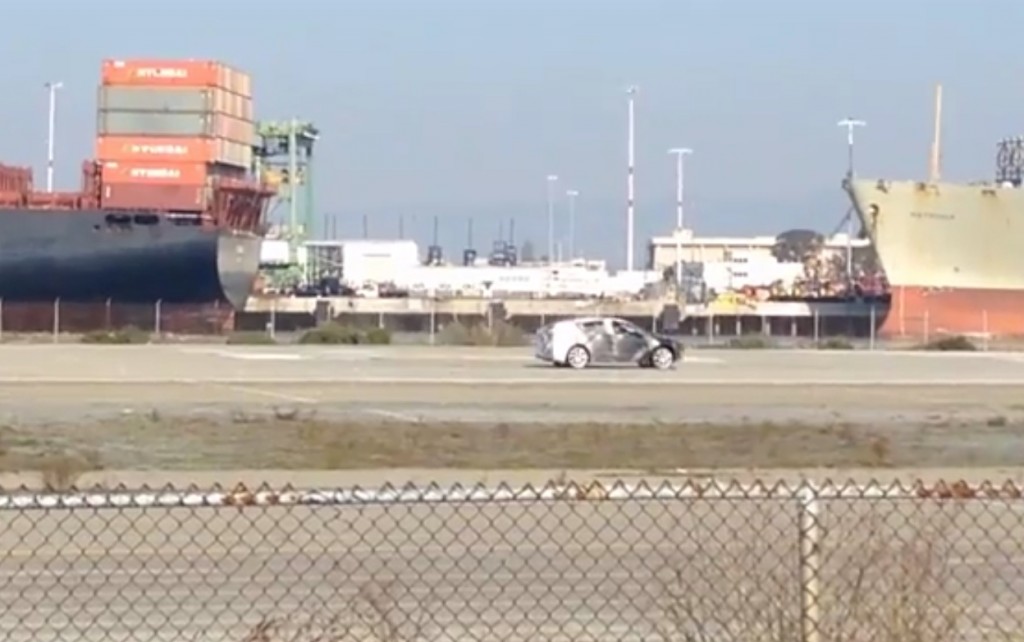 The trademark falcon wing doors appear in a carbon fiber like color although it's not clear what type of material is seen. Also evident from the video is the near-silent and instant acceleration of the all-electric vehicle further validating that the vehicle isn't just any regular SUV. The Tesla Model X spied testing appears to be outfitted with 21″ wheels and low profile tires that resemble that of the Turbine Wheels found on the Tesla Model S. The side mounted cameras seen in the original Model S prototype have been replaced with traditional side view mirrors.
If there's any indication that the Tesla Model X is closing in on the final production version, this would be it.