Whether you're an existing Model X owner looking for tire pressure settings or someone on the cusp of purchasing a Model X – mixing and matching various configurations though the Model X online design studio – we hope the following guide will provide you with insight on the various wheel and tire combinations available.
Model X Wheels
The Tesla Model X is available in a 20″ size wheel or the optional 22″ wheel. The standard 20″ offering is a silver wheel with a flat spoke pattern, while the upgraded 20″ wheel costs an additional $2,500 for a more unique twin spoke type pattern, also in silver. Those that seek more performance through better handling and traction can shell out $4,500 and upgrade to a 22″ Turbine wheel (design first introduced on the Model S) in either silver or charcoal.
According to ModelXTracker which keeps track of user submitted Model X reservation and order data, 72% of Model X configurations had the 20″ wheel while the remaining went with the larger wheel set up.
Depending on the diameter of the wheel chosen, towing capacity and driving range on the Model X will vary, with the smaller diameter wheel being the more efficient of the two. This might be a reason why there's such a large skew towards the 20″ wheel. That and of course the additional cost to upgrade.
20″ Wheels
These wheels are available in either the standard Silver Wheels design or the optional ($2,500) Helix Wheels design.
Front wheels: 20 x 9.0  +35 mm (1.378″) offset
Rear wheels: 20 x 10.0 +40mm (1.575″) offset
22″ Wheels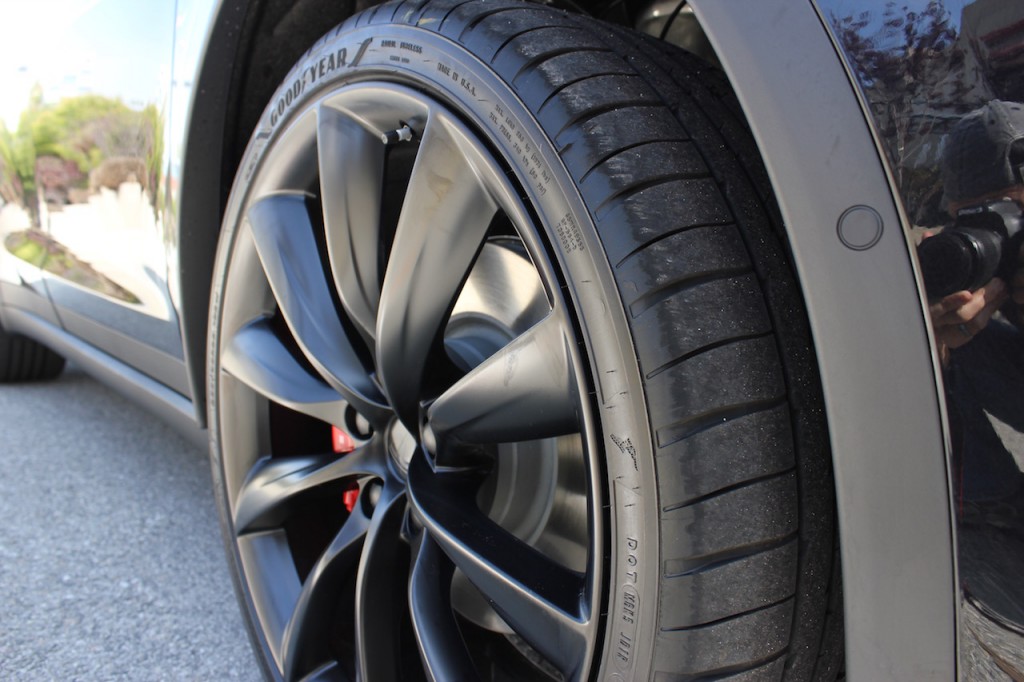 These wheel are only available in the Turbine design in either Silver or Charcoal (Onyx Black) color. ($4,500)
Front wheels: 22 x 9.0  +35 mm (1.378″) offset
Rear wheels: 22 x 10.0 +40mm (1.575″) offset
Maximum towing capacity when using 22″ wheels is 3500 lbs.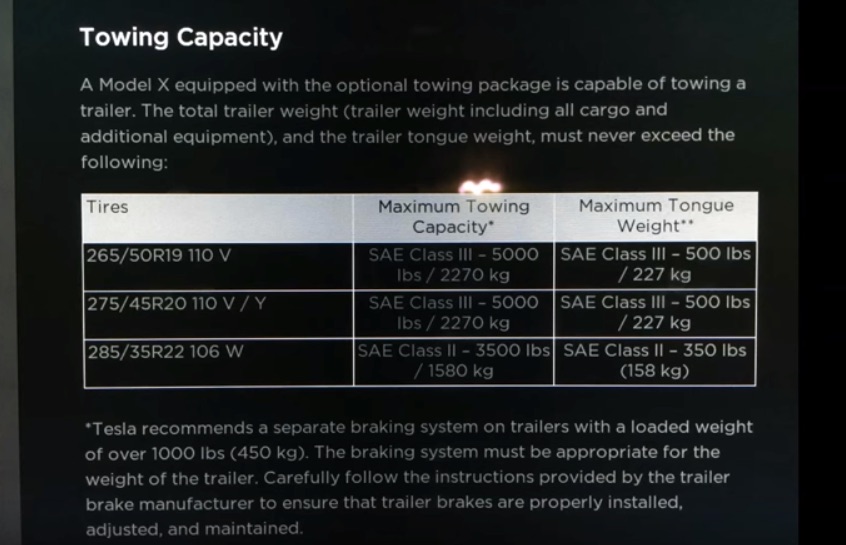 Model X Tire Pressure Setting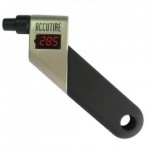 The Model X is equipped with sensors on each wheel that will trigger a tire pressure indicator light on the instrument cluster if one or more of the tires are either over or under inflated. The Tire and Loading Information label containing information on Model X tire pressure settings can be found on the center door pillar directly behind the passenger side front door.
It's important to ensure that tires are always properly inflated in order to maximize safety and range. It's recommended to check tire pressures regularly and especially before taking long Tesla road trips. Using a quality digital tire pressure gauge, take readings on a cold tire and inflate until the pressure is equivalent to the following Tesla recommended tire pressures.
20″ Tires
Continental CrossContact LX Sport – an All-Season Crossover/SUV tire designed to combine performance, ride and noise comfort on highway driving, but also with year-round traction, even in light snow.
Front Tires: 265/45 R20 – 40 PSI (*46 PSI / 317 kPa)
Rear Tires: 275/45 R20 – 40 PSI (*46 PSI / 317 kPa)
22″ Tires
Pirelli Scorpion Zero Assimetrico
Front Tires: 265/35 ZR22 – 42 PSI (*50 PSI / 345 kPa)
Rear Tires: 285/35 ZR22 – 42 PSI (*50 PSI/ 345 kPa)
To reset the Tire Pressure Monitoring System (TPMS), drive above 25 mph (40 km/h) for at least 10 minutes after adjusting tire pressures.
* When using the Model X for towing, tire pressure settings must be adjusted to accommodate the additional load.
Related Tires and Wheels