Tesla CEO Elon Musk confirmed during the company's most recent Earnings Call on Wednesday that the automaker has "other products" being developed. Of course, Musk did not shed any detail on them, but based on what the company might need, and what others have said in the past, we have an idea of what they could be.
Musk said:
"I should also say that there — we have other products in development. We're not going to announce them, obviously, but they're very exciting. And I think it will blow people's minds when they — when we reveal them. Tesla has the most exciting product road map of any company on earth by a long shot."
A Tesla Van
A Tesla Van might be in the product roadmap, especially as Musk has hinted toward the idea on several occasions. In late 2018, Musk stated that it may be "interesting to work with Daimler/Mercedes on an electric Sprinter."
In early 2021, Musk reiterated this point while speaking on the Q4 and Full Year 2020 Earnings Call, stating, "I think Tesla is definitely going to make an electric van at some point."
While a Tesla Van might be a great idea for some personal applications, this would be something that would undoubtedly be used as a commercial vehicle. To this day, Sprinter vans are utilized by a variety of companies, from auto parts stores, to car detailing businesses. However, Tesla may find the biggest application for it internally.
Still utilizing some Ford Transit vans and some Model S and Model X vehicles, among others, for its Mobile Service fleet, Tesla would undoubtedly see several advantages from developing a van. For one, Tesla still struggles with Service, especially at physical locations. With the company delivering over 1.3 million cars last year and only growing its Store and Service locations by 120 this past year, or ten a month, Mobile Service could be the company's key to improving its overall effectiveness.
The Mobile Service fleet grew 24 percent in 2022 compared to 2021, with 303 additional units added last year alone. However, this could likely increase further if Tesla developed and built its own Service vehicles, and let's face it, they'd be much more cost-effective than leasing expensive Service locations.
A Tesla Van would also enter a market with relatively small amounts of competition. Currently, the E-Transit holds 73 percent of the segment, with 6,500 sales last year. Offering only 236 miles of range in its Custom offering, the E-Transit could be challenged by a Tesla Van.
A 'More Traditional' Pickup
This one is a bit of a long shot, but it could definitely still happen. Musk stated in an interview with Automotive News in 2020 that if the Tesla Cybertruck was a flop, the company could develop a more "traditional" pickup design.
"If it turns out nobody wants to buy a weird-looking truck, we'll build a normal truck, no problem," he said.
With over a million pre-orders currently, it does not seem as if Tesla will do this, at least not any time in the near future. However, Chief Designer Franz von Holzhausen, who confirmed the Cybertruck design was finalized, did state Tesla never really puts a "pencils down" approach to the subject.
While the whole idea behind the Cybertruck was to break the mold of traditional pickup designs, some may want to continue with Tesla's expertise in EVs while having something slightly more "normal." But, in my estimation, don't hold your breath.
A Tesla Boat
In regards to Tesla's "ecological paradise," Musk told us in September that the company filed to expand Gigafactory Texas from the southern portion to make way for this project. Visitors would be able to float down the Colorado River to downtown Austin.
But instead of Tesla Kayaks, Musk said the company could develop "electric Tesla boats with a retro-futuristic Victorian design."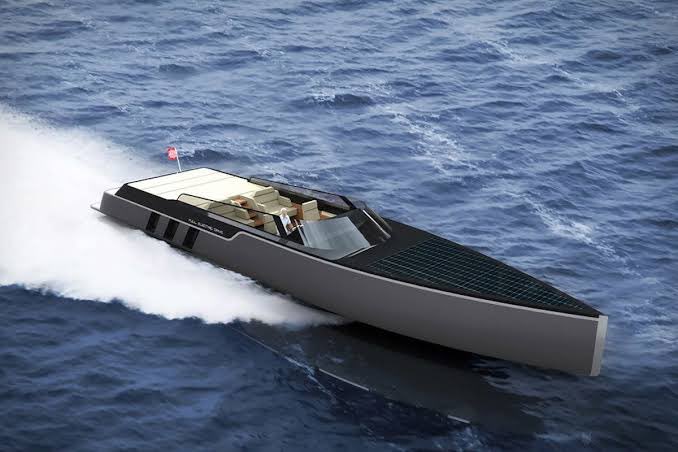 Musk has already hinted that the Cybertruck will likely be able to float and navigate through water, at least to an extent. However, it seems that a boat could be developed for at least the company's internal projects, like the "ecological paradise" it plans to build outside of the Texas Gigafactory.
$25,000 Mass-Market Sedan
Heavily rumored as a Tesla project for several years, the $25,000 vehicle is the company's key to mass affordability for many consumers.
When Chevrolet announced huge cuts on the Bolt EV and EUV last year, it became one of the most affordable EVs you can buy, and it was a car that was recognized as a major needle mover in terms of EV adoption simply because it showed consumers that you don't have to spend upwards of $40,000 on an EV.
However, the vehicle is not a rumor, and it's definitely something Tesla is looking toward developing soon. Musk said last year:
"Well, we're not currently working on the — on a $25,000 car. We — you know, at some point, we will, but we have enough on our plate right now, too much on our plate, frankly. So, you know, at some point, there will be."
The $25,000 Tesla will likely be a part of the company's next-gen platform, which will be discussed during the Investor Day on March 1. Musk once again confirmed during the Q4 and Full Year 2022 Earnings Call that this will be on the agenda for the event.
What won't happen: a Tesla Motorcycle
While Tesla did unveil a Tesla CyberATV at the Cybertruck event in 2019, Musk said Tesla will never develop an electric motorcycle.
"I had a road bike until I was 17 and was almost killed by a truck," Musk said. "So we're not going to do motorcycles."
The Bottom Line
Of course, we already know Tesla is developing a new version of the Model 3 within Project Highland. While this could be more of an internal revamp than anything, just as the Model S and Model X refreshes were, there are undoubtedly plenty of things in the works.
I'd love to hear from you! If you have any comments, concerns, or questions, please email me at joey@teslarati.com. You can also reach me on Twitter @KlenderJoey, or if you have news tips, you can email us at tips@teslarati.com.