There are many different types of racing, and while it's impractical to cover all of them, we'll cover a few that we tried in our 48 Tesla Model S.
---
Autocross
Due to its heavy weight, the Model S does not perform very well in autocross events. To clarify, since the term "Autocross" can refer to several different types of setups, here we refer to a course laid out by cones on an asphalt surface, most often done on speedway infields or large stadium parking lots. Typical speeds on this type of layout are approximately 30 mph with occasional bursts of up to 60mph.
Autocross can also refer to country road racing – a type of racing that should never be done in the Model S in order to avoid damage to the battery pack that's mounted beneath the vehicle. While a 1/4″ thick aluminum plate protects the battery, driving on rough surfaces increases the probability of hazardous debris or other large foreign objects to strike and damage the battery.
Autocross courses are usually 1/2 to 3/4 miles in length and comprised of 30+ turns. Mainly light and small cars such as the Mazda Miata tend to dominate these type of events. Bigger and heavier cars like the Tesla Model S have much more body momentum making it more difficult to control and less nimble (the Tesla roadster would probably do a lot better here).
We think Autocross events are great when it comes to getting your feet wet in racing. There are a variety of setups that one can practice on, such as off-camber turns, turns with elevation changes, slaloms, etc. It's also the safest possible setup, as even the worst mistake would only lead to hitting a cone. One also has the freedom to experiment with new techniques on an autocross that may not be considered safe on other types of tracks.
---
Open Track Racing
Open track racing, also called track days or simply tracking, is by far the most fun and entertaining type of racing.  This type of racing allows you to race alongside other cars on racetracks of varying sizes and complexities.  Courses can range from lower speed technical road courses to as large as full stadium ovals where NASCAR races are held.
It's important to note that this type of open track racing should not be confused with wheel-to-wheel competition racing, where the driver needs to be licensed, the car has to be race prepared, and the objective is to win by any means necessary – even if it means wrecking the vehicle. The objective of open track racing is to have fun, be competitive but courteous, and more importantly walk away with your car undamaged.
The Tesla Model S does well on these tracks given its sports car like handling, excellent stability controls, and snappy acceleration. One of the most exhilarating aspects of open track racing is being able to drive and pass other contenders at speeds well over 100 mph, and in a environment that's generally safer than competition wheel-to-wheel racing.
At the same time, the tracks have a reasonable number of turns where you can practice your driving skills, such as following racing lines, braking zones, track outs, on and off camber turns, etc. While its fairly straightforward on paper, doing it in real life is a lot more difficult. It's a very rewarding experience when you master a segment and can repeat it time after time. While open track racing is not a competition for track position, you are in fact competing with other cars for the best overall lap time.
Everyone we've ever interacted with at these events were friendly, helpful, and professional. And while you don't receive a prize for crossing the line first, as you do in competition racing, the real reward is being able to meet a group of passionate people that all have the common goal of just plain ol' having fun!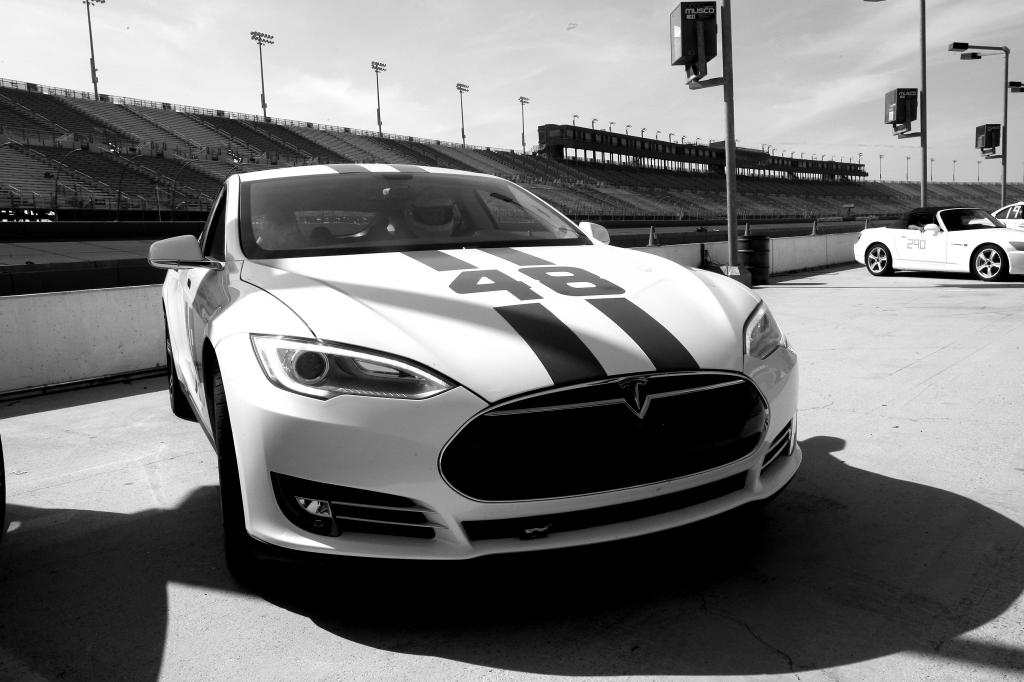 And this is where the primary focus of TESLARATI 48 Tesla is. At the time of writing, we completed 4 track events, Willow Springs (The Big Willow), the Streets of Willow, the California Speedway (Fontana Auto Club Speedway), and Buttonwillow.
After starting in the Novice group at the first track, we were promoted to the Intermediate group at the second event based on fast lap times. The 48 Tesla completed fastest lap times in the Intermediate groups around the middle of the pack in all subsequent events. Working on our skills while in this group will also give us time to seek alternatives to improve cooling of the Tesla drivetrain components that can cause power limitations. We're also really looking forward to these new tracks coming up in the first half of the year: Chuckwalla, Spring Mountain, Sonoma, Thunderhill, and Laguna Seca.
We'll be publishing our full event schedule as it becomes available so stay tuned!

Also see: The "48″ Tesla Model S takes on Buttonwillow Raceway [Video]

[learn_more caption="Disclaimer"] The information contained in the "48" Tesla Racing Series is for general information purposes only and is not meant to serve as an endorsement for track, competition or activities around racing. Our endeavor is to simply showcase the amazing performance capabilities of the battery powered Tesla Model S sedan.[/learn_more]