The Boring Company was recently granted an approval from the city council of Hawthorne to construct a private, prototype garage directly connected to one of its high-speed tunnels. The parcel of land that would house the futuristic garage is located close to SpaceX's headquarters, on 120th St. near Prairie Avenue.
Hawthorne's city council approved the proposal on Tuesday night, with the members unanimously giving the project their approval. Unlike the company's other proof-of-concept projects, such as its test tunnel under SpaceX headquarters and the upcoming Dugout Loop which would connect to the Dodgers Stadium, the prototype garage would not be opened to the public. Thus, no commuter vehicles would be moving in and out of the garage from the street.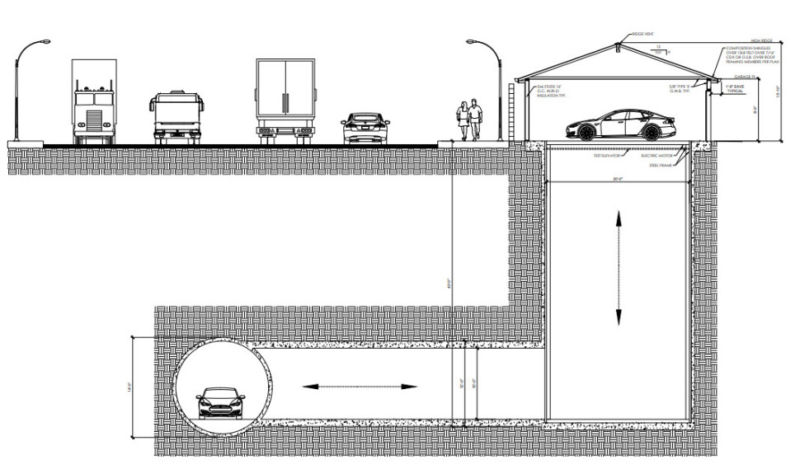 The design of the prototype, tunnel-connected garage is quite straightforward. Cars would enter the tunnel from the SpaceX campus itself,  move through the tunnel, onto the prototype garage, and then back to the SpaceX facility. The Boring Company plans to adopt this testing system in order to avoid causing additional traffic on the street. In a statement to Mercury News, Boring Company representative Jane Labanowski noted that the prototype garage concept would be an essential part of the tunneling startup's vision for the future.
"It's an important part of the longer-term vision the company is trying to build," she said.
Just like the Boring Company's other tunneling projects, the vehicles that would be transported from the SpaceX headquarters and into the prototype garage would be traveling through the startup's electric skates. The electric skates use Hyperloop technology, and are expected to facilitate high-speed transportation from the tunnels to the proposed prototype garage.
Apart from its futuristic garage, The Boring Company has also earned an approval on Wednesday for a short, separate spur from its existing tunnel that would help the company retrieve its boring machine. In conventional tunneling projects, some of a tunnel boring machine's expensive components, such as its cutting head, are buried underground after a project is done due to the high cost of its retrieval. Considering that the Boring Company appears to have found a way to extricate all the components of its tunnel boring machine, the company has pretty much taken a step forward in its efforts to build a tunnel that is low-cost and sturdy.
While the Boring Company is a young tunneling startup that is more well-known for its clever and unique merchandise (such as Elon Musk's Not-a-Flamethrower), the company is actually involved in a high-profile project. Earlier this year, The Boring Company managed to win the contract for the downtown Chicago-O'Hare high-speed transport system, beating out larger conglomerates who were also bidding on the project. If the Boring Company is successful in the Chicago-O'Hare project, Berenberg analyst Alexander Haissl noted that the tunneling startup could be worth as much as $16 billion.