(function(d, s, id) {
var js, fjs = d.getElementsByTagName(s)[0];
if (d.getElementById(id)) return;
js = d.createElement(s); js.id = id;
js.src = "//connect.facebook.net/en_US/sdk.js#xfbml=1&version=v2.8&appId=291400807541893";
fjs.parentNode.insertBefore(js, fjs);
}(document, 'script', 'facebook-jssdk'));
Details for Faraday Future's upcoming Reveal Event slated for January 3, on press day ahead of the public opening of CES 2017, are being made available by the company. The event will be held at The Pavilions located at the World Market Center: a semi-open convention space in Las Vegas that's frequently used for trade shows and special events.
The Reveal Event will be live streamed from Faraday's website beginning promptly at 6:00pm PST, but event attendees will be allowed entrance into the venue beginning at 5:00pm. Invited guests are asked to arrive early and provide sufficient time for parking and event registration. Self-parking is available in the lot between the main World Market Center building and The Pavilions, however Valet service will also be provided at the main entrance to the event.
Here's a map of the venue.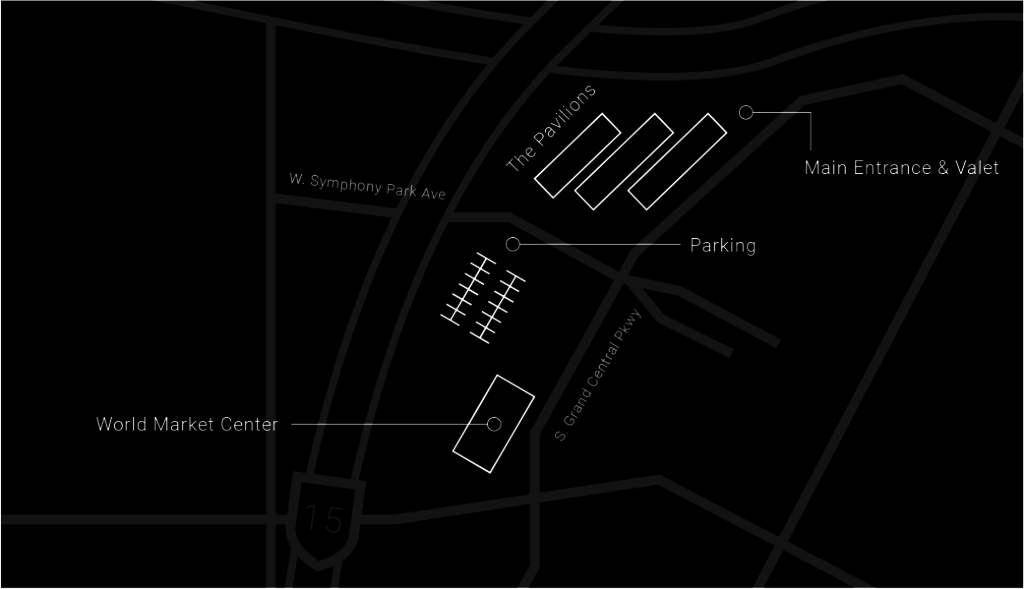 We know that cocktails and hors d'oeuvres will be served before the event, but no additional details have been provided by Faraday Future. Based on past event photos obtained from the organizer assisting Faraday with their much anticipated Jan. 3 unveiling, it's presumed that a stage will be set up along the tented space where the company will showcase a video presentation of its vision for the future, consisting of a subscription-based model for a range of vehicle types. A main center bar will also be made available within the covered space.
Guests of the event were asked to dress in business attire.
Faraday Future's Reveal Event will also have an outdoor area where the company will demonstrate the capabilities of its fleet of vehicles on a closed course. Sources have told us that Faraday will present multiple vehicles that demonstrates the versatility of the company's Variable Platform Architecture (VPA) which includes a long range and high performance version – the same vehicle seen beating Tesla's flagship Model S P100D in a drag race – and a self-driving prototype that can be hailed via a mobile app.
A teaser video released by Faraday Future on social media reveals that there is, in fact, several vehicle variations under wraps. All vehicles appear to have a Tesla-like dual camera set up mounted on the upper portion of the front windshield further validating that the vehicles will have some form of vision capability commonly used for autonomous driving. The lead vehicle in the photo below is seen with a LiDAR mounted on top, while the trailing vehicle replaces the traditional side mirror with a camera.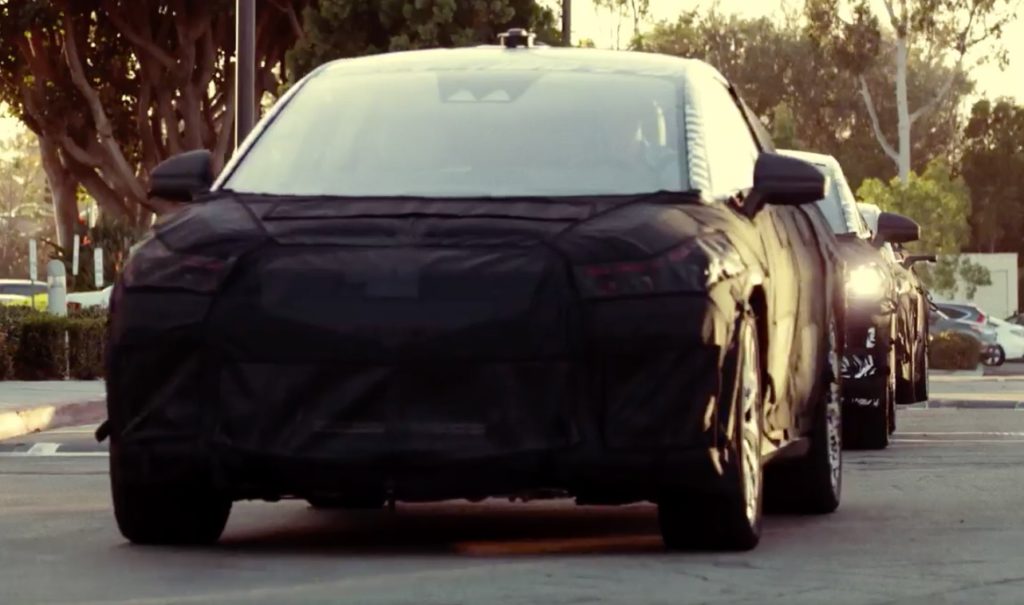 Here's the teaser video provided by Faraday Future showing quick glimpses of its fleet of vehicles from the company's Southern California-based headquarters. Faraday has not confirmed that all vehicles seen within the video will be unveiled at CES 2017, but we think it's likely that the company will showcase the entire fleet on January 3.
Soon, the camouflage comes off. Watch the unveiling live at https://t.co/vPF6ewB0iK on Jan 3rd. #CES2017 #FirstForward pic.twitter.com/n1uDqVkDQl

— Faraday Future (@FaradayFuture) December 28, 2016
We'll be providing exclusive photos and a behind the scenes look from Faraday Future's Reveal Event on our Facebook page. Be sure to Like us to see a first-person perspective on what might be taking place at this mysterious electric vehicle startup, directly on your feed.