An image of what purports to be the Faraday Future has been making its way around the internet today ahead of its official unveiling slated for 8:00pm Pacific time at the CES Las Vegas. The car has a jet fighter clear canopy and a swallow tail. It looks like a cross between the Batmobile and a bobsled. The company claims the cockpit provides the "paramount racing experience".
Update: Faraday Future unveils the FFZero1 Concept Car at CES Las Vegas. Using what the company calls a Variable Platform Architecture or VPA for short, Faraday announces that they will be able to build a diverse fleet of highly customized electric vehicles, all built around a single, universal core architecture.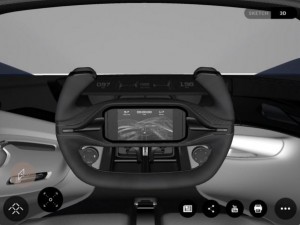 Did Chinese entrepreneur Jia Yeutang invest a billion dollars of his own money in this car — a car the company says will make us forget everything we know about cars? Last week, Faraday Future released a teaser video that asked people to answer two questions:
"What if the back seat was the new front seat?"
"What if all those cars parked in driveways had more interesting lives?"
Is this supposed to be the "Tesla fighter"? According to Tech Insider, the car that goes on display at CES is not the passenger car Faraday says it will build. It is just a design exercise intended to showcase the company's technical abilities, the cars autonomous driving features, and its innovative modular battery that uses "customizable battery string technology," whatever that is.
The graphics you see here were supposedly released accidentally after Twitter user @superannuation spotted Faraday Future's iOS app earlier today. The app was subsequently taken down, but not before these images were saved for posterity.
Hey CES/tech/auto ppl, here's some stuff about Faraday Future's secretive concept, slated to be unveiled tomorrow. pic.twitter.com/bhHwaFHE4Y

— superannuation (@supererogatory) January 4, 2016
At first, we thought this was some sort of hoax, but the story gained some credibility after it was picked up and published by Car and Driver. If this is a hoax, a lot of people are going to be highly embarrassed when the wraps come off the real show car in just a few hours.