General Motors (GM) initiated a voluntary separation program (VSP), offering buyouts to employees who choose to leave the company.
At the beginning of the year, General Motors shared its intention to implement a cost reduction program to reduce fixed costs by $2.0 billion on an annual run rate basis by 2024. On March 9, 2023, GM initiated the voluntary separation program as part of its cost reduction plans. Public documents filed by GM stated that the VSP was formed "in an effort to accelerate the normal attrition process and the resulting savings."
"Under the terms of the VSP, eligible employees who choose to leave [General Motors] will be offered a combination of lump sum payments and other compensation based on their years of service," stated the company.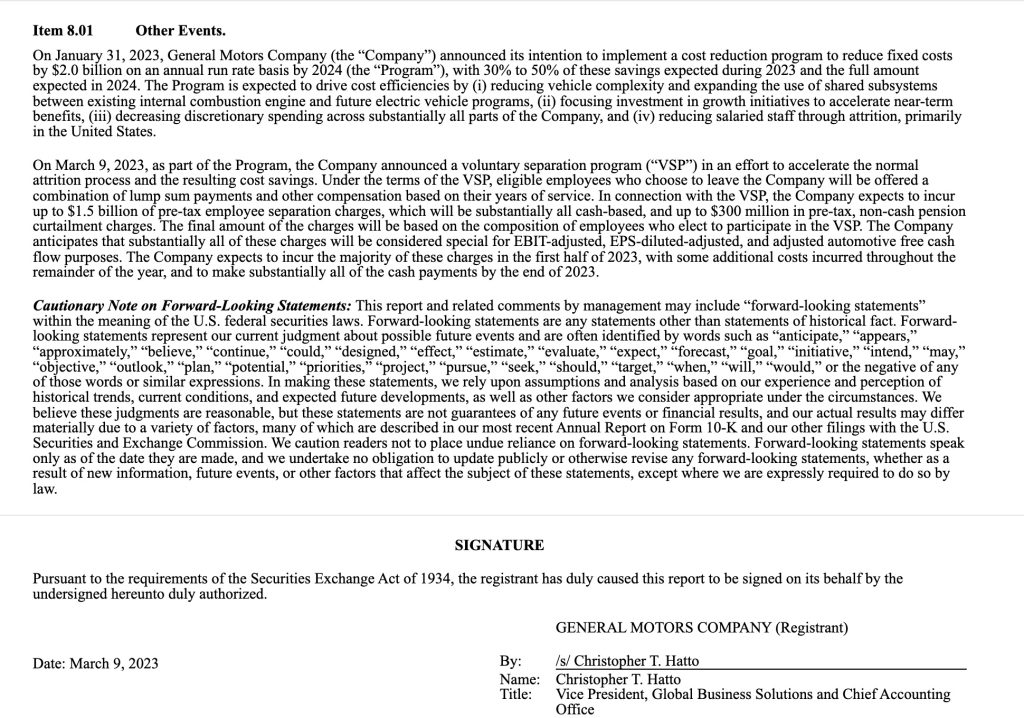 General Motors is offering voluntary buyouts to most of its white-collared employees in the United States. The voluntary buyout will be offered to U.S. salaried workers who have worked for GM for five or more years. GM plans to offer similar buyouts to executives outside the United States who have been with the company for at least two years.
The legacy automaker aims to save $2 billion in structural costs over the next two years through voluntary buyouts.
"Employees are strongly encouraged to consider the program," GM stated in an email to CNBC. "By permanently bringing down structured costs, we can improve vehicle profitability and remain nimble in an increasingly competitive market."
In its Q4 and Full Year 2022 earnings call, GM stated it earned $14.5 billion in revenue (EBIT), beating Wall Street expectations. The company also aimed to produce 70,000 Chevy Bolt and Bolt EUVs.
GM CEO Mary Barra also showed excitement for the Ultium Platform in 2023, hinting at accelerated production. The legacy automaker seems to be charging ahead with electric vehicle production. Last month, GM announced plans to invest in its St.Catharines, Ontario engine plant to produce Ultium Dive units for EVs. GM's investment in Ontario is expected to support 500 jobs at the facility and produce more than 400,000 electric drive units annually.
The Teslarati team would appreciate hearing from you. If you have any tips, contact me at maria@teslarati.com or via Twitter @Writer_01001101.