A while ago I wrote about reasons for installing a dash cam in your Model S and then followed up with instructions on how to install one yourself. This post will discuss the basics of how I use the dash cam in my everyday life.
Capturing the moment
Whether you have a permanent 12V supply to your dash cam or switched power, you will want to preserve interesting moments soon after they happen such as this encounter I had with deer in NJ.
Most dash cams will recycle space on the memory cards leaving you with just enough space beofore it gets overwritten. A 32GB card will generally capture a day's worth of video during a "normal" day. I say normal because the depending on how you configure the BlackVue dash cam – whether it's set to turn on automatically through its motion and sound sensing capabilities – the amount of recording time can vary depending on what takes place during idle time.
Memory Cards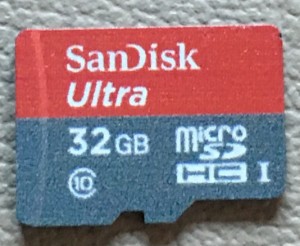 You'll want to have a second memory card for your dash cam and keep that handy within the car. Make sure that it is formatted for your dash cam. The easiest way to set up a new card if you still have an old one is to copy the old card to the new card. Another option is to make a backup to your computer. Either way, I recommend testing the new card before using it.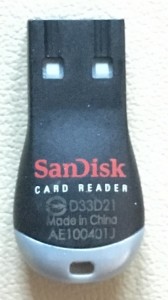 The micro SD card that the BlackVue uses is extremely tiny and can easily be lost if not careful. To prevent from  losing my back up memory card, I'll have it inserted into the card reader that comes with the card and plugged into the one of the USB ports in my Model S.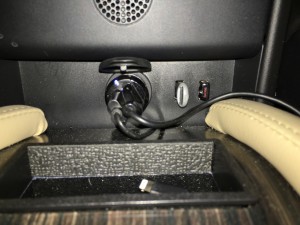 Capturing the moment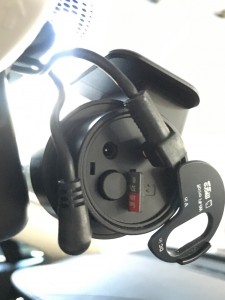 Once something interesting is caught on dash cam, the process over downloading it is fairly simple. You'll have many hours of video that can be captured before your special moment is overwritten but it helps to remember the time the event happened. A good time to do a swap is at a Supercharger stop or when you reach a particular destination. The memory is small and fiddling with it while the car is moving isn't very safe.
First power down your dash cam by unplugging the power cord. Wait about 15 seconds for it to finish powering down then flip open the little door protecting the memory before popping it out by pressing down on the memory card.
Swap the card with the spare memory card that's temporarily inserted in the Model S USB slot and power back up your camera.
Downloading Video
Once I'm off the road and near a computer, I take the card reader containing my media and plug it into the computer's ESB port. If I don't have time to process and view the videos, I simply copy all videos under the "Record" folder from the memory card to a location on disk that I can access later.
The best way to find the video footage you want is to use your dash cam's software. The BlackVue viewer also serves as a means for changing camera settings. Select preferences from the file menu when your memory card is loaded.
Click the folder icon on the right of the screen and browse to the proper media source to get started.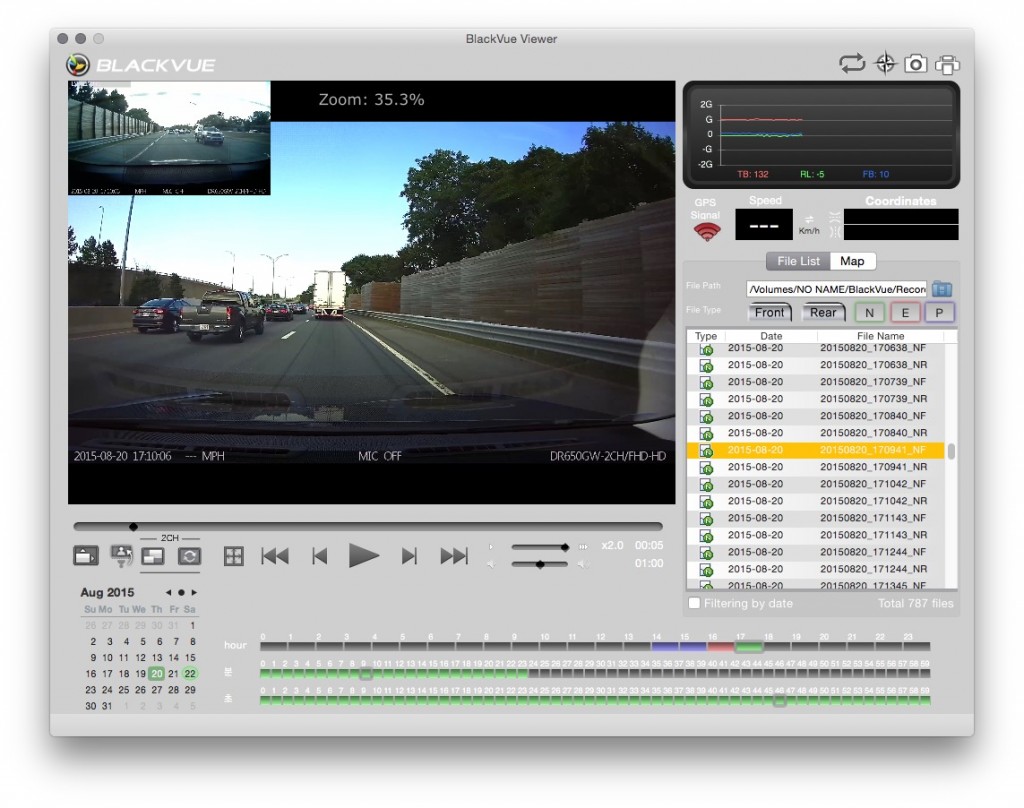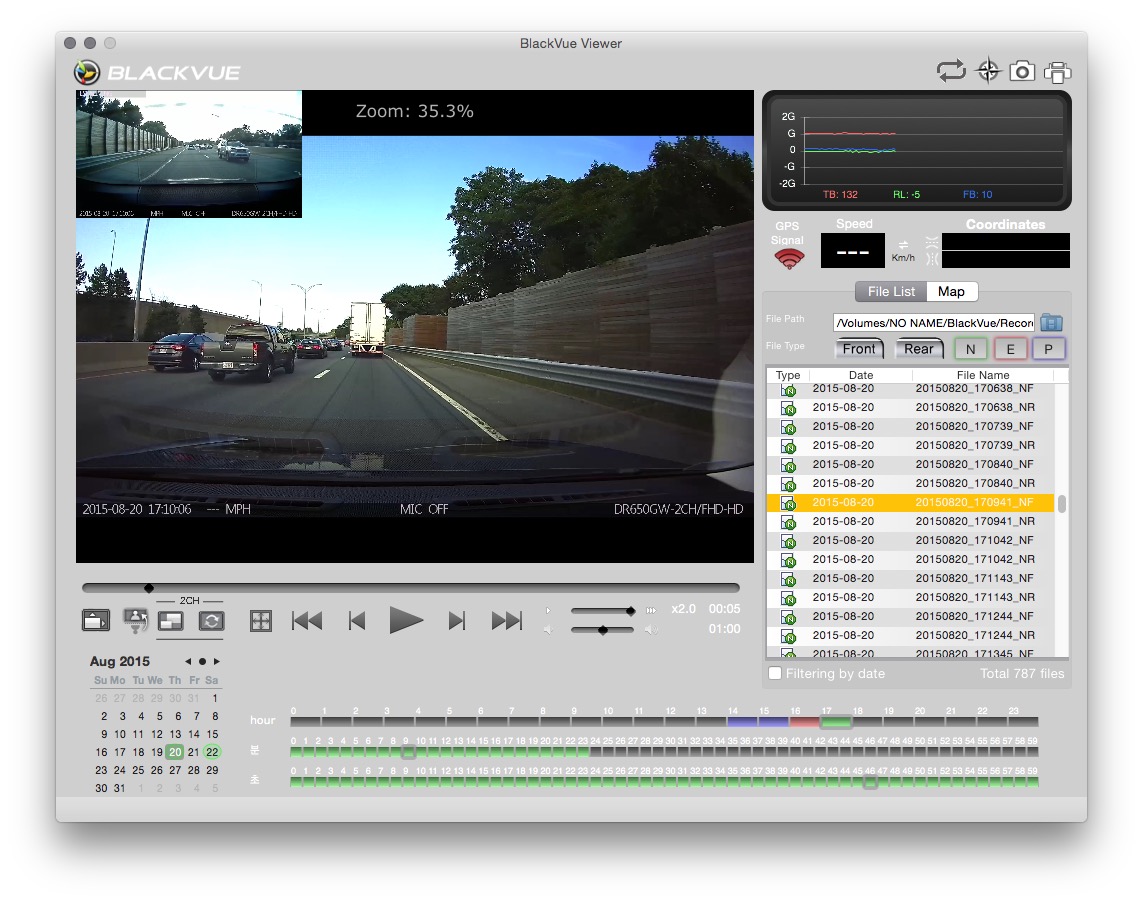 Pick an event time that is just before the moment you want to preserve and double click to start playing. I typically use the speed selector and play the video at max speed as most of the footage will likely be monotonous. Each video clip defaults to being  a minute long. As you click through each video segment, find the ones that are interesting to you and drop them into a video editor as a way to add some movie magic to them. On OS X that's iMovie.
Editing Video
Using iMovie, I select File, Import Movies and create a new event to put the clips into. From here you use iMovie to trim, add titles, speed things up etc: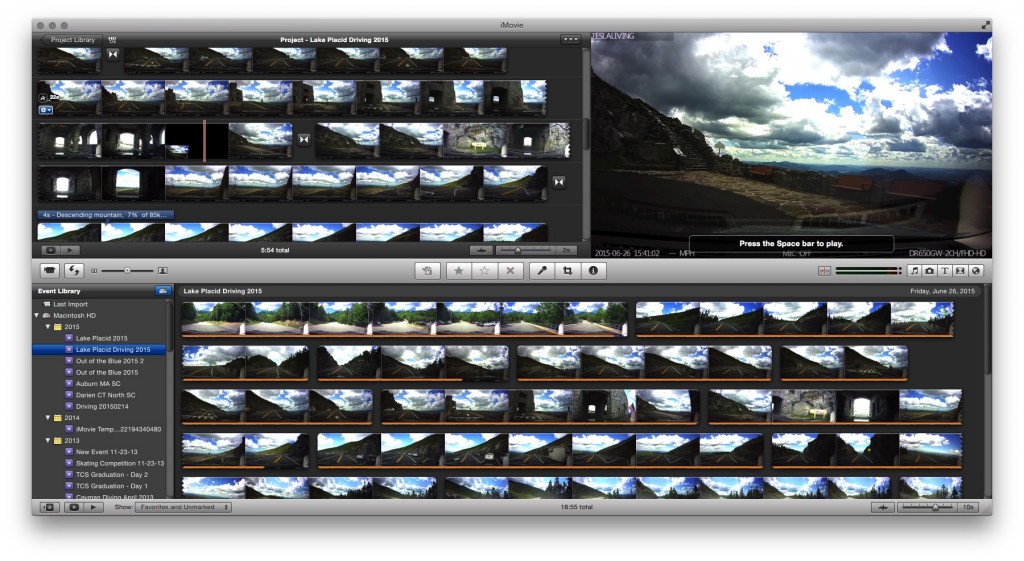 I typically upload my edited video to YouTube as a way to share interesting moments with my buddies.
Once all is said and done with the USB card reader, be sure to insert it back into the Model S USB port as backup to the primary card that's running on the dash cam.
Summary
Capturing great vacation moments or events from your favorite Tesla Superchargers is simple with a dash cam.
While the instruction manual recommends periodic reformatting of cards, I find that completely unnecessary. I have a low maintenance car and fortunately the cameras are low maintenance too!
Check out my dash cam videos on YouTube to get a perspective on the quality taken by the BlackVue. Feel free to share your best dash cam moments by leaving a link in the comments below!