Updated: Tesla has officially released the 75D upgrade as a $3,000 option on the Model S design configurator.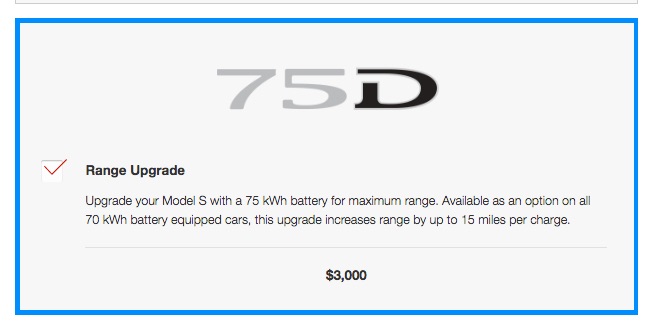 Shortly after we reported that a Model S 75D was spotted on the California Air Resource Board (CARB) site comes confirmation from our contact at Tesla that a 75 kWh battery pack will in fact be offered as an option. What we didn't realize is that existing owners to the new Model S 70D variant may already have the 75 kWh battery pack, but software limited to 70 kWh.
According to a user-submitted post coming out of the Tesla Motors Club (TMC) forum, gcgp inquired about the new battery option with their Delivery Specialist and was told via email that Tesla will be providing 70D owners the option to upgrade to a 75D through an over-the-air software update.
gcgp writes via TMC:
"We've just found out that your Model S is going to have the option to upgrade via firmware to the 75kWh battery pack. We don't have official Australian pricing yet, but you'll be able to do it before or after delivery. The US price will be $3250, but our Sales team will have a call campaign to confirm with you once pricing is out."
If this holds true, one can assume that Tesla will continue to produce theoretically lower-range vehicles, but bundled with a battery pack that's capable of much higher capacity. With 400k reservations already placed on the upcoming Model 3, Tesla CEO Elon Musk has stated that the company will be making all efforts to refocus on production planning for its much anticipated mass market Ludicrous-capable vehicle.
By having the ability to upgrade to an additional 5-10% of battery range through an over-the-air update, Tesla is able to streamline factory production by limiting the number of vehicle variants, and reduce the need for Tesla Service Center Technicians to be involved for an otherwise on-site battery pack upgrade.
While the existing upgrade from Model S 70D to 75D can be achieved via firmware for an optional $3250 fee, Tesla will likely discontinue the 70 kWh pack as it did with the Model X 70D once the company exhausts its supply of the older generation batteries.
Similar actions were taken by Tesla earlier in the when it officially discontinued the 85 kWh battery on the Model S leaving only the 70 kWh and 90 kWh as available options.