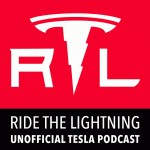 "Preparing to Build the Model 3"
Join Ryan McCaffrey this week on another great episode of Ride the Lightning as he talks about the latest Model 3 reservation count and news that Tesla might be branching out to South Korea in search of a potential new battery supplier. We also learn that Tesla has officially announced that it will raise $2 billion in capital to fund Model 3 production.
Listen to the podcast below.
This week on Ride the Lightning: Tesla Motors Unofficial Podcast:
"This week brings a number of miscellaneous Model 3 updates, including reservation count, battery provider, capital raising, and more. Don't forget to leave a message on the Ride the Lightning hotline anytime with a question, comment, or discussion topic for next week's show! The toll-free number to call or Skype is 1-888-989-8752."
Listen on iTunes, libsyn, and Stitcher