The Goal Zero Guide 10 Solar Charging Kit provides on-the-go battery power through sunlight.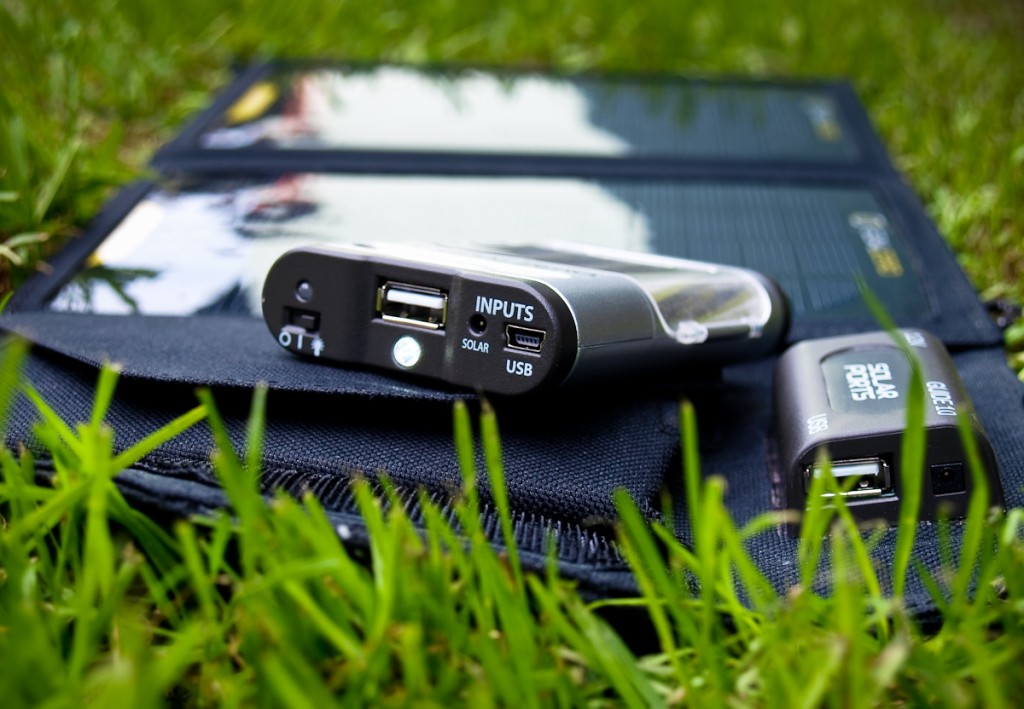 As part of our new Lifestyle section that focuses on high-end luxury products and gadgets that we think all TESLA owners and enthusiasts would love, we bring you a solar charging battery pack that's portable, ultra-lightweight and a perfect fit for any Model S glovebox.
---
Goal Zero 10 Plus Solar Charging Kit
Goal Zero's Solar Charging Battery Kit includes its top of the line Nomad series folding panels and a single unit power pack to power all your portable electronic devices.
1 x Guide 10 Battery Pack
1 x Nomad 7 Solar Panel
1 x 12V cigarette adapter
1 x AA rechargeable batteries (4 pack)
1 x AAA Adapter
The Nomad 7 solar panels are compact, even when completely folded out, which makes it a perfect fit for the Tesla Model S dashboard.  Coming in at just 6.5″ x 9.5″ when folded together, the solar charging kit is light, ultra-portable and can be easily carried to a picnic, a hike, a bike ride or just set down while having a chit-chat over coffee.  And best of all, it fits neatly within the compact Tesla Model S glovebox.
The portable battery back, also known as the Goal Zero Guide 10 Plus power pack, consists of 4 AA batteries that charge via the solar panels or alternatively can be plugged directly into the Tesla Model S USB ports for charging.  The Guide 10 can also be retrofitted with the included battery tray adapter for those with rechargeable AAA batteries.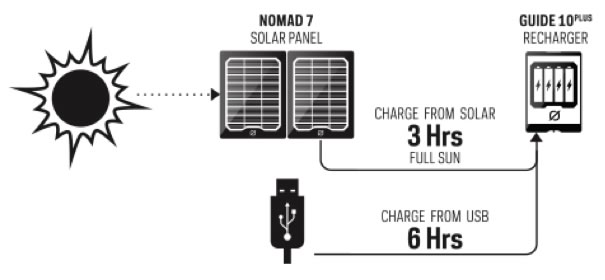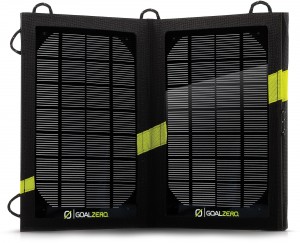 Aside from the compactness and cool factor of having a
solar charging battery
, what we really loved about the device is its portable and rechargeable battery pack that doubles as a flashlight!  Something all Model S owners are in need of.
The LED is capable of providing over 150+ hours of light on a single charge.  We thought the handy and built-in LED light was especially useful for navigating through the dimly lit Model S trunk and frunk.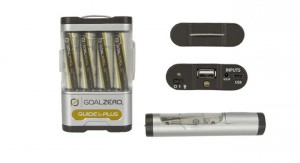 The Goal Zero Guide 10 Plus Solar Charging Kit
 is a fantastic gadget that delivers on-the-go power for USB powered mobile phones, MP3 players, tablets, etc, and all through the use of sustainable energy.  Its a perfect extension to the Tesla Model S.
---
Technical Specifications
Solar Power Output: 7W
USB Power Output: 3.5W
Inputs: Mini USB (5V), Solar port (6.5V)
Flashlight: 100mW LED
LED Life: 100+ hours on single charge
Battery Capacity: 10 Wh, NiMH
Portable Battery Plus Pack Only: 2.5″ x 4″ x 0.75″ (6 x 10 x 2cm)
Nomad 7 Solar Panel with Portable Battery Plus Pack: 6.5″ x 9.5″ x 1.8″ (16.51 x 25.4 x 5.08 cm)
Total Weight: 1.7 lbs (0.77kg)
RELATED: Integrating Portable Solar Panel Technology into the Tesla Model S