Griffin Technology makes screen cleaning easier than ever on the Tesla Model S.
Keeping our ginormous Model S center display free of greasy fingerprints and smudges hasn't been an easy feat considering the fact that every function requires a tap, swipe or a pinch of the touchscreen.
We've tried everything from our microfiber cloth that comes with our RayBans to a simple paper napkin, but nothing really gave us that dust and streak-free screen that we've been looking for.  So we decided to test out the dedicated screen cleaning kit from Griffin Technology to see how that would compare.
---
Griffin Technology TotalClean Touchscreen Cleaning Kit
Presentation on the TotalClean touchscreen cleaning kit is fantastic.  The cleaning kit comes nicely packaged within a colorful and well-labeled box that's clearly designed by a well-tuned PR/marketing machine.  It's one of those things where you actually feel good about your purchase even before having tried the product.
1 x Removable sponge wrapped in soft, lintless microfiber
1 x 20 ml screen solution in a fine mist spray bottle
1 x Assembly case
The TotalClean Touchscreen Model S Screen Cleaning Kit is compact in size and registers at 4 inches in height – thicker than your traditional smartphone and wide enough for an easy grip within the palm of your hand.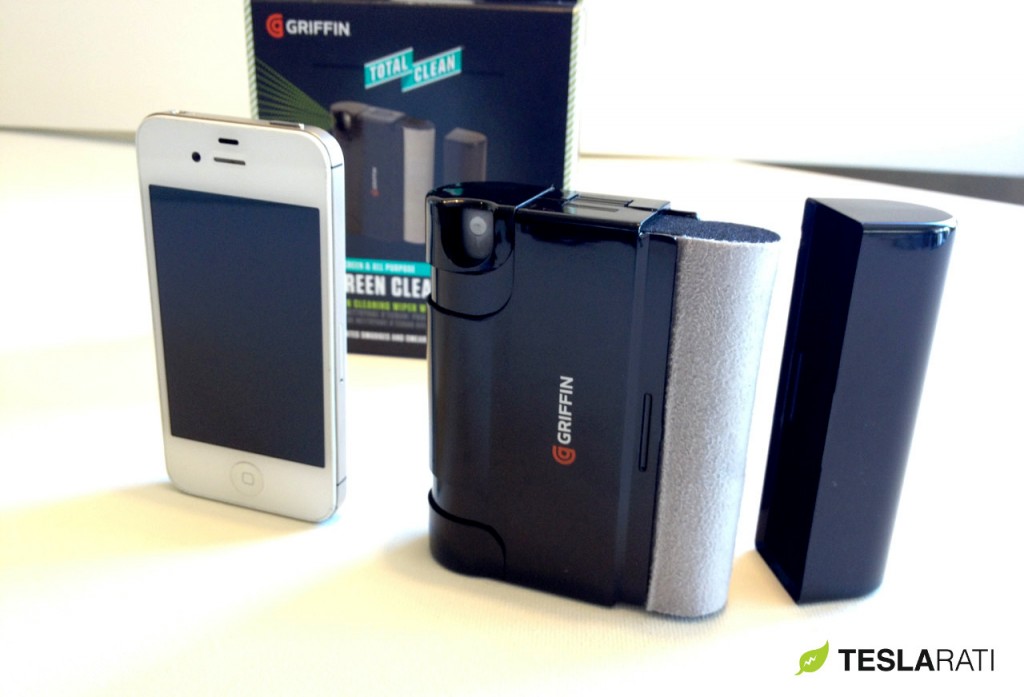 The cleaning kit's double-sided sponge (removable) is wrapped in scratch-less, lintless microfiber.  A separate sprayer dispenses an extremely fine mist of non-streaking solution that's formulated specifically for delicate LCD displays and monitors such as the Model S touchscreen.
The assembly case is constructed of thin plastic and isn't required to do much other than keep the components together.  It gets the job done.
---
Screen Cleaning in Action
Cleaning our Model S touchscreen was as simple as spray and swipe.  We employed a squeegee style technique using a single downward swipe of the microfiber sponge to clean the screen.  The result was far better than what we had anticipated.
We watched the fingerprints and smudges magically disappear with each pass of the lintless microfiber sponge.  There's no need to apply your traditional circular cleansing motion here with Griffin's Screen Cleaning Kit.  One pass and you're off to a streak-free Model S touchscreen.
Tip: The cleansing mist is so fine that it will actually dry within seconds so it's important to swipe immediately after the mist is applied.  One or two sprays are enough.  Do not overspray or you will run the risk of streaking.
We found it far more effective to use a short horizontal swipe as opposed to a long vertical cleansing swipe.  The sprayer is refillable so the cleansing fluid can be easily replaced with plain water or your choice of solution.
---
Before and After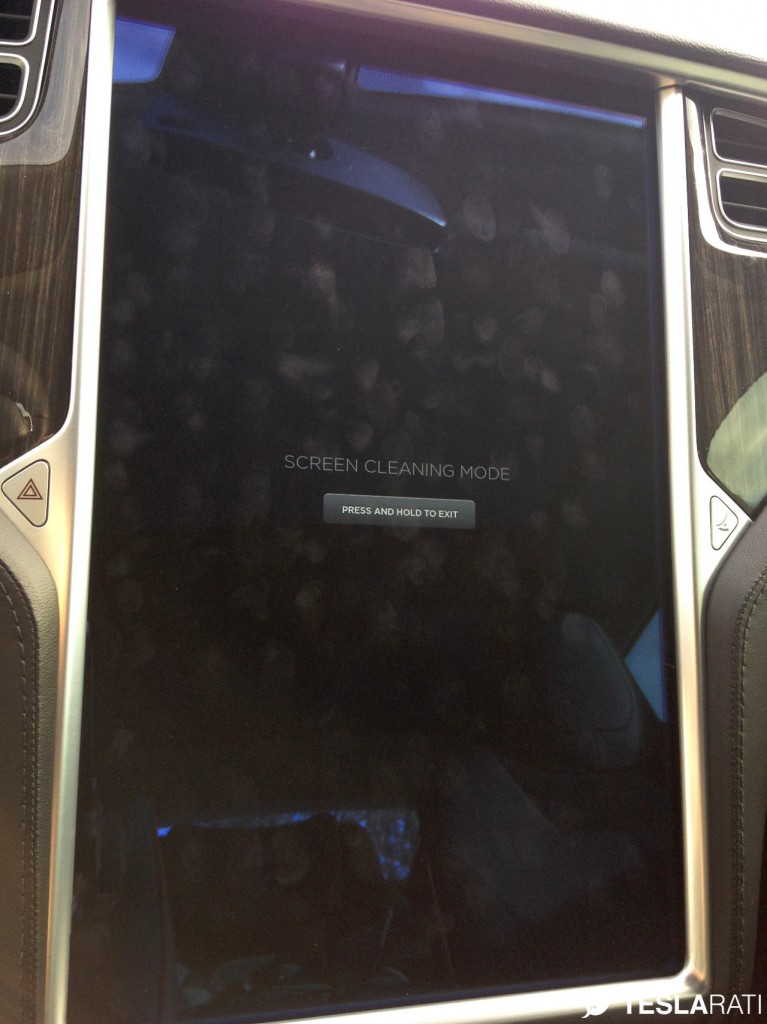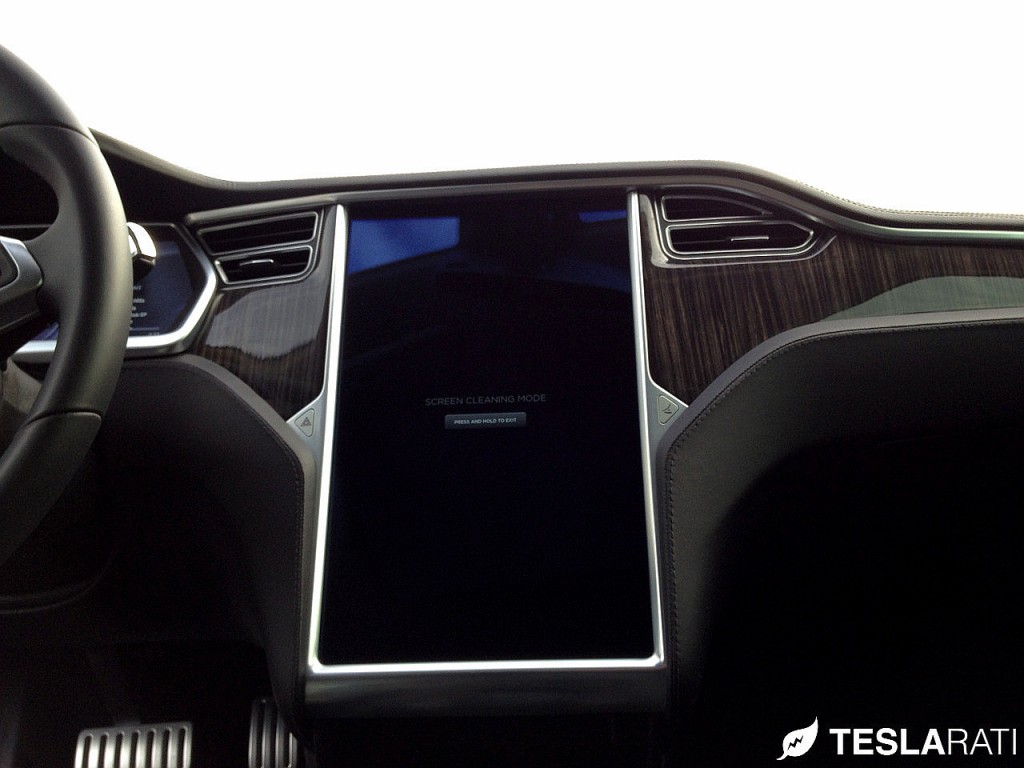 ---
Conclusion
Griffin Technology's TotalClean Touchscreen Cleaning Kit is compact, easily stowed within the center storage tray or CCI, and most importantly makes screen cleaning on the Model S a breeze.
Retailing for just $13.99, we think it's a worthy purchase for those who just can't stand the sight of a dirty screen and would be willing to pay for instant satisfaction.