The Tesla Model S 17″ center touchscreen display / command center is the iPhone of today's automotive infotainment systems. It's eye-catching, has mind-blowing coolness and it's something that's never been done before in the automotive world. But being the first of its kind inherently means that you're learning on-the-go while iterating towards success. This however doesn't come without its shortcomings. Case in point is the Tesla Model S web browser.
RELATED: TESLARATI.com Optimized for the Tesla Web Browser
The Tesla Model S web browser is known to be, let's say, a bit on the sluggish side when it comes to loading web pages that contains any sort of dynamic element (via JavaScript) to it. This unfortunately represents nearly every web page in the world these days. Performance can be 5x slower than surfing on your mobile device and up to 10x slower when compared against your desktop browser (assuming the same bandwidth). Recognizing the need for a fast all-in-one web portal that would allow Model S owners to access frequently used services, Model S owner and Android developer at Lua Technologies, Jared Banyard, took it upon himself to develop "Quick Tesla".
---
Quick Tesla App
(Load http://qtes.la or http://quicktesla.com from Tesla Model S Web Browser)
FEATURES
Weather – Current Weather, 8-Day Forecast, & Local Severe Weather Alerts using automatic Geo-location
Radar/Wind – Animated Gifs from Weather.gov & WeatherUnderground.com
News – Top Stories mixed with Tesla News
Charging
Stock 

– Real-Time stock quote

Valet – Valet instructions with multi-language translation support
---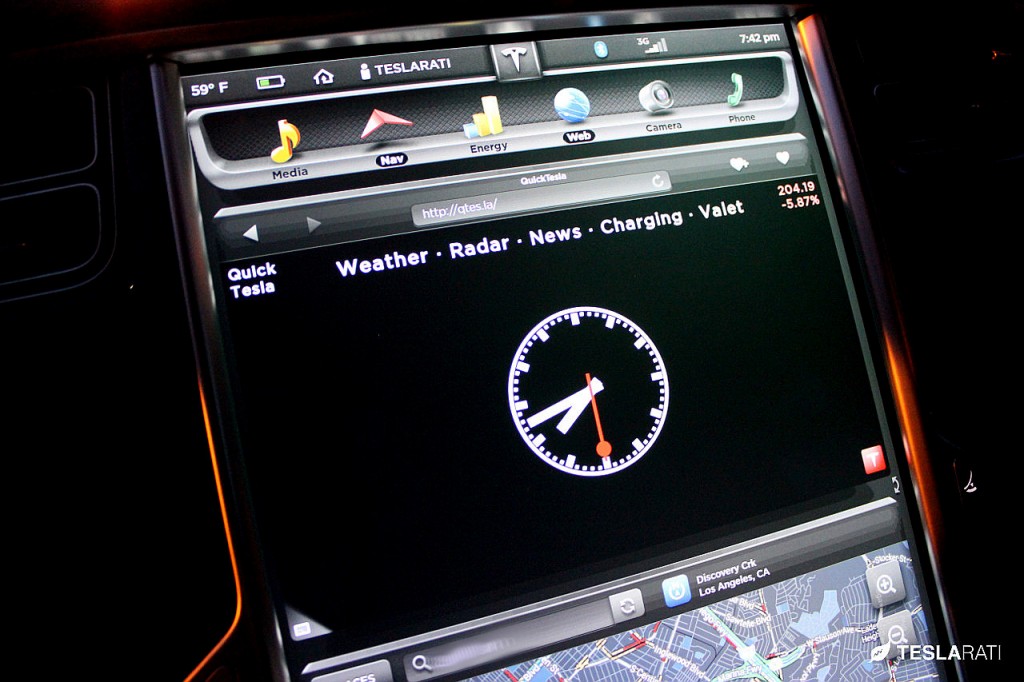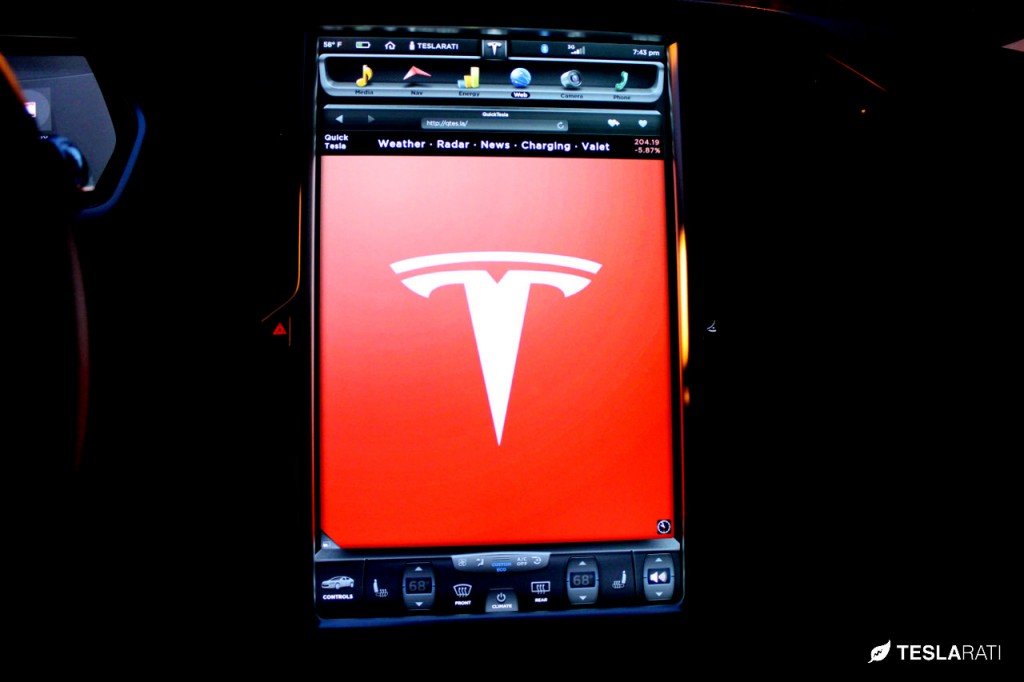 The main screen displays a basic clock that's fast, interactive and, simply, gets the job done. Clicking on the Tesla logo towards the bottom right will swap out the clock for a full screen view of the Tesla T. It looks absolutely stunning to see the trademark Tesla red splashed across the gigantic 17″ touchscreen display, however we found it far too distracting to drive with it on. It's better suited when displaying your car at a club gathering or EV meet up.
Also see:  Tesla Model S Lighted T
---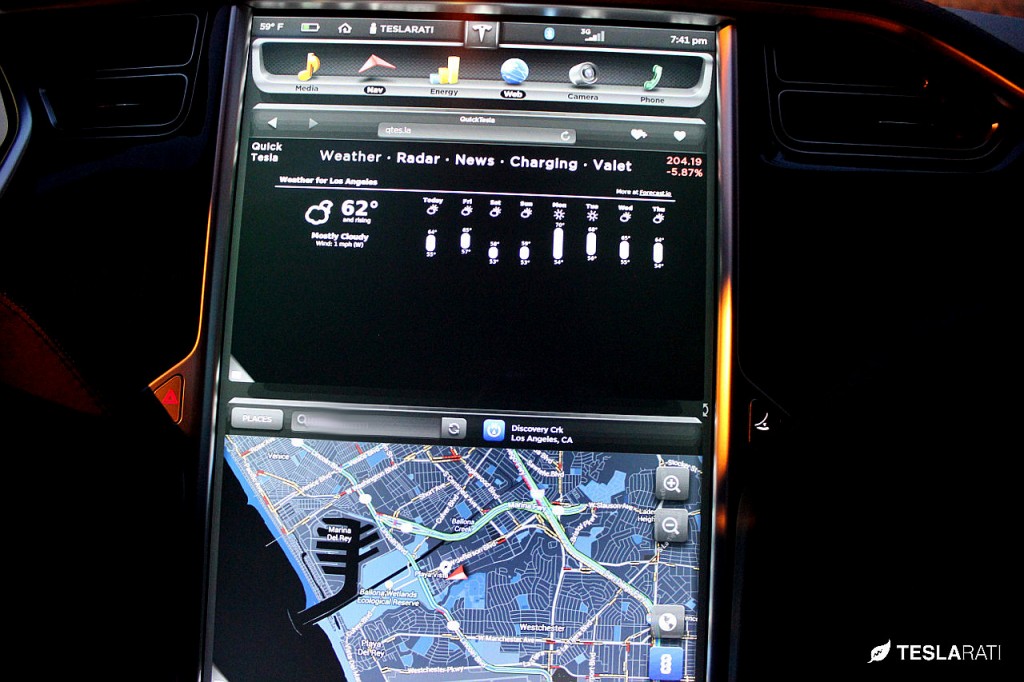 The 8 day forecast is a great way to keep up to date on the weather and best of all it's geo-based so you'll always have the latest local weather info regardless of where you are.
Firmware 5.9 introduced the ability for the Tesla Model S web browser to detect your location.
Also see: Tesla Firmware 5.9 Brings Smart Air Suspension, Hill Assist and Faster Browsing

---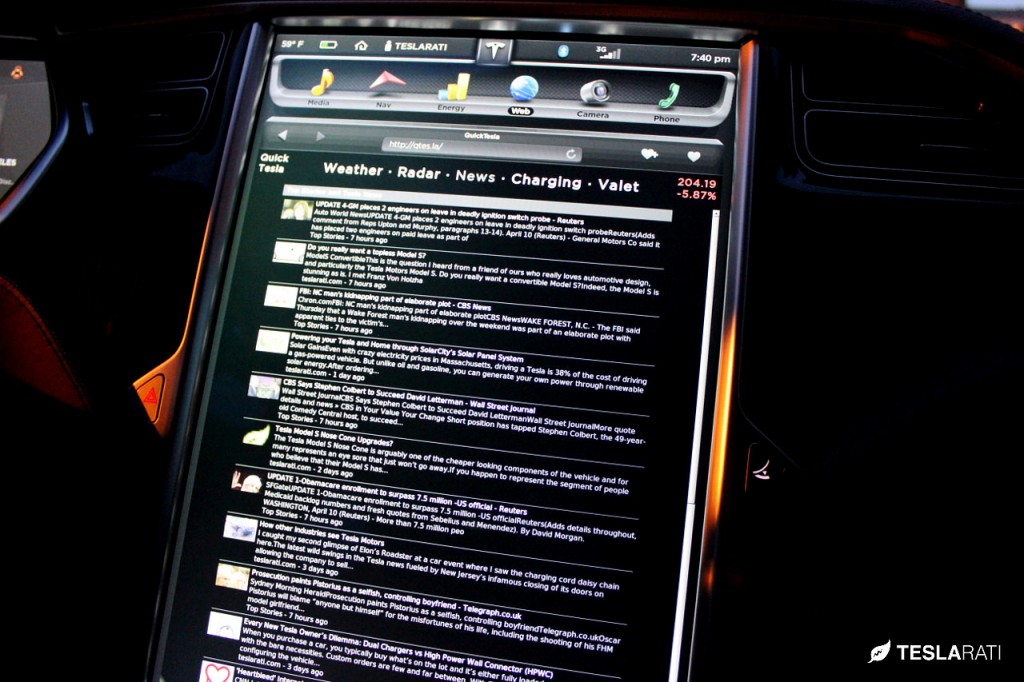 We were surprised to see how quickly the News tab loaded considering it's accessing a pretty substantial list of data feeds.
---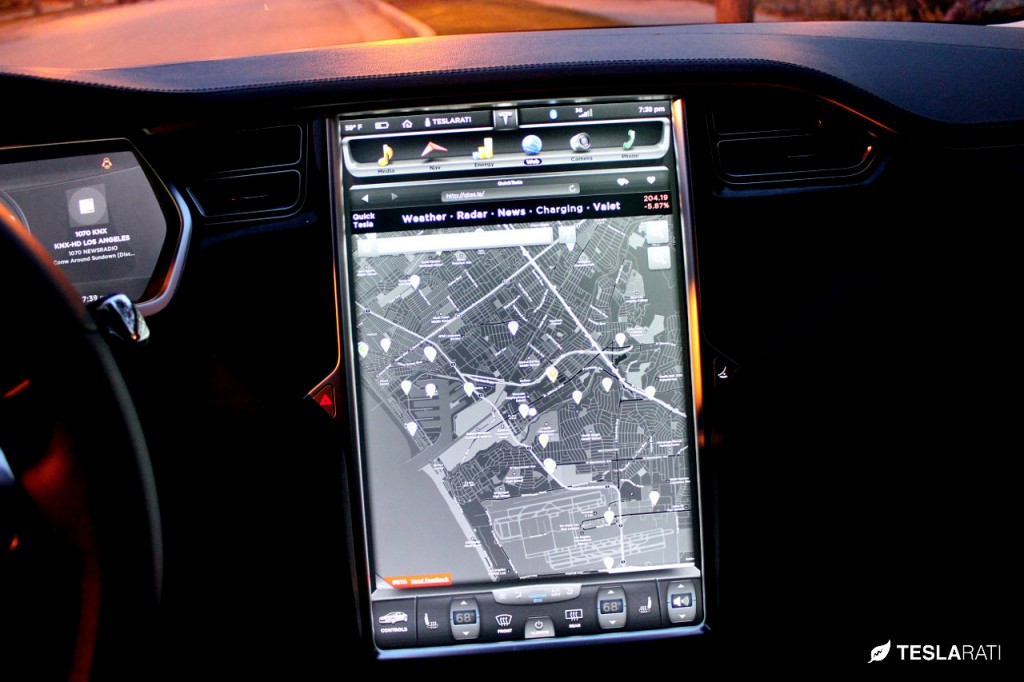 The 'Charging' tab was one of our favorite. Displayed on the screen is PlugShare's Tesla specific charging map which highlights all of the various chargers (not just Superchargers) around your proximity. We found this to be especially useful when traveling in more remote areas where a Tesla Supercharger is not available.
Also see: Interactive Tesla Supercharger Map
---