With Tesla's v7.0 finally upon us there's been no shortage of look at me driving with no hands type videos, and even videos of Model S parallel parking itself, but lost in the shadows was the 7.0 update that came to early adopters of the Model S – pre-autopilot.
I'd love to have the opportunity to take a new Autopilot Model S or even my upcoming Model X for a test drive, but until then here's my review of v7.0 for the non-autopilot enabled Model S.
New Dashboard
Owners of a Model S produced prior to September 2014 (or those who opted out of the Autopilot upgrade) are still presented with a number of compelling updates in this latest release. Most notable is the redesigned instrument cluster.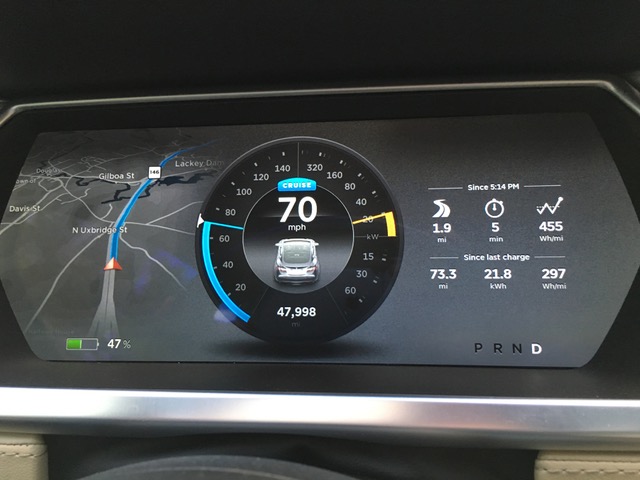 Prior to the official over-the-air rollout of 7.0, I had concerns that non-autopilot cars would lose the existing analog speed and energy meter on the instrument cluster, but fortunately Tesla managed to keep them intact and made good use of the, otherwise empty, real estate.
A picture of your vehicle is presented in the center of the dial. The picture animates based on the current status of your vehicle which includes brake lights, turn indicators, headlights, reverse lights, and more. I really like the flat look of v7.0 and happy to see the great use of space with the refreshed design.
A few indicators have shifted location in v7.0 such as the battery meter and drive status (P, N, D, R). I like the fact that Tesla has de-emphasized the previous prominently displayed battery charge level indicator. My guess is that Tesla didn't want drivers to unnecessarily focus on the range of the vehicle. After all, Model S owners have proven that they can smash world records by driving 550 miles on a single charge.
Among other changes on the instrument cluster is the removal of  current date, outside temperature and door status. The status is still available through the main 17″ touchscreen, but to get them back on your instrument cluster will require you to toggle to a new clock widget. Personally I would have preferred that Tesla left those on the instrument cluster so I don't need to glance over at the touchscreen whenever I need to know the time.
The Trip A and B meter is no longer available on the cluster. In exchange, Tesla added a new widget that tracks your driving metrics since last charge.
v7.0 Widgets for Non-Autopilot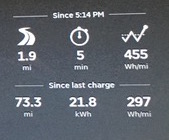 I really like what they did with the new Trip widget. I've always been a fan of the "since last charge" breakout and with the additional breakout by last time of day driven, I'm liking it even more. If I need the longer range trip meters (trip A or trip B) I can still retrieve that through the center 17″ touchscreen. I use my Trip A to track monthly driving details and Trip B to track lifetime usage.
The new clock widget provide time of day and external temperature, but I find it to be a poor use of space. I generally like the left instrument cluster to display my navigation info while the right cluster shows my trip meter stats. I don't want to give either of those up so therefore I'll likely never use this clock widget.
How do you guys feel about the clock widget? Leave me a note in the comments below.
Noticeably absent in v7.0 for non-autopilot vehicles is the 'Car Status' widget that displays tire pressure. Apparently the hardware to support reading of individual tire pressures is also missing on older generation Model S. I'm slightly disappointed by this since even my 2007 Acura MDX was capable of displaying this info. I was hoping Tesla was able to add this in via a user interface update but I guess that's not the case.
Updates to the 17″ Touchscreen (Non-Autopilot)
The user interface (UI) within the 17″ display received less attention in v7.0 however per Elon's tweet 7.1 will see more enhancements along with a "main UI upgrade".
@lordsshrivas Lots of upgrades and a new look, although main UI upgrade coming with 7.1

— Elon Musk (@elonmusk) October 11, 2015
The touchscreen display is flatter and cleaner but some icons still have a 3D look to it. Contrary to Apple's iO6 which saw a complete revamp to a flat look, Tesla seemed to have left some elements alone. The only other update I found besides the cleaner UI is Trips which adds new Current Trip section and a reset button for it.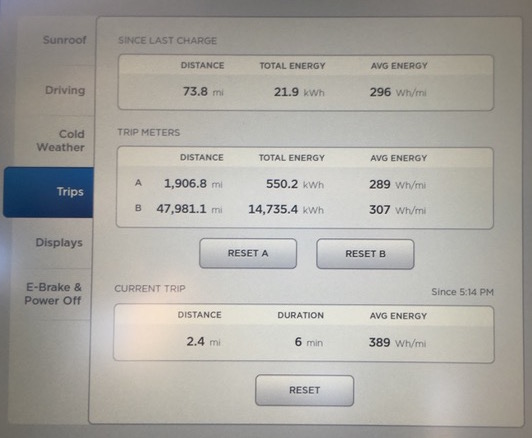 Tesla made the touch points larger and more responsive. While I think making the touch points larger is a good idea, it comes with a trade off –  greater dead space. The area around the audio controls is a perfect example of how much dead space has been added.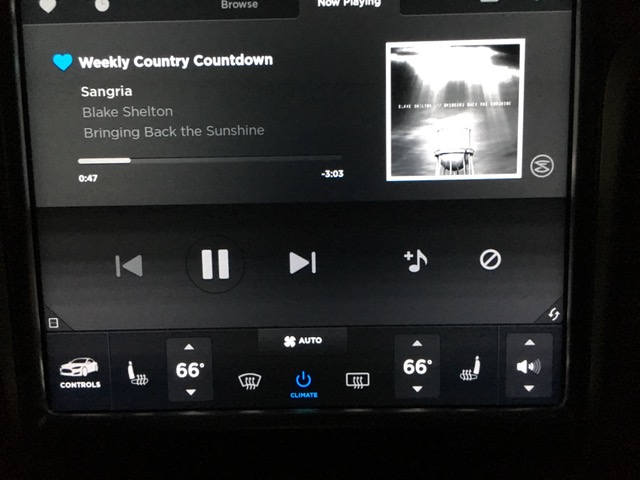 v7.0 Extras for Non-Autopilot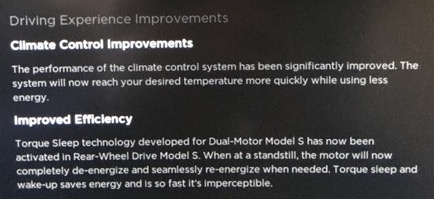 Other than cosmetic updates, Tesla also mentions the addition of two new features in its v7.0 release notes.
Improved climate controls – This update supposedly helps the Model S achieve the proper cabin temperature more quickly while using less energy. What they didn't mention is if and how this impacts range mode.
Torque Sleep – A feature that's present on the dual motor Teslas has made its way to the RWD Model S, and it's designed to improve energy efficiency. No mention is made of the expected affect on range. I haven't been able to detect any noticeable difference in the performance or behavior of the car, but it's still good to know that they continue to improve even older generations of the Model S.
Absent from this update is any mention of an improved Hill Hold. I took my car for a drive and gave it a test, but confirmed there have been no noticeable changes to hill holding abilities on my Model S. Having a permanent hill hold would have been a nice bonus.
Summary
Overall I really like the v7.0 update. My favorite part of the update is the flatter look, the animated car view in the center of the instrument cluster, and the new Trip widget.
Tesla did an absolutely amazing job by providing Autopilot on the new vehicles but without leaving early adopters of the Model S out in the cold. There's no question that they could have easily ignored us and saved a great deal of time and resources by doing so, but instead Tesla stepped up to plate and took care of us. And for that I'm even more grateful than I already am.