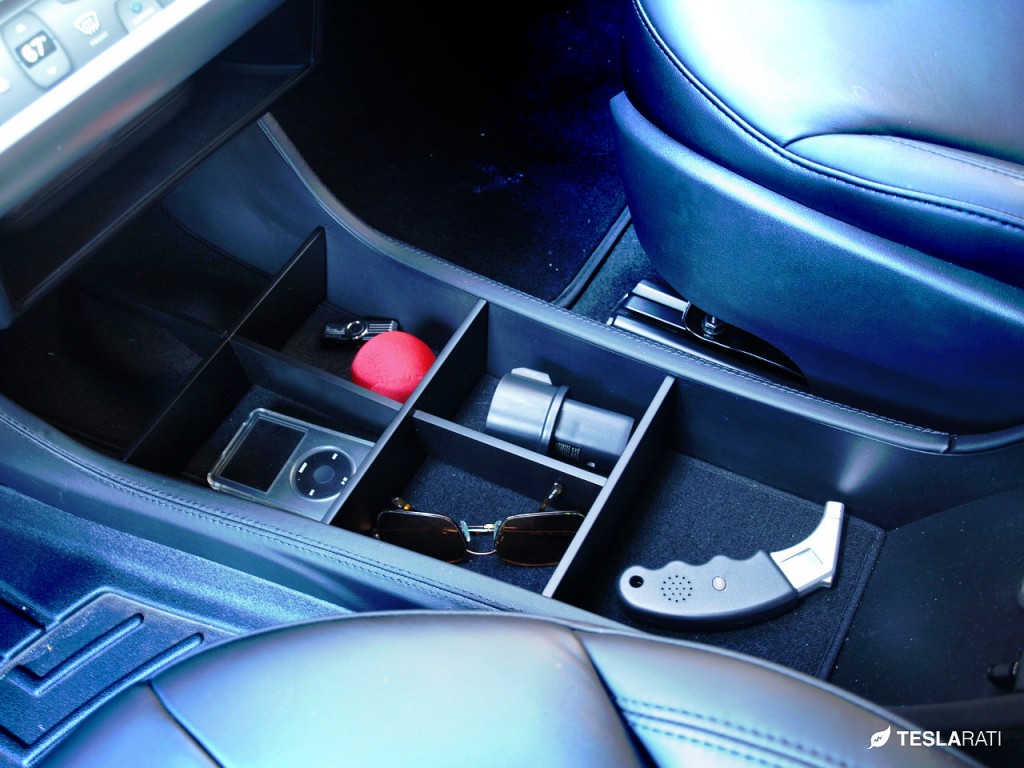 One of the things I most respect about the Model S is the care given to its design aesthetic. The Tesla team always chooses less over more. The abbreviated trumps the comprehensive at every turn. A great example of this is the center console in the Model S. Or should I say the lack of one. There's no typical dashboard mutation curving down to invade the cabin crowding your knees. Gas cars require that space to house the transmission tail for linking to the gear shift lever, cup holders, power plugs, phone stand; sometimes even a parking brake handle and drive train. Whew, that's a lot of stuff. No large console means more open space given over to the imagination to personalize and experiment. This unique quality of the Model S is under appreciated and often misunderstood.
Tesla Motors created the Yacht Floor with finish options to match dashboard décor. That subtle edition is for cosmetic purposes only, not utility. So along came a number of aftermarket products to further imagine the space by making it more useful while taking care to preserve the DNA of the car's design. The problem they are trying to solve is how to have a collection of small items at the ready while behind the wheel.
Personally I never felt the need for an console organizer. I like openness and am not one to tolerate clutter. But I wear prescription sunglasses and so I need a safe place to store them. Either my sunglasses or regular glasses rest on that space at all times. Whatever I place there rests on the floor, so when I punch the accelerator items travel forward and backward freely. I want to be sure to protect my glasses, but the only way to ensure safety is to store them on the shelf below the touchscreen. The shelf is nice but it has height restrictions and is not as easy to get to while driving.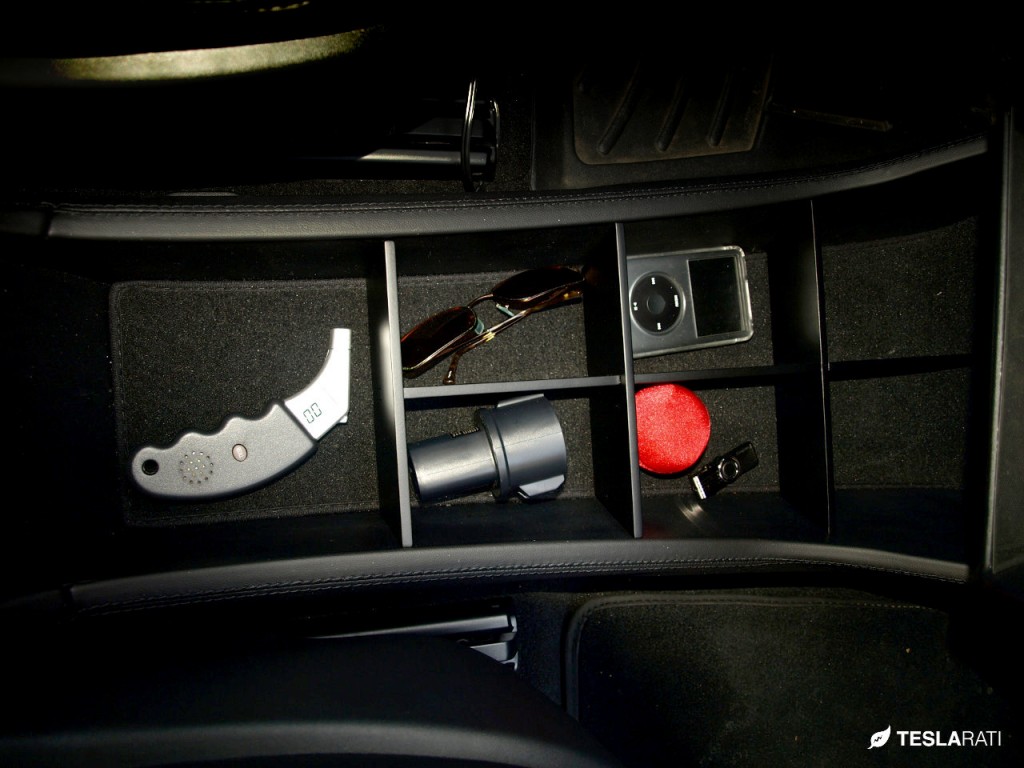 Here at Teslarati we came across a different approach to making use of the console space without losing the clean, open look. A very simple center console organizer from the Swiss firm, Tesla&More. I got my hands on one and have had it in my Model S for a couple of days now. I have to say that I am finding it useful, but it's adding visual clutter.
---
Initial Impressions
The product arrived in a cocoon of protection. The foam packaging was precisely cut to house the organizer as if it had been part of the manufacturing process. No chance of it getting smashed or blemished in transit. This is a critical but often overlooked detail. The organizer has a very low profile, is made of aluminum and powder-coated in smooth black. It feels good to the touch and is pleasing to the eye.
No assembly is required for the organizer. Simply pull it out of the box and place it onto the floor of your Model S center console. It snuggles in nicely, resting forward and leaving a wide space against the armrest pillar. The dividers rise flush with the top of the leather covered lips, converting what was a single floor space into seven sections of varying sizes that can accommodate a number of small items.
ALSO SEE: Premium Tesla Model S Rear Seat Cup Holders (PARZ) Review
The key word here is small. The organizer provides one cubby 6″ x 6½", two 3½" x 5½", and two 4½" x 5½". The largest compartments are at the top, exceeding 7″ tall, but they are a bit out of the line of sight and hard to reach. The best way to think about this product is as a desk drawer organizer; useful but not overly versatile.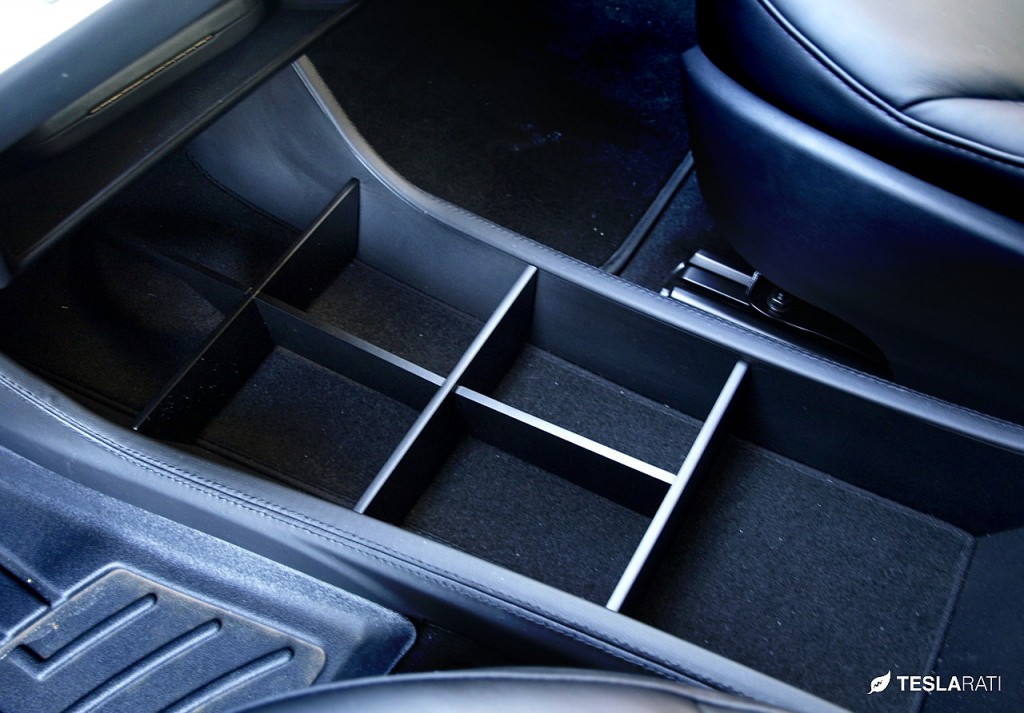 ---
Everyday Use
Unlike some of the other consoles out there this one is not covered, so you can see whatever you store and so can anyone else who might be looking. May not make much of a difference, but it's something to consider.
At first I drove around without putting anything in it but my glasses. I arrived home after some errands and my glasses were right where I placed them when I backed out of my garage. Imagine that. So I was ready to branch out. Next I looked for more small items that I might need at any moment. I'm always transferring new music files to memory sticks so this seemed perfect. Turns out the organizer is a great place to park those sticks. I can place two or three of them in the same cubby and can easily get to them when I feel a musical mood change emerging.
I found it easy to slide charging wires beneath the dividers allowing for multiple devices to get juiced through the USB outlets without fear of them sliding around.
Other things that I've found to fit nicely are a stress squeeze ball to combat Chicago traffic snarls, charging adaptor, my iPod or iPhone and a tire pressure gauge. Any number of things can go in there as long as they don't exceed a five inches and are not top heavy. Do not place your coffee cup in this organizer.
READ: Did you know you can personalize your Tesla Center Console?
---
Potential Improvement
The sections are fused together and cannot be adjusted. It would be nice to make the second divider from the bottom removable, allowing for the option of a longer compartment. This would introduce an entirely new size of items to be storable. A compact umbrella for instance. Since the Model S console is V-shaped, offering additional slots and dividers would make proper fitting difficult and likely add unnecessary expense.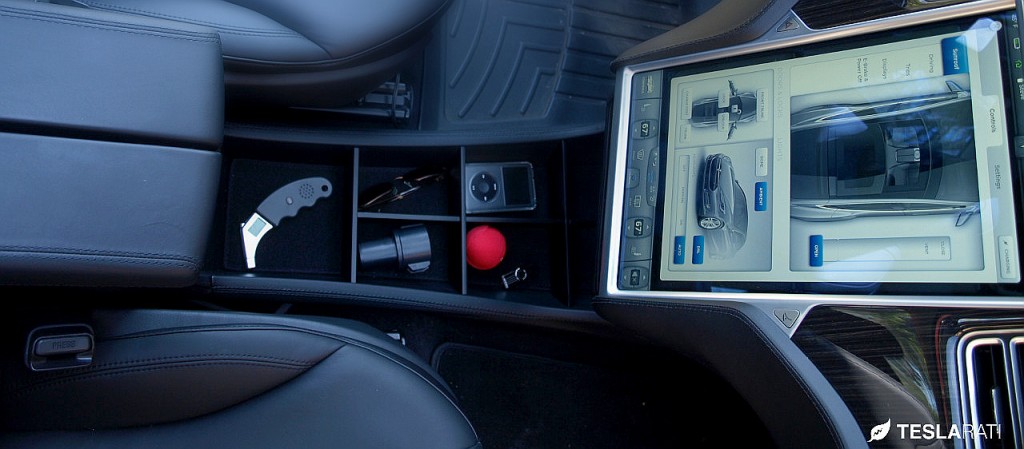 Summary