Edmunds released its list of the best electric vehicles under $40,000, highlighting the fact that you can purchase an eco-friendly vehicle without breaking the bank. Five cars were included on the list, however, one extremely popular car was missing: the Tesla Model 3.
The online resource for car buying came out with a list of five cars that are considered affordable and do not receive any of its power from petrol. Edmunds released the list on Twitter and included a video. "Tesla may have captured consumer's imaginations with its futuristic and pricey vehicles, but there are affordable EVs out there that cost less than $40,000," Elana Scherr said, who is seen in the Edmunds video.
In no particular order, these are the very best 'affordable' (i.e. under $40k) electric vehicles you can buy right now:

– Hyundai Kona
– Chevrolet Bolt
– VW e-Golf
– Nissan Leaf Plus
– Hyundai Ioniq https://t.co/lnZrwkJ8JT pic.twitter.com/O6W9BwRspW

— Edmunds (@edmunds) September 27, 2019
It is not clear why the Tesla Model 3 was excluded from the list. From the video, it seems that Edmunds is portraying that the vehicle costs over $40,000. This is false, as the Model 3 Standard Range plus in Pearl White Multi-Coat is still available for less than $40k, at $38,990.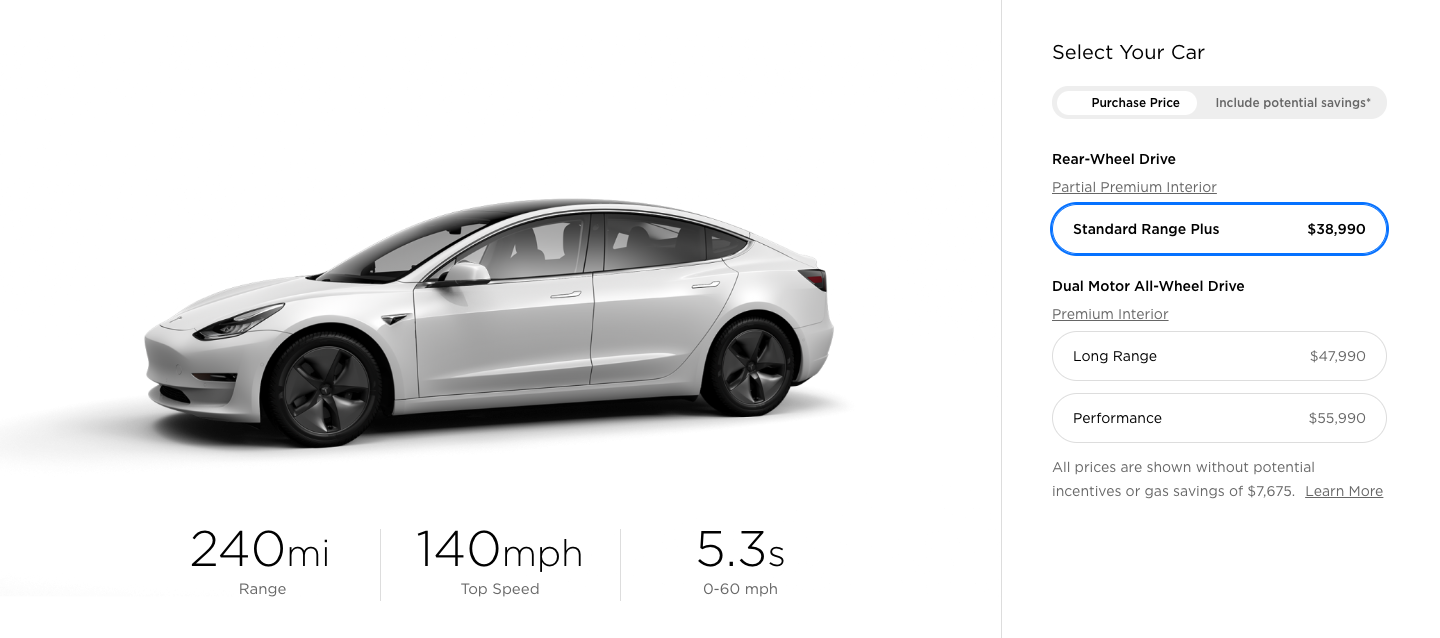 The list of vehicles that Edmunds listed were the Hyundai Kona ($36,950 MSRP), Chevrolet Bolt ($36,620 MSRP), Volkswagen e-Golf ($31,895 MSRP), Nissan Leaf Plus ($38,510 MSRP) and the Hyundai Ioniq ($30,315 MSRP). Edmunds clarified that the list was in no particular order and did not specify what model they felt was the best overall.
Edmunds YouTube channel does contain a video that shows the Best Electric Cars available for purchase in 2019 and 2020, and Tesla made the list four times with the Model 3, Model S, Model X, and Roadster. Of course, this list is strictly for "Top Rated EVs", and not for the most affordable models.
The Model 3 has dominated markets across the world, including the Netherlands, Norway, and Australia.
Watch Edmund's list of the best EVs available for purchase in 2019 and 2020 below: