The Tesla Model S is already a beauty in itself with its sleek and elegant curves along with its streamlined aerodynamics, strutting the lowest coefficient of drag within its class. However those looking to really transform the appearance of their car can opt for an aftermarket body kit. Body kits typically consist of body panel replacements or overlays for the front bumper, rear valance / diffuser, side skirts, fender flares, spoilers, as well as lightweight carbon fiber hoods.
---
Tesla Model S Carbon Fiber Widebody Aerokit
One sure way to enhance the supercar performance of the Dual-Motor 691hp Tesla Model S P85D with supercar traction and looks is to outfit it with a carbon fiber widebody kit from RevoZport.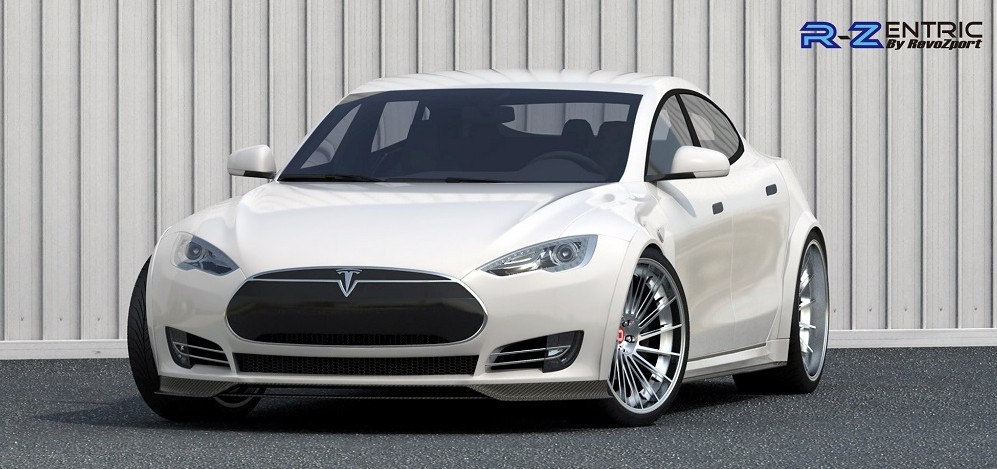 ---
Tesla Model S Carbon Fiber Body Kits
Tesla Motors has given Roadster owners the option for carbon fiber body kit upgrades which currently is still not available as a factory upgrade for the Model S. However aftermarket tuner Unplugged Performance showcased a beautiful body treatment which we think looks absolutely stunning.
RELATED:
---
Tesla Model S Carbon Fiber Spoiler
Tesla Motors 2nd generation (matte) carbon fiber spoiler comes as an optional component for the Model S. Early adopters of the Signature Series Model S were privy to the 1st generation carbon fiber spoiler that came with a glossy coat.
Aftermarket tuner Unplugged Performance manufactures an elegant matte carbon fiber spoiler that extends the entire length of the trunk and adds a tasteful touch to the sleek Model S design.
---
Tesla Model S Front Grille / Nose Cone Upgrade
The Tesla Model S "nose cone" has been a hot topic of debate in terms of its appearance. Owners and enthusiasts alike straddle the fence on whether the nose cone represents a revolutionary new look with its lack of a traditional grill or whether its a design oversight that doesn't give the vehicle justice.
See what the Model S would look like with these nose cone upgrades.
---
Tesla Model S Carbon Fiber Accent Pieces
Accent your Tesla Model S with real carbon fiber pieces backed by 3M adhesive. Available in both gloss and matte finishes, these carbon fiber "accent pieces" add a nice touch to the nose cone, door pillar, side skirt and rear diffuser.
---
Tesla Model S Wrapped
A sure way to turn any Tesla Model S into a show stopper is to treat it with a cosmetic wrap. Check out how each of these auto tuners have redefined creativity with their wrapped Tesla Model S.
To learn more about the installation process, check out the NW Auto Salon video montage.